A mother searches for her missing son in Mexico's borderland in a powerful first feature from Fernanda Valadez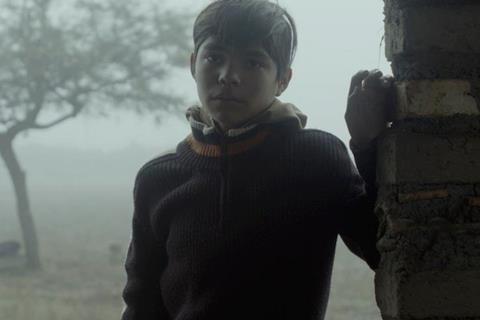 Dir. Fernanda Valadez. Mexico, Spain. 2020. 97 mins
Mexico's border country is outlaw territory which has a tendency to swallow up the vulnerable and the unfortunate even before they make it to the US. Pitted with shallow graves and abruptly curtailed journeys, it's a place where just asking the wrong question – or indeed any question – can get you killed. Magdalena (Mercedes Hernández) arrives in the region in an agony of suspended grief. Her son left months before, hoping to cross to the US, and hasn't been heard from since. But despite warnings and veiled threats, she won't be fobbed off by authorities seeking to close the case. She embarks on a treacherous mission to learn the truth about her child's fate, in this impressive and quietly compelling debut feature from Fernanda Valadez.
On every level, this is impressively accomplished cinema.
Subdued in tone and stoic in its approach to the dangers that can decimate an entire community, Identifying Features is admirable in its restraint, and all the more powerful because of it. Through a superb central performance by Hernández, the film gives an intimacy and a human face to an ongoing tragedy which has reached almost epidemic levels in Mexico. The fact that it premiered in Sundance in the same year as a documentary by Ai Weiwei about 'disappeared' young people in Mexico is no coincidence. But equally, as a portrait of motherhood and the anguish of losing a child, Identifying Features is painfully universal. Further festival berths are certain, and the film could generate similar levels of critical support and arthouse theatrical interest as another recent female-directed Mexican first feature, The Chambermaid.
Magdalena is haunted by the moment that her teenage son announced that he planned to travel to America with his friend Rigo. And, as it's the scene which opens the film and is repeated part of the way through, it takes on a weighted significance with the audience also. The face which stares into the camera and talks about finding work in Arizona is a child's face. Innocent, clear-eyed and hopeful, it's a face that we carry with us as the story unfolds.
Valadez, who co-wrote the elegantly structured screenplay with director Astrid Rondero (The Darkest Days of Us), takes Magdalena's story as the through line, but ribbons other tales into the picture. One is that of a surgeon who receives news of her son, missing for four years, while she is performing an eye operation. Her journey to the centre where the discovered bodies are stored and, where possible, identified, coincides with that of Magdalena. And for one affecting scene, their paths cross. It's a potent moment which underlines the fact that all sections of Mexican society – from the educated and wealthy to a semi-literate single mother – take their fates in their hands when they enter the border country. But Magdalena's main travelling companion through blighted, deserted scrub land patrolled by masked militias is Miguel (David Illescas), a young man who has just been deported from the US and who is eager to reconnect with his mother.
There's a stillness and reserve to the filmmaking which mirrors Hernández's self-contained central performance. Music is used infrequently, but when it does occur, either blasting from the radio of a tailgating vehicle, or in the mounting nervous tension of Clarice Jensen's excellent score, it is punchily persuasive. Likewise the cinematography, which trades its watchful precision for something wilder and more impressionistic at a pivotal moment, to brilliant, chilling effect. On every level, this is impressively accomplished cinema.
Production company: Corpulenta, Avanti pictures
International Sales: Alpha Violet info@alphaviolet.com
Producers: Astrid Rondero, Fernanda Valadez, Jack Zagha, Yossy Zagha
Screenplay: Fernanda Valadez, Astrid Rondero
Editing: Fernanda Valadez, Astrid Rondero, Susan Korda
Cinematography: Claudia Becerril Bulos
Art Direction: Dalia Reyes
Music: Clarice Jensen
Main cast: Mercedes Hernández, David Illescas, Juan Jesús Varela, Ana Laura Rodríguez, Laura Elena Ibarra, Xicoténcatl Ulloa