A bloody crime pits two fathers against each other in this South Korean neo-noir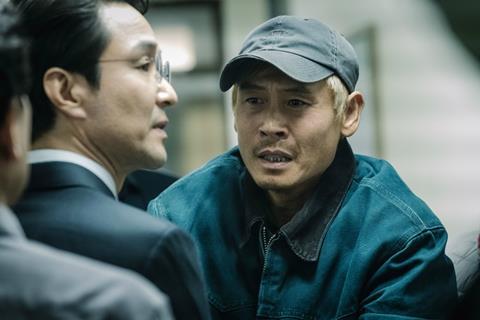 Dir/scr. Lee Su-jin. South Korea. 2019. 140mins
Paternal bonds provide the glue for the galvanising but never completely satisfying crime thriller Idol, which follows two fathers brought together in traumatic circumstances by their sons. South Korea's Lee Su-jin steps into slightly different territory from his applauded 2013 debut Han Gong-ju. And although he extends the film's plot and running time further than necessary, his ambitiously twisty feature also provides an astute thread of commentary about class, gender and immigration.
Thematically, Lee agitates more than he explores yet his cast give his material the emotional weight it needs
While Idol should find an audience at home, where Han Gong-ju was a box office hit, as well as on the festival circuit, this Berlinale Panorama premiere plays best to fans of dark, bloody neo-noir. As made plain in an opening line that's overtly calculated to shock, there's a bite to the feature's violent narrative that won't sit well with all viewers, although its slightly unhinged tone does prove an apt match for the gleefully convoluted story.
Though never seen on screen, a hit-and-run sparks Idol into action. A popular city councillor angling to get elected governor, Myung-hui (Han Seok-kyu) arrives home one night to find his grown son Johan locked in the bathroom, their car bloodied and a dead man slumped in the garage. Thinking about his career as much as his family, he returns the body to the road and turns his unrepentant offspring into the police — but his attempts to salvage the thorny situation are complicated by Joong-sik (Sul Kyung-gu), the grieving father of cognitively impaired victim Bu-nam.
Myung-hui and Joong-sik have another considerable problem: Bu-nam's girlfriend Ryeon-hwa (Chun Woo-hee) was with him at the time of the accident, and hasn't been seen since. For Joong-sik, she's the only person capable of bringing clarity to a needless tragedy that makes less sense the more that he thinks about it. For the usually morally upstanding Myung-hui, she's a witness who could further place his political career in jeopardy.
Rain dots cinematographer Son Won-ho's frames from the outset, setting a grim, grey mood that can't be washed away. It keeps falling as Myung-hui and Joong-sik mount their own desperate searches for Ryeon-hwa, and as Lee reshapes his feature around her forceful presence. Beginning as a bleak account of duelling fathers from different sides of the tracks, each trying to protect what's dearest to them in their own ways, Idol soon becomes a tale of reclamation for Ryeon-hwa. She's the kind of woman who's typically pushed aside in stories like this, but not here — and her status as a Chinese immigrant in an unwelcoming South Korea makes an extra statement.
Thematically, Lee agitates more than he explores although his cast give his material the emotional weight it needs. Han and Sul largely operate in tormented mode— broodingly pensive and visibly distraught, respectively — but, as they weather both internal and external conflict, there's an array of shades to their characters.
In a case of the feature's performances mirroring its narrative, they're nearly upstaged by Chun, who can't be pinned down as the slippery Ryeon-hwa. Enjoying her second standout role under Lee's direction, she's Idol's not-so-secret weapon, and when she leaves an imprint, so does the movie.
Production company: Pollux Barunson Production, Vill Lee Film, CGV Arthouse
Sales: Finecut, cineinfo@finecut.co.kr
Producers: An Eun-mi, Han Sang-hyun
Cinematography: Son Won-ho
Editing: Choi Hyun-sook
Music: Kim Tae-seong
Production design: Kim Si-yong, Jeong Hye-won
Main cast: Han Seok-kyu, Sul Kyung-gu, Chun Woo-hee