A mother's illness forces her son to grow up fast in this intimate Italian drama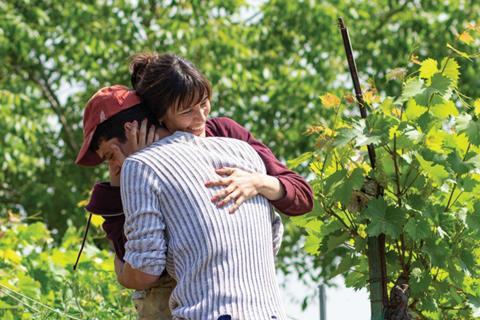 Dir: Ciro D'Emilio. Italy. 2018. 90mins
The fierce bond between mother and child is a time-honored one, with films always happy to squeeze some melodrama from plucky moms defending their cubs. But what happens when it's the parent who's in peril, and her son who has to be the daily defender?
It's a low-key story, and Salvatore Landi's cinematography is appropriately unsentimental
That's the drama driving the quietly effective Italian drama If Life Gives You Lemons, which premieres at the Venice International Film Festival and seems well-situated for other fest slots and a modest arthouse release. It may first need to overcome that title, which promises a far more upbeat film than is delivered. (Although to be fair, the original title, Un giorno all'improvviso, or One Day Suddenly, wasn't much better – a popular anthem at Italian football games, it loses some context in the translation.)
The painfully literal excuse for the new name is that mother and son run a small lemon orchard and, yes, do occasionally drink lemonade. If Life Gives You Lemons doesn't deliver sunny optimism, however, but a tart slice of life, as it follows 16-year-old Antonio (Giampiero De Concillio) through a tumultuous year, navigating obstacles he's not yet equipped to face.
His mother (Anna Foglietta) has emotional troubles – the exact diagnosis is left unsaid – and seems to be getting worse. She sits at home watching television, self-medicates with beer and marijuana, and occasionally stalks her angry ex-lover (who gave her this son years ago, but little else). Meanwhile a social worker hovers in the background, eager to remove Antonio, who remains devoted to this damaged woman.
So far, the teen's been able to keep the do-gooders at bay. But there are huge changes looming in his life – a fight with a best friend, the arrival of a new love, the exciting chance to try out for a pro football team – all arriving with new demands on his time, and new questions. Can he still give his mother the attention she needs? Can she now give him the freedom he deserves? And is the scout who wants to sign him to the team a genuine mentor, or just another undependable adult to distrust and dismiss?
A first feature from Pompeii's Ciro D'Emilio, who has previously made short films, If Life Gives You Lemons has a genuine feel for working-class Southern Italy and its scrappy residents. Every building is a little weathered, a little worn; every conversation seems fated to end in either a slap or a warm hug. But the people's pride is evident, and their stubbornness ingrained. And Antonio, as played by the charismatic De Concillio, is going to need both if he is going to survive his childhood.
It's a low-key story, and Salvatore Landi's cinematography is appropriately unsentimental, filling the wide screen with dark pavements and chipped concrete buildings. But D'Emilo finds colors in the character's emotions; the fierceness of teenage friendships, the unknown terrors of adolescent first dates, the triumphs and agonies of sport. He captures the tender relationship between a mother in pain and her protective son. Foglietta is particularly good – with laughing fits giving way to moody outbursts – but her son's achingly intense love for her is painful, too, as her illness forces him take on the premature responsibilities of a parent and provider.
It's a bittersweet love story in its own way, and a coming-of-age tale, to be sure. But the real tragedy is that any love here comes at great cost, and the coming-of-age arrives long before the child is ready.
Production companies: Lungta Film in collaboration with Rai Cinema
Worldwide distribution: True Colours
Producers: Andrea Calbucci, Maurizio Piazza
Screenplay: Cosimo Calamini, Ciro D'Emilio
Production design: Antonella Di Martino
Editing: Gianluca Scarpa
Cinematography: Salvatore Landi
Music: Bruno Falanga
Main cast: Anna Foglietta, Giampiero De Concilio, Massimo de Matteo, Lorenzo Sarcinelli