Gianfranco Rosi presents a surprising portrait of Pope Francis as he travels the world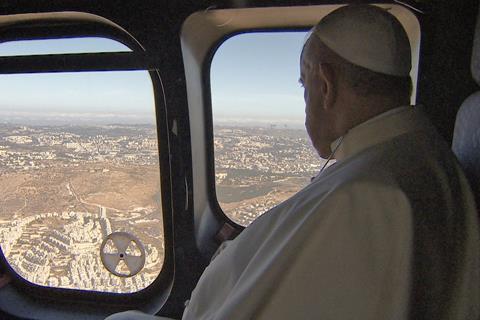 Dir: Gianfranco Rosi. Italy. 2022. 80 mins.
In 'On going a journey', early 19th century essayist William Hazlitt suggested that "we are not the same but another, and perhaps more enviable individual, all the time we are out of our own country". Award-winning documentarist Gianfranco Rosi seems to have had a similar intuition regarding the supreme pontiff of the Catholic Church. The subtext of In Viaggio (which translates as 'Travelling') is that it is while on the road, away from the close confines of the Vatican, that Pope Francis is at his most uninhibited and, therefore, most revealing.
There's affection in Rosi's homage to a man he clearly admires, but this is no Pope Francis promotional video
Assembled mostly from archival material, Rosi's documentary also interleaves extracts from the director's own past films, plus footage he shot personally while accompanying the Pope to Malta and Canada in 2022. This appears to be an in-between project for a filmmaker who, with wins at Venice in 2013 (for Sacro Gra) and Berlin in 2016 (Fire At Sea), remains the only director to have lifted the top prize at two of Europe's Big Three film festivals ­in the 21st century. But it's no less absorbing for all that. Working with editor Fabrizio Federico, who also helped out on his last film, Notturno, Rosi shapes a river of material into an engaging 80-minute glimpse into the life of a man who is that most fascinating of things for a character-based documentarist: both global figurehead and human being subject to the challenges of his job, of his ageing body, and of all those who want a piece of his time. Add an impressionistic structure and lack of explanatory commentary (a Rosi trademark), and In Viaggio seems destined to settle in a prestige streaming berth, where both the Francis fans, the Rosi raters, and the just plain curious can dip in.
There's affection in Rosi's homage to a man he clearly admires, but this is no Pope Francis promotional video. The moral compromises that this campaigner for world peace is forced to endure are there in the scary fighter jets, emblazoned with the slogan 'Unidos por la esperanza' ("united in hope") that escort the papal plane on a 2018 visit to Peru, or the scene in which Francis, accompanied by an inscrutable Recep Tayyap Erdogan, trudges wearily past a line of Turkish soldiers standing to attention. There's cheeky irony too. On a trip to Cuba, filmed from behind as he speeds past the flag-waving crowds in the 'Popemobile', Francis' carefully egalitarian blessings to those on the left, then the right, then the left, then the right, have something of the robotic quality of a mechanical lucky cat figurine.
Nine years, 57 trips, 53 different countries: it's a gruelling schedule for a man who, towards the end, is caught in a moment of physical and perhaps spiritual tiredness, splendid in his crisp white vestments but barely able to rise from his throne. Yet travel does seem to energise Francis. In meetings with real people – like a line of prisoners in Cuidad Juarez, Mexico, or a cancer sufferer in Brazil – he displays a rare ability to create a few seconds of one-to-one intimacy amidst the bodyguards and entourage.
Completed after the Russian invasion of Ukraine, Rosi's edit keeps cycling back to the Pope's blistering attacks on the arms trade, which, like his denunciations of capitalism, can sound more revolutionary than theological (at one point he rails against "money… drenched in blood"). But In Viaggio also gives us glimpses of this Argentinian Jesuit's savvy side. In Brazil, he delights the crowd in a favela by quoting lines from a tango popular in his youth. And in a series of remarkably frank briefings to Vatican correspondents on the papal plane, he reveals himself to be fully aware of the media's role in broadcasting his message – explaining, for example, exactly why he opted to use the incendiary term "Armenian genocide" while on a trip to the Caucasian republic.
Those familiar with Rosi's oeuvre may find his use of extracts from his own films a little self-indulgent – for example, when he splices harrowing material from Fire At Sea of Mediterranean migrant boat incidents into a papal visit to the island of Lampedusa. But this is all part of a "show, then comment" approach that, by the end of this absorbing documentary, makes a solid case for itself – particularly in a passage towards the end, when the Pope's July 2022 apology to Canadian indigenous communities is interleaved with eerie archive footage of the Catholic-run 'residential schools' that were all about the erasure of a culture that was considered 'pagan' and inferior.
Production companies: 21Uno Fil, Stemal Entertainment, Rai Cinema
International sales: The Match Factory, sales@matchfactory.de
Producers: Gianfranco Rosi, Donatella Palermo
Editing: Fabrizio Federico
Cinematography: Gianfranco Rosi