Brad Bird's family of animated superheros continue to entertain and charm in equal measure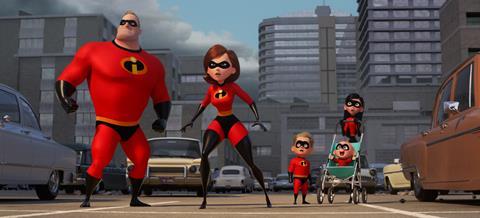 Dir/scr: Brad Bird. US. 2018. 119mins.
Amidst a Hollywood landscape cluttered with superhero movies, Incredibles 2's greatest power may be its ability to re-establish its own witty, whiz-bang niche. Writer-director Brad Bird's sequel to his 2004 film is equally high-flying as this dysfunctional family balances between battling bad guys and dealing with their interpersonal issues. Leading with its stylish, kinetic élan, Pixar's latest may not be as emotionally potent as the company's finest works, but its confidence, good cheer and effortless showmanship are suitably superb.
The film's swift pace amps up the comic momentum
Incredibles 2 will open June 15 in the States and July 13 in the UK, looking to top the $633 million collected worldwide by the first instalment. Disney has already released two colossal superhero films this year with Black Panther (currently $1.3 billion) and Avengers: Infinity War (currently $2.0 billion), and the betting is that audiences won't mind one more movie featuring costumed do-gooders — especially when it's an animated action-comedy that's sufficiently different from those Marvel flicks.
Taking place almost immediately after the events of the 2004 film, Incredibles 2 finds parents Mr. Incredible (Craig T. Nelson) and Elastigirl (Holly Hunter) coping with the fact that they still live in a world that has outlawed superheroes. Raising moody teen Violet (Sarah Vowell), rambunctious young Dash (Huckleberry Milner) and baby Jack-Jack, they're approached by a brother-sister duo named Winston and Evelyn (Bob Odenkirk and Catherine Keener) who run a thriving telecommunications company and want to help revamp the Incredibles' image with the public.
To do that, though, Winston and Evelyn suggest that Elastigirl fight crime on her own, which will make for good press, although it forces Mr. Incredible into the unfamiliar position of having to be a stay-at-home dad. Incredibles 2 derives much of its humour from that role-switching plotline, as Mr. Incredible discovers how fraught it can be to raise kids, while Elastigirl feels liberated from being a mother, finally receiving the accolades that usually go to her husband.
In 2004, comic-book films weren't nearly as prevalent, which helped give the original Incredibles a cheeky novelty. Fourteen years later, it's not quite as funny or unique to watch superheroes flex their extraordinary powers, but Bird brings the same easy-going panache and visual inventiveness which the hallmarks of the first film. Both attributes prove to be significant: where modern-day Marvel and DC movies boast momentous stakes, overblown spectacle and a certain assembly-line familiarity, Incredibles 2 flaunts a light, jazzy touch so even when there are large-scale action sequences, the proceedings feel breezy rather than oppressive.
Ralph Eggleston's handsome mid-century production design and Michael Giacchino's brassy, swinging score evoke an unspecified, ultra-hip past — the Incredibles movies never identify precisely the period — while Bird's sharp homages to bygone spy films and animated action series such as Jonny Quest enhance the nostalgic feel. Although some of the plotting may be pedestrian — Elastigirl will encounter a new nemesis, the mysterious Screenslaver — its chief function is to give Bird and his creative team ample opportunities to dream up dazzling set pieces.
On the home front, Mr. Incredible's challenges as a single parent aren't particularly surprising. As Nelson continuously amps up his character's exhausted exasperation, what's best about these domestic sequences is the shocked discovery that Jack-Jack has superpowers — and that they're both astonishing and utterly unpredictable. The film's swift pace amps up the comic momentum: one-liners, sight gags and wry asides all contribute to the screenplay's genial observations about how, even in a family of superheroes, insecurities and self-doubt can creep up.
If there's one quibble with this nimble entertainment, it's that Bird's eye-popping flair outpaces his story's emotional resonance. Incredibles 2 is such a fleet treat that it doesn't always stop for its characters' pathos to really connect: Mr. Incredible's threatened masculinity, Elastigirl's newly awakened independence and Violet's awkward dating woes all streak by too quickly.
But that limitation is somewhat mitigated by the warmth of the voice performances. Samuel L. Jackson returns as the Incredibles' uber-cool, crime-fighting buddy — he has less to do than in the 2004 film, but he still adds some extra swagger. As for Hunter, she's a delight as a woman relishing her chance to be the hero — and not just in her own family.
Production company: Pixar Animation Studios
Worldwide distribution: Disney
Producers: John Walker, Nicole Grindle
Production design: Ralph Eggleston
Editing: Stephen Schaffer
Cinematography: Mahyar Abousaeedi (director of photography/camera) and Erik Smitt (director of photography/lighting)
Music: Michael Giacchino
Main voice cast: Craig T. Nelson, Holly Hunter, Sarah Vowell, Huckleberry Milner, Catherine Keener, Bob Odenkirk, Samuel L. Jackson, Sophia Bush, Isabella Rossellini