Dir. Matt Spicer, US, 2017, 97 minutes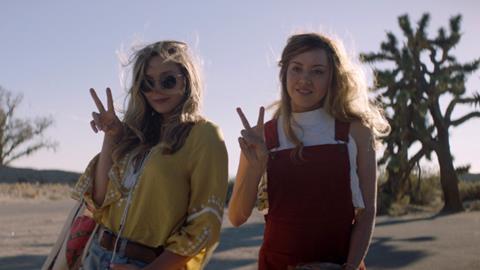 Why be a loser when you can become a stalker? In Ingrid Goes West, an angry outcast reinvents herself in LA by leeching onto an internet influencer. This web-comedy by first-timer Matt Spicer is a 'You've Got Instagram' that cranks up the self-destructiveness. Aubrey Plaza and Elizabeth Olsen are the draw for this small comedy that hits rare moments of drama as Plaza's sad hapless loner tries to tap into the popularity of a woman who has everything, i.e., a twitter account to rival Donald Trump's.
If you're looking for more than laughs, this comedy aspiring to drama takes you only so far
Ingrid Goes West targets the shallowness of internet personalities in Los Angeles, where superficiality reigns. The film's stars will launch it in English-speaking territories, although ultra-American dialogue may limit foreign interest.
The pre-LA Ingrid (Plaza) is unhinged, sullen and violent. Once she's out of an institution and back on Instagram (not a product placement in this film), she discovers Taylor Sloane (Olsen), blonde and beautiful, who has the right dog, house and husband, and who posts everything about her meals and weekends. Taylor lives in Venice Beach. With a bag full of cash in hundred dollar bills that mother left her, Ingrid moves to LA.
Desperate people are often drawn to what they can't ever become, and Plaza as Ingrid is nothing if not desperate. But she knows her gut and her internet, and tracks Taylor by starting at her most-posted restaurant. Through a wily maneuver involving Taylor's dog (another Instagram personality), she becomes the self-involved woman's newest best friend and her confidante. Yet, for the unfortunate Ingrid, that won't last long in a film that might as well be called Instawreck.
Ingrid the loser becomes a user of Taylor, thanks to her inheritance, which provides one of the film's running gags – "do you want cash for that?" No surprise, the gorgeous Taylor is revealed to be another reinvented transplant to Los Angeles, a former sorority girl whose bearded artist husband (Wyatt Russell) never sold a painting before credulous Ingrid bought one. And Taylor is using an army of followers.
In the cookie-cutter LA of the uneven script by Spicer and David Branson Smith, Plaza;s character stands out as an emotional scrapper who's wily enough to get at least some of what she wants. And Ingrid goes to almost any length to get it, to the point of arranging real bruises all over her face – a clever twist on the notion that vanity, in LA of all places, has no bounds.
Olsen, embodying the consumer ideal of trendy superficiality, is bathed by DP Bryce Fortner in the Elle Décor radiance of Venice Beach, with the clothes, the gleaming smile, the instant emotions and the vocabulary to match. Anyone she likes is "absurdly talented." And that term is used an absurd number of times.
Filling out the cast in this series of gags are the male characters. O'Shea Jackson Jr (who played Ice Cube in Straight Outta Compton). is Ingrid's landlord, who becomes a boyfriend of convenience when that accoutrement seems as necessary as the latest snake-skin handbag. In this pageant of quirks, Dan seems the most reasonable, although he's a would-be screenwriter who is slaving on an un-commissioned Batman script. Plaza, costumed up as a shameless Cat Woman in heat, hams it up magnificently in bed with Jackson.
If you're looking for more than laughs, this comedy aspiring to drama takes you only so far. In something of a picaresque internet-era Perils of Pauline here, you're left with a woman, Ingrid, who's still at the mercy of social media, only with more real (rather than virtual) bruises and scars endured on the way. Just as the writers can't get beyond the atmosphere and the mostly retread gags of a boilerplate Los Angeles, they can't get their characters past the point of an Instagram hangover that follows flashes of internet celebrity, and is sometimes the same thing.
Production companies: Star Thrower Entertainment, 141 Entertainment, Mighty Engine
International sales: CAA filmsales@caa.com
Producers: Jared Ian Goldman, Tim White, Trevor White, Adam Mirels, Robert Mirels, Aubrey Plaza
Screenwriters: Matt Spicer, David Branson Smith
Cinematographer: Bryce Fortner
Editor: Jack Price
Production Design: Susie Mancini
Costume Design: Cocoa Rigal, Luuana George
Original music: Nick Thorburn
Main cast: Aubrey Plaza, Elizabeth Olsen, O'Shea Jackson Jr., Wyatt Russell, Billy Magnussenre