Dir/scr: Woo Min-ho. South Korea. 2015. 130mins.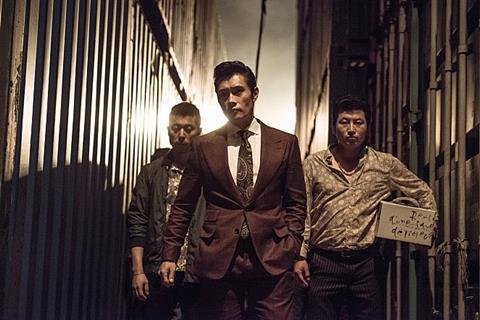 The issues of deep-rooted corruption and injustice once again take centre stage in a Korean film as Inside Men sheds light on the relationships between politicians, businessmen and the media. Graphic and grim in equal measure, it marks Woo Min-ho's (The Spies) strongest film to date and by quite a margin. It's also met considerable commercial success at the local box office accumulating more than 7 million admissions ($47.9m) making it one of the most popular R-rated films ever to be released in South Korea.
Refraining from an over-convoluted screenplay, Woo has scripted a well-structured and accessible narrative
Internationally, although the themes it tackles are local ones, Woo's vivid depiction and well-crafted execution will spark interest as will Lee Byung-hun and Cho Seung-woo who both give sterling performances.
Based on a webcomic by Yoon Tae-ho called Naeboojadul (2011) (also the Korean title of the film), which in English translates as 'insiders', the film follows a number of individuals involved in a corruption scandal including a prominent journalist, a company chairman and a presidential candidate.
It begins as a political henchman, Ahn Sang-goo (Lee Byung-hun) reveals to the press documents of a slush fund put together by Mirae Motors via an illegal $3 billion loan from Hangyul Bank. Some of these funds made their way to congressman and presidential candidate Jang Pil-woo (Lee Geung-young).
Mirae Motors Chairman Oh Hyun-soo (Kim Hong-pa) and Jang both deny the accusations with the congressman confidently stating at a press conference at the National Assembly "my conscience is clear before the people of this country" and says he's willing to stake his political life on it. Yet, as the film flashes back two years, it soon reveals a web of corruption that also involves sexual favours offered at the Chairman's villa with Jang very much a big part of it.
Also at the heart of the scandal is an editor-in-chief at one of the leading conservative papers, Lee Kang-hee (Baek Yun-shik) who uses his talents to manipulate public opinion by scribing stories as he seeks to fulfil his political ambitions.
Going up against them is a prosecutor Woo Jang-hoon (Cho Seung-woo) without any connections thus making it difficult to climb up the ladder. He doesn't appear as corrupt but he's determined, ambitious, and needs Ahn and his documents in order to bring them to justice.
As the story unravels, however, not everything is what is seems, which makes the conclusion all the more satisfying, not least because it ends on a more optimistic note. Refraining from an over-convoluted screenplay, Woo has scripted a well-structured and accessible narrative that is able to give viewers a compelling and vivid perspective on the topic of corruption that often dominates headlines in Korea.
Visually, with much of the dialogue happening behind closed doors, careful attention has been paid to the film's excellent mise-en-scène and choice of locations with an emphasis on more traditional décor. Camera angles and location of the camera also help generate an intriguing ambience underlying the film's dark tone. The film also includes an array of exterior shots as it captures some of Seoul's landmarks including the National Assembly building – the home of Korean politics.
Woo Min-ho has demonstrated some promise before, particularly in his feature debut Man of Vendetta with its strong production values, but both previous features failed to connect with audiences. The Spies suffered from some questionable casting choices and a poor choice of tone, but here he gets it all right.
Lee Byung-hun and Cho Seung-woo are a superb and colourful pairing as they both naturally mould into their respective characters. The film's success will come as a relief to Lee, whose last film Memories of the Sword was this year's most prominent flop in Korea. Inside Men comes out just months after the success of Ryoo Seung-wan's Veteran and explores some of the same issues - most notably the topic of justice or lack thereof. Tackling these themes appears to be resonating strongly with local audiences, and rightly so.
Production Company: Inside Men, LLC. Production
World Sales: Showbox (www.showbox.co.kr/english/)
Producers: Kim Won-kuk, Charles Park
Screenplay: Woo Min-ho (based on the webcomic Naeboojadul (2011) by Yoon Tae-ho)
Cinematography: Go Rak-seon
Production Design: Cho Hwa-sung
Editor: Kim Sang-bum
Music: Cho Young-wuk
Main Cast: Lee Byung-hun, Cho Seung-woo, Baek Yun-shick, Lee Geung-young, Kim Hong-pa, Jo Jae-yun & Bae Sung-woo