Romania's new wave director Radu Muntean returns with a cast of characters who can't see the woods for the trees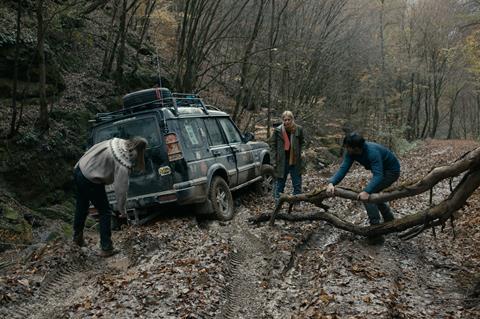 Dir. Radu Muntean. Romania. 2021. 104 mins.
Romanian cinema takes a trip into the dark woods in Intregalde by Radu Muntean, a mainstay of the country's New Wave. Following titles like Tuesday After Christmas (2010) and Alice T. (2018), Muntean comes to Directors' Fortnight with a road movie – or rather, a muddy-track movie – that teases us with the possibility that it may become a survival drama or a Blair Witch-style chiller. Instead, Muntean leads us into a playfully caustic realm of social satire, as his characters find themselves in unknown territory without either GPS or a clear moral compass. This vivid variation on the New Wave's founding aesthetic of character-based realism should have modest commercial prospects but will be rock solid at festivals.
An understated but piquant debate on social responsibility
While some of the nation's film-makers have recently struck out in wildly divergent, experimental directions, Integalde shows that there is still new energy to be mined from the familiar mode of Romanian realism – although, far from being narratively conventional, Intregalde repeatedly pulls the rug from under viewers' feet. It focuses on a group of urban professionals who head out annually in SUVs as volunteer workers, bringing aid supplies to rural areas. The film begins with them loading up at a warehouse, before they hit the road in various formations, one group striking up a discussion about the ethics of giving a young village girl the present of an electronic tablet – the problem being, one woman argues, that such largesse can create unrealistic expectations.
One woman, Maria (Maria Popistasu, a Muntean regular) decides not to ride with couple Cristina and Radu (the latter played by the director) and instead joins Ilinca (Ilona Brezoianu) and Dan (Alex Bogdan) in Dan's car, which Ilinca has agreed to buy from him – much of the humour ahead lying in Dan's sensitivity about the state of his vehicle, fated to get more than a few scratches.
Heading for a village named Intregalde, somewhere in the thickly forested hills, the travellers alternate spiky badinage with chatter about their private lives – sharply acted by the lead trio, with a vivid improvisational feel. Then they see an old man walking determinedly towards who knows where; hearing his confused story about a nearby sawmill, they give him a lift. The old man, Kente - fragile, bony, seemingly as ancient the surrounding terrain around them – chatters away in a foghorn voice. A star act from the moment he appears, Luca Sabin - an unknown among the professional leads - appears to be very much the real thing.
After they drop him off, the car gets stuck on a muddy road. After side trips for for help, the trio remain stranded at dead of night, with the temperature dropping fast. But it turns out that Kente is in even more pressing need of help, and Maria insists that she and her companions must help him out - which they do at some peril, and some comic inconvenience.
By the time Kente and his living conditions have become the centre of the film, Intregalde has turned into an understated but piquant debate on social responsibility – on questions about the need for intervention to help others, but also about the way that such action can sometimes serve primarily to reassure benefactors of their own moral virtue.
At a time when documentary makers are increasingly concerned with questions of ethics, the film's quasi-documentary visual style – the DoP is Tudor Vladimir Panduru, whose credits include Cristian Mungiu's Graduation – heightens this dimension of debate. Indeed, Maria and her companions can be regarded as surrogates for the very crew that's shooting this movie, with the idea of film-makers exploring secluded rural cultures taking on a highly charged ironic dimension. That's especially evident since, as a witty script suggests, the party see the world primarily through their own media-inflected perspective – dubbing Kente 'Forrest Gump' and comparing a village woman with a heavily bandaged arm to comic character Hellboy.
While some striking rural scenery near the start recalls the landscapes of Iranian films like Kiarostami's 'Koker Trilogy', an increasingly claustrophobic style sees the forest closing in on the characters, who end up huddled in the car as if in a cave – or exploring the forest at night, one remarkable shot showing them as distant figures scaling a hillside, lit only by their electric torches. While Muntean sharply evokes the urgency of their plight, dramatic peril isn't what Intregalde is really about. A coda focusing on Kente shows us something about the life of this man and his community that, we come to realise, Muntean's urban travellers might not have time or mindset to really discover – very much a case of not seeing the wood for the trees.
Production companies: Multimedia Est, East Company Productions
International sales: Voodoo Films, sales@voodoofilms.ro
Producer: Dragos Vilcu
Screenplay: Radu Muntean, Razvan Radulescu, Alexandru Baciu
Cinematography: Tudor Vladimir Panduru
Editor: Andu Rudu
Production design: Anca Lazar
Main cast: Maria Popistasu, Ilona Brezoianu, Alex Bogdan, Luca Sabin