Luxembourg's official entry for the International Feature Oscar is an understated melodrama that blends past and present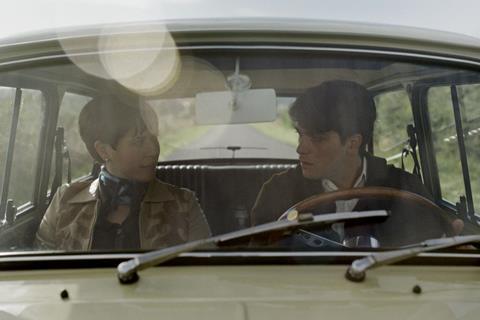 Dir/scr: Donato Rotunno. Luxembourg/Belgium/Germany/Italy. 2020. 99 mins.
Io Sto Bene turns a stroll down memory lane into an enjoyable, understated melodrama. Writer-director Donato Rotunno blends past and present to chart the life of an Italian migrant in Luxembourg. Parallels with the fate of modern migrants are left implicit in a tale that favours emotional peaks and troughs to social commentary. Rotunno brings a deal of charm to a story which could help attract an older demographic to what often feels a pleasingly old-fashioned affair. The film's selection as Luxembourg's Oscar candidate could provide a further boost.
The heart of Io Sto Bene lies in the scrapbook events of everyday lives
Rotunno's third feature finds him venturing into the kind of territory that might once have attracted Ettore Scola or the Taviani brothers. In the late 1960s, we meet Antonio (Alessio Lapice) and his cousins Vito (Vittorio Nastri) and Giuseppe (Maziar Firouzi) as they leave their families and beloved Italy in search of employment. The cousins are headed for Belgium whilst Antonio will settle in Luxembourg, working as a builder. They are full of hopes and dreams, intending to stay a few months or a year at most to make their fortune and then return home.
We then see an elderly Antonio (now played by Renato Carpentieri). Recently widowed, he is preparing to move out of his comfortable apartment and take up residence in a care home. Significant portions of the film are then spent on flashbacks filling in the blanks of his life.
A second, lesser strand of the narrative focuses on Leo (Sara Serraiocco), a young DJ who has recently split from her boyfriend and lost her job. Like Antonio long ago, she is an Italian far from home struggling to make a new life for herself in Luxembourg. A chance encounter between them sparks a paternalistic concern in Antonio, who sees in her reflections of himself and his cousins half a century earlier. There is a sense of history repeating.
The balance of the two stories is tipped in favour of the past. An unexpected bond blossoms between the elderly Antonio and Leo in the present as he finds renewed purpose and she is given a safe haven. The struggles of the young Antonio burn more brightly, though. Initially, there is some attempt to address the problems of exile and the plight of the outsider. Language is a barrier, customers feel they can underpay Antonio with impunity, and homesickness exerts a guilty pull as his stay in Luxembourg extends into a permanent residency.
The heart of Io Sto Bene lies in the scrapbook events of everyday lives. Rotunno sweeps us through the loyalties and betrayals, marriages and deaths, relationships and regrets with all the skill of a novelist. His strength lies in never tugging too mightily at the heart strings. The period setting isn't an excuse to splash contemporary pop hits on the soundtrack, indulge in eye-catching fashions or blare the events of the day from a background radio or television. His approach is more sedate and as underplayed as some of the performances. A new moustache or a different haircut gently conveys the passage of years and emphasises the way that some people change very little in our mind.
The emotional core always remains what happens to Antonio and the life he led, especially his love for Mady (Marie Jung), their marriage and her role as the driving force in the establishment of a successful family business. But the two major female characters in Io Sto Bene feel underdeveloped. We are left lacking a fuller understanding of Mady and her attraction to Antonio, and also wanting to feel that Leo is more than a figure to trigger the echoes of the past. Still, the gravely handsome Lapice makes for an engaging young Antonio, whilst Carpentieri invests his dapper older incarnation with a gentle warmth. The fact that Antonio leaves such an impression is a testimony to the two actors, and a further indication of the film's old-fashioned instincts.
Production companies: Tarantula Luxembourg, Tarantula Belgium, MaxMa Films, Vivo Film
International sales: MPM Premium, sales@mpmpremium.com
Producers: Elise Andre, Donato Rotunno
Cinematography: Jean-Francois Hensgens
Editing: Mayas Veress
Production design: Marie Janezic
Music: Massimo Zamboni
Main cast: Renato Carpentieri, Sara Serraiocco, Alessio Lapice, Marie Jung