Elia Suleiman returns to Cannes Competition with a typically deadpan travelogue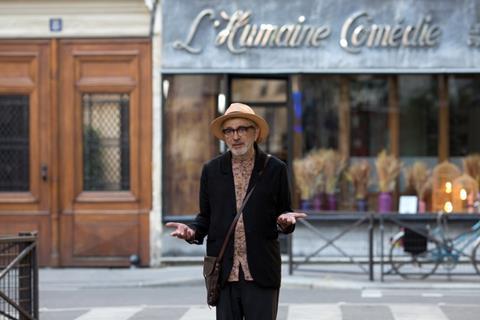 Dir/scr: Elia Suleiman. France/Qatar/Germany/Canada/Turkey. 2019. 100mins
Making a cameo appearance in the film he's backing, Wild Bunch's Vincent Maraval plays a producer in a Parisian meeting with Elia Suleiman. He has read the new script, he tells the director, but he has a problem with it. "It's not Palestinian enough", he complains, "it could take place anywhere, even here".
Mostly, It Must Be Heaven is about how we view the world through the Instagram filter of what defines us
It's a brilliant comic moment in a slow, episodic film that does indeed take place in Paris – along with New York and Palestine – and spends much of its running time teasing its audience (likely to be those who recognize the director's 'brand', plus a few curious newbies) with a series of droll, partly impenetrable vignettes featuring a deadpan, panama-hatted Suleiman.
The joke is doubly rich because the director knows that his cine-literate audience, aware of his origins and track record, will attempt to interpret every scene as an allegory of Middle Eastern politics, loyalties and conflicts – even the delightful one where a sparrow that has flown in through the window of his Parisian apartment keeps hopping onto his computer keyboard as he tries to write, however many times he pushes it away. Is the sparrow Israel? Is it the question of Palestinian identity that won't leave him alone? Or is it just a sparrow?
It's been ten years since The Time That Remains and 17 since Divine Intervention, which introduced Suleiman to a wider audience and won the 2002 Cannes Jury Prize. Though they're widely spaced, the Palestinian director's films have become as instantly recognisable as those of another master of long-gestating surreal comedies, Roy Andersson. All feature a near-mute, near-expressionless Suleiman as a passive observer or victim, a Buster Keaton without much agency or pathos. He says exactly three words in the whole film, but they're telling ones. Asked by a garrulous New York taxi driver what country he hails from, the director replies "Nazareth", and only when pressed admits "I'm Palestinian". His national identity, Suleiman seems to be saying, exists only as an adjective, not a proper noun.
Mostly, It Must Be Heaven is about how we view the world through the Instagram filter of what defines us. But it's also, arguably, more objective than that – suggesting that we all now live in a kind of global Palestine, where arbitrary displays of power, threats of violence, and lost people in search of meaning and identity are the new normal. At home in Nazareth, the director watches a neighbour filching lemons from the trees in his garden. "Don't think I'm stealing", the man defends himself to the puzzled Suleiman. "I knocked on the door, but nobody was there".
In an almost empty Paris he watches an ominous Bastille Day military parade, is mesmerised by a catwalk video in the window of the fashion atelier opposite his apartment, observes policemen moving in choreographed formation on Segways and roller skates, and is silently menaced on the metro by a tattooed hard guy played by Claire Denis regular Grégoire Colin. Suddenly turning up in New York, Suleiman's deadpan Everyman sees a woman with angel wings and a Palestinian flag painted on her naked torso being chased, Keystone Cops style, by a group of New York policemen. He also asks a tarot reader to help him divine the future of the Palestinian state (it's difficult to read), and attends a 'Forum for Palestine' where the audience is told to welcome the speakers (squashed behind a table that is too small for them) with a single handclap rather than prolonged applause.
There's richness but also randomness in the exercise: as with Andersson, audiences will likely approach the film a series of sketches linked as much by mood as by theme. Some hit the spot, two or three are laugh-out-loud funny, but others seem little more than space-fillers in a film that is both enjoyable and frustrating. It's all crisply shot, with little or no camera movement. The sparse musical soundtrack ranges from a Leonard Cohen song to a reprise of the version of 'I Put a Spell on You' that the director had already used in Divine Intervention, as a series of utterly stylish Parisian women strut along the sidewalk in front of Suleiman's café table. As male-gaze sequences go, it's a gorgeous one – but it also makes us wish the director would empty out his style toolbox and try something new.
Production companies: Rectangle Productions, Nazira Films, Pallas Films, Possibles Media, Zeyno Film
International sales: Wild Bunch, ediederix@wildbunch.eu
Producers: Edouard Weil, Laurine Pelassy, Elia Suleiman, Thanassis Karathanos, Martin Hampel, Serge Noël, Zeynep Atakana
Production design: Caroline Adler
Editing: Véronique Lange
Cinematography: Sofian El Fani
Main cast: Elia Suleiman