Bruno Dumont directs this unusual take on the Joan Of Arc story.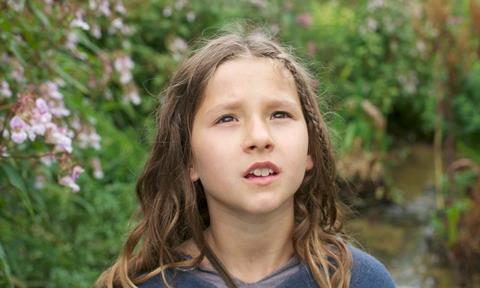 Dir: Bruno Dumont. France. 2016. 107mins
Faced with the sights and sounds of confident musical oddity Jeanette — twenty years after the director's debut The Life Of Jesus and after P'tit Quinquin and Slack Bay by way of Humanity, Hadewijch and Hors Satan — one of the least likely sentences in the English language has to be "Bruno Dumont has fallen into a rut." His wacky yet assured take on the childhood and adolescence of the future Joan Of Arc would be a perfect opening night offering if anybody starts a 'Love It Or Hate It' film festival.
Whether Joan will drive the English out of France or first out of cinemas is an open question
In song and dance — with all the dialogue and lyrics drawn from two volumes by the oft-cited Socialist-Catholic-mystic poet and essayist Charles Péguy (1873-1914) — the film wears its literary and historical pedigree lightly, with religious fervour channelled into silly dances and earnest expressions while the young shepherdess' sheep graze in the background, emitting the occasional bleat.
There is an awful lot of talking and singing about souls and suffering in distinctive outdoor settings, in which the River Meuse inevitably wends through the frame. How, Dumont asks, does a little shepherd girl grow up to be a warrior and a saint?
Nature and faith were the main influences in the countryside in 1425. Jeanette, aged eight (Lise Leplat Prudhomme) sings about how, after 14 centuries of Christianity, there's still "nothing" on the tangible God front. But when the Lord created the heavens and the earth, he must also have created electrical outlets, power cords and power chords because the whiplash-inducing, hair-tossing moves of head-banging are back.
Choreographer Philippe Decouflé — a master of creativity whose credits include the Opening and Closing ceremonies for the 1992 Winter Olympics and the show documented in Frederick Wiseman's Crazy Horse — has given the actors basic movements to perform, which they do with gusto but not exactly grace. If you didn't know there were major talents behind-the-scenes you could be forgiven for mistaking much of this for a high school pageant where only compelling-looking students may enrol.
In a memorable line-up of performers, the stand-outs are Leplat Prudhomme , who sings beautifully a cappella and Durand Lassois as Jeanne's uncle who looks like a young Vladimir Putin learning to break dance via sign language.
While the songs aren't exactly memorable, they're enjoyable. Composer Igorrr provides a range of melodies, some of which Jimi Hendrix might not have scoffed at. A rarity in French filmmaking — Dumont believes it hasn't happened since Straub and Huillet's Moses And Aron in 1975 — all of the singing was performed live rather than lip-synching to pre-recorded tracks. The result is surprisingly polished.
What's the plot? Jeanette's best friend Hauviette (Lucile Gautier) senses that the pious shepherd girl only seems happy but is actually miserable. Jeanette wants to speak with a certain Madame Gervaise, a nun in a nearby convent. When Madame Gervaise does materialise there are two of her, singing in pleasant harmony (played by twins Aline and Elise Charles). But you never know when a pair of serene 15th century nuns might rock out.
Eight years go by and Jeanette at 16 (Jeanne Voisin) now wants to be called Jeanne because that's what she says Saint Michael calls her. Jeanne starts thinking that if God doesn't send a warlord to chase the English out of France, she may have to look into the problem herself. She and her uncle plan to head for Orleans but don't quite manage to depart. Will Jeanne ever connect with her destiny?
Originally destined for TV as was P'tit Quinquin, Dumont has re-jiggered the aspect ratio and running time for TV and for the big screen. Customary elements such as sex, death, slightly retarded-seeming individuals and manifestations of absolute evil are mostly absent this time around.
Whether Joan will drive the English out of France or first out of cinemas is an open question. For those who remain seated, this is a strange and forthright cinematic object with considerable rough-hewn charm. Those who recall Jesus Christ, Superstar will feel faint pangs of familiarity at the mix of sincerity and crazed audacity.
Production companies: TAOS Films, Arte France
International sales: LUXBOX
Producers: Jean Bréhat, Rachid Bouchareb, Muriel Merlin
Screenplay: Bruno Dumont, adapted from the writings of Charles Péguy
Cinematography: Guillaume Deffontaines
Editors: Bruno Dumont, Basile Belkhiri
Production design:
Music: Igorrr
Choreographer: Philippe Decouflé
Main cast: Lise Leplat Prudhomme, Jeanne Voisin, Lucile Gauthier, Victoria Lefebvre, Aline Charles, Elise Charles, Nicolas Leclaire, Gery De Poorter, Regine Delalin, Anaïs Rivière