Kristen Stewart and Laura Dern power this dramatisation of literary fraud JT LeRoy.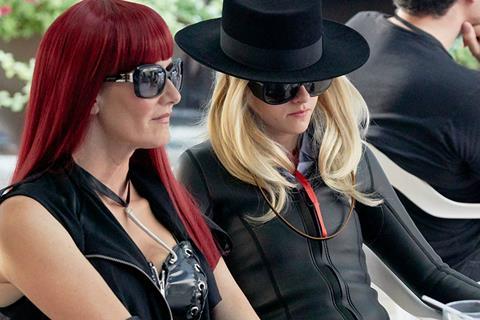 Dir: Justin Kelly. Can-USA-UK. 2018. 108mins
There's nothing about this watchable but somewhat workmanlike dramatisation of the literary fraud behind author 'JT LeRoy' which is anywhere near as extreme as the story on which it is based. But Justin Kelly's low key directing choices allow the two very fine central performances to take centre stage. Kristen Stewart (playing Savannah Knoop / JT LeRoy) is typically subtle; Laura Dern (playing Laura Albert / Speedie / JT's words and voice) is a hurricane of enthusiasms, mannerisms and agonising naked neediness. Intriguing themes of identity, fantasy and creative ownership are explored in a film which, in some ways, takes the form of love triangle; albeit one in which one of the parties is fictional.
Dern, always just pulling back from the brink of grotesque in her depiction, is superb
The curious story of teenage truck stop rent boy-turned-bestselling author JT LerRoy has already been explored in the documentary Author: The JT LeRoy Story, by Jeff Feuerzeig. And one might assume that LeRoy, the alter ego or literary avatar of Laura Albert, had already outstayed his welcome in the public arena, but for the canny casting of Kristen Stewart in a gender fluid role which is pretty much tailor made for her skillset. Stewart will be a key selling point for the picture; likewise the playful tone and flashes of humour should generate positive word of mouth.
Stewart imbues Savannah, fresh off the bus and new to the city, with a fragility and malleability. She's barely grown, a crop-haired waif, in awe of her big brother Geoffrey (Jim Sturgess) and his girlfriend Laura. She praises everything – their apartment, Geoffrey and Laura's wretchedly average rock band Twist And Scream. And Laura, clearly a fan of affirmation in any form, embraces Savannah like a long lost sister, love-bombing her with attention and unsolicited confidences in return for Savannah's wide-eye appreciation.
When Savannah is visibly moved by the newly published book by JT LeRoy, secretly penned by Laura, an idea forms. The androgynous Savannah dons a blonde wig and shades and poses as J T, her supreme discomfort in the deception working in her favour. Laura, meanwhile, pulls on a bright red wig and an unconvincing British accent to play another of her alter egos, JT's friend, handler, and spokesperson Speedie.
But where Speedie is abrasive and off-putting, ostracised in the very circles into which her writing has bought them entry, Savannah's husky whisper of sensuality in her JT guise is like catnip to the literary and, later, the movie world. She beguiles a brash Hollywood producer, played by Courtney Love (in a meta twist, Love was one of the artists who was photographed draped over the real JT).
But it's the actress and director Eva (Diane Kruger), based on Asia Argento, who becomes a flashpoint. Savannah as JT has a sexual encounter with Eva; Laura, who talks to the actress daily on the phone, voice disguised with a treacly Southern accent, is at pains to point out that it's JT's words, not Savannah's body, that Eva desires. The relationship between Laura and Savannah becomes a tussle for ownership, of JT and of Eva.
Based as it is on Knoop's book, Savannah is the focus of the film. But it is Laura – this desperately unhappy woman who only feels comfort in reinvention – who is the more fascinating character. Dern, always just pulling back from the brink of grotesque in her depiction, is superb.
Of the film's creative elements, the score is particularly noteworthy. A questioning flute motif, it adds to the film's appealing enigma; meanwhile the choice of Hole's Celebrity Skin for the closing titles is an on-the-nose wink to the audience.
Production company: Elevated Films, The Fyzz Facility, Ingenious Media, Aquarius Content, Fortitude International, Sobini Films, Thirty Three Productions, LBI Entertainment, Buffalo Gal Pictures
International Sales: Fortitude International info@fortitudeint.com
Producers: Patrick Walmsley, Julie Yorn, Thor Bradwell, Gary Pearl, Cassian Elwes, Giri Tharan, Mark Amin, Dave Hansen
Screenplay: Justin Kelly, Savannah Knoop
Production Design: Jean-André Carrière
Editing: Aaron I. Butler
Cinematography: Bobby Bukowski
Music: Tim Kvasnosky
Main cast: Kristen Stewart, Laura Dern, Diane Kruger, Jim Sturgess, Kelvin Harrison Jr, Courtney Love, James Jagger, Dave Brown