Rowan Atkinson returns as the hapless secret agent in the third outing for this tired franchise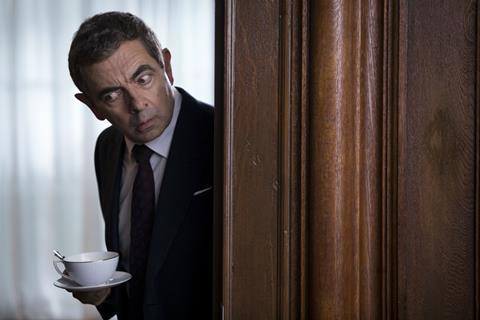 Dir: David Kerr. UK-Fr-US. 2018. 88mins
Britain's most inept secret agent is recalled from retirement in Johnny English Strikes Again — bringing both a tired spy spoof and the creakiest of comedic set-pieces along with him. Try as he might, Rowan Atkinson's slapstick pratfalls and rubbery expressions can't stretch over the feature's brazen attempt to rehash past glories.
Laughter is rarely forthcoming in a movie wholly robbed of spontaneity
Considering the series' first two instalments earned more than $320 million at the global box office, it is, however, easy to see why Working Title has revived the 007-aiming farce for a belated third outing. Yet espionage parodies have moved on in recent years and, thanks to the likes of Spy and Kingsman, Johnny English's James Bean routine feels resolutely obsolete. As the film makes its way across South America, Australia, Asia and Europe before bowing in the UK on October 5 and the US on October 26, it's affection for both Atkinson and his on-screen counterpart that'll lure existing fans into cinemas. The franchise's family-friendly nature has always further broadened its audience and takings, and should continue to do so.
Arriving 15 years after the first film and seven years after sequel Johnny English Reborn, Johnny English Strikes Again at least has the sense to nod to its been-there, done-that status, with TV veteran turned first-time feature helmer David Kerr and original Johnny English scribe William Davies painting their titular figure as a classic relic. Steadfastly dedicated to his old methods and gadgets, he's even more oblivious than usual in an intelligence world awash with high-powered mobile phones, averse to guns and keen on waiver-heavy paperwork. English unearths boffin Bough (Ben Miller, returning after sitting out the second chapter) to help navigate this new technological frontier — and, not to the script's benefit, to spread the out-of-touch jokes across two targets.
When a cyber attack exposes the identities of MI6's active agents, the Prime Minister (Emma Thompson, bringing vastly more grace than the material calls for) is forced to call upon operatives from another era. With a combination of overblown enthusiasm and dumb luck — aka his usual convenient knack for blundering onwards and upwards in increasingly silly circumstances — the overconfident, arrogant English leaps from teaching camouflage to school kids to becoming Britain's only hope against an elusive hacker.
This entails him heading to the south of France to chase down a luxury yacht and its mysterious inhabitant (Olga Kurylenko), while the PM attempts to solidify online security with the help of an American tech billionaire (Jake Lacey).
With Johnny English Strikes Again possessing little in the way of plot, it relies heavily on its eponymous walking disaster. English dallies with waiters yet again, wreaks havoc wearing a virtual reality headset and clanks around in a suit of armour; he is equally clueless with both modern and medieval props. What drama does exist is as clichéd and predictable as the film's exaggerated mishaps, though Kerr keeps proceedings snappy and visually shiny across an 88-minute running time.
Having lost none of his mugging powers, Atkinson's flexible talents help raise a few smiles (eccentric dance moves are an easy yet effective inclusion), but laughter is rarely forthcoming in a movie wholly robbed of spontaneity. Lazily shaken and not even messily stirring, there's a repeating formula here: English announces that something outlandish will occur — a car will break down, or someone will take a tumble, for example — only for it to then happen to him. You could almost train to become a real spy in the elongated gap between the feature's set-ups and its punchlines.
Production company: Working Title Films, Perfect World Pictures, StudioCanal
Distributor: Universal Pictures
Producers: Tim Bevan, Chris Clark, Eric Fellner
Screenplay: William Davies
Editing: Tony Cranstoun, Mark Everson
Production design: Simon Bowles
Cinematography: Florian Hoffmeister
Music: Howard Goodall
Main cast: Rowan Atkinson, Olga Kurylenko, Emma Thompson, Jake Lacy, Ben Miller