A delicate rendering of how Spanish artist Josep Bartoli escaped a prision camp in France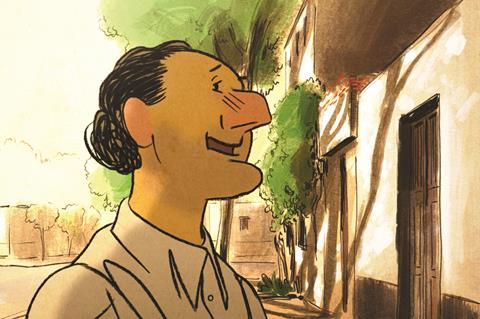 Dir: Aurel. France/Spain/Belgium. 2020. 74mins.
A tale of refugees and the cruel fallout from armed conflict, Josep deploys solemn and affecting animation to relate the powerful saga of an unlikely friendship between a (fictional) French gendarme and a (real life) Spanish Republican fighter confined in a French concentration camp from early 1939. Josep Bartoli fled Franco's dictatorship, arriving in France with 50,000 other Spaniards and international veterans of the Spanish Civil War, only to be treated deplorably. This gifted artist's work is spotlighted in this somber but ultimately heartening account of how the human spirit copes with inhuman circumstances.
A harsh history lesson as well as a good yarn, this visually arresting endeavour registers strongly at a time when refugees account for a record one percent of the world's population.
Peppered with small but decisive acts of kindness, Josep bounces around in time across five eras as a dying man looks back at the bigotry and savagery he witnessed in the 20th century. An accomplished political cartoonist, first-time feature director Aurel (who embarked on the film in 2010) was fascinated by the documentary power of Josep's drawings. Born in Barcelona in 1910, Bartoli died in New York in 1995, but might well have perished during the Second World War had a French officer not helped him escape. Bartoli was more than just friends with fellow artist Frida Kahlo, with whom he cavorted in Mexico. A lusty Frida adds literal colour to a story whose palette has been stripped down for much of its running time. In its spare but often devastatingly effective style, the film simultaneously pays tribute to Bartoli and to the power of drawing itself.
A masterly draftsman, Bartoli did not prettify reality, he transcribed it much as a journalist would. Serge, a camp gendarme, first spots Josep drawing on any available surface including directly in the dirt. Serge is bullied by two hateful older gendarmes but risks their ire to sneak paper and pencil to Josep even if he then has to urinate on him in feigned contempt to keep his cruel colleagues off his back. They see the refugees as an unwanted burden, unworthy of decent shelter, medical attention or food.
The screenplay by frequent Robert Guédiguian collaborator Jean-Louis Milesi never spoonfeeds the audience, trusting viewers to know the basics of political upheaval in the 1930s and 40s, but filling in the often-shocking details gradually.
Closer to the present day, we meet a French teenager named Valentin who has a gift for sketching, stuck in the backseat of his parents' car as they drive to visit his mother's dying father, Serge. His mum is put-upon and testy but Valentin is soon listening to his grandfather's memories of his experiences as a freshly minted gendarme guarding a camp for Spanish refugees in the south of France. His memories will explain a particularly harrowing sketch on the wall depicting a dead man with an agonized expression.
Serge and his grandson are our way into the story which otherwise essentially sticks to historical facts. As real people buffeted by history go, Bartoli is entirely worthy of a feature-length animated film. His authentic artwork is used throughout the film to great effect. In addition to Josep's dramatic escape, highlights include Serge's search for Josep's pregnant fiancee who boarded a train to presumed safety. The camp's Senegalese sharpshooters drafted to fight in Europe bide their time in interesting ways.Voice work is excellent with special praise for Sergei Lopez as Josep.
A harsh history lesson as well as a good yarn, this visually arresting endeavour registers strongly at a time when refugees account for a record 1% of the world's population.
Production companies: Les Films d'Ici, Les Films du Poisson Rouge, Lunanime
International sales: The Party Film Sales, clemence.lavigne@thepartysales.com
Producer: Serge Lalou
Production design: Aurel
Editor: Thomas Belair
Screenplay: Jean-Louis Milesi
Voice cast: Sergi Lopez, Gerard Hernandez, Bruno Solo, Silvia Perez Cruz