Four Asian American woman head on a no-holds-barred trip across China in Adele Lim's raucous feature debut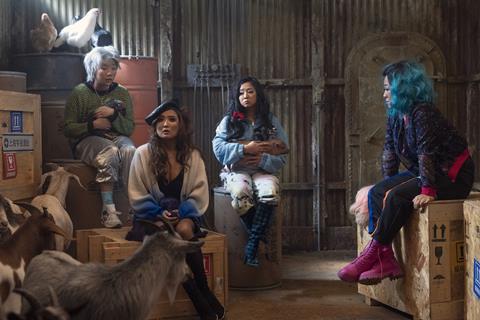 Dir: Adele Lim. US, 2023. 95min
Four Asian American women embark on a raucous journey across China (and, briefly, into South Korea) to find one of their birth mothers in this fish-out-of-water comedy that combines frank humour with a heartfelt narrative about the challenges of finding a true sense of belonging. Joy Ride could easily have felt like a series of increasingly outrageous skits but, thanks to the chemistry between its leads and the tonal confidence of first time director Adele Lim, it ultimately lands as a raucously authentic comedy.
Real-world frankness and a provocative style
Having co-written written the similarly themed Crazy Rich Asians, which grossed $238m worldwide, and Oscar-nominated animation Raya And The Last Dragon, Malaysian filmmaker Lim sensibly plays to her strengths in her feature debut. After premiering at SXSW, Joy Ride released in the US, Europe and Australia earlier in July where it has become a word-of-mouth small-scale success. While it may struggle to hold its own against Barbie and Oppenheimer when it opens in the UK on August 4, it could prove fruitful as an adults-only counter-programming.
Composed, high-flying lawyer Audrey (Ashley Park from TV's Beef and Emily In Paris) and chaotic artist Lolo (Sherry Cola, I Love Dick) have been friends since childhood, a bond forged by being the only Asian girls in the suitably named town of White Hills, Seattle. (A funny 90s flashback sets the tone for their relationship — Audrey is mild, Lolo has a streak of crazy — and the brash humour to come.) Now in their 30s, Audrey is focused on her career while Lolo is struggling to make it as an artist of explicit body positive pieces which prove divisive. "My art may be shocking," she asserts, "but I'm trying to start a conversation."
The same could be said for the film itself, which favours of real-world frankness and a provocative style which features plenty of extreme sex, drinking and drugs. Written by Cherry Chevapravatdumrong and Teresa Hsiao (whose joint credits include Family Guy, American Dad and Awkwafina Is Not From Queens), it uses these eyebrow-raising moments to confront outdated taboos around body image, sexuality, gender, ambition and desire. As Audrey and Lolo are joined on their travels by Lolo's non-binary cousin Deadeye (a scene-stealing Sabrina Wu) and Audrey's college friend Kat (Stephanie Hsu), now a famous actress in China, the film asks us to question why this group of independent adults should not be able to behave exactly as they want, without judgement?
But, of course, for women there is always judgement. Kat is desperately trying to hide her sexually adventurous past because her Christian fiancé believes she is a virgin. Deadeye struggles with the social awkwardness that alienates others. Despite her bolshy attitude, Lolo finds it difficult to swallow her pride and work in her Chinese parents' restaurant, worried to be thought of as anything less than a serious artist.
The film, however, centres around Audrey, who was adopted as a baby by a white American family and is now facing something of an identity crisis. When her law firm — populated by a bunch of casually racist dude-bros – sends her to Beijing to close an important deal, she feels not so much as if she is coming home but landing in enemy territory. Any judgement here is largely hers, as she is initially wary of Chinese cuisine, fashion and even the people (who also turn their nose up at this defacto white American who can only speak English). One sequence sees her preferring to sit with the only non-Asian person on a packed rural train, to disastrous (and ludicrous) consequences. Audrey even dismisses Lolo's idea that they should go in search of her birth mother — until the Chinese businessman tells her that knowing her family is crucial to him signing on the dotted line.
Thus the foursome embark on a search which eventually leads them to Korea which, like their time in China, needs some suspension of disbelief (the film shot entirely in and around Vancouver). As they encounter increasingly messy situations including, but not limited to, sex with several members of the Chinese National Basketball team, stolen passports and disguising themselves as a K-pop band, it is no surprise that Audrey comes to a fresh understanding about who she is, and the true nature of family. That may make for a neat happy ending, but the journey there is quite the ride.
Production companies: Point Grey, Red Mysterious Hippo
International distribution: Lionsgate filmsales@lionsgate.com
Producers: Cherry Chevapravatdumrong, Josh Fagen, Evan Goldberg, Teresa Hsiao, Adele Lim, Seth Rogen, James Weaver
Screenplay: Cherry Chevapravatdumrong and Teresa Hsiao, from a story by Adele Lim
Cinematography: Paul Yee
Production design: Michael Norman Wong
Editing: Nena Erb
Music: Nathan Matthew David
Main cast: Ashley Park, Sherry Cola, Sabrina Wu, Stephanie Hsu