The short life and explosive times of Black Panther Fred Hampton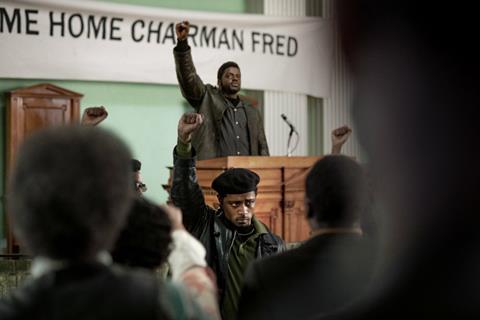 Dir: Shaka King. US. 2019. 126 mins.
Judas And The Black Messiah isn't the first narrative feature film about the Black Panther movement, although it is one of the very few to be made (Mario Van Peebles' Panther, from 1995, holds that distinction). Focusing on the charismatic young Chicago grassroots leader Fred Hampton and how he was betrayed to the FBI by his bodyguard and close friend William O'Neal, it's as fractured and riveting as that earlier production and part of Hollywood's slow, crab-like move towards acknowledging the BP movement outside the documentary format (1971's The Murder Of Fred Hampton acts as a companion piece to this).
A magnetic performance from Daniel Kaluuya
Only last year, audiences were looking at the Panthers through the eyes of Jean Seberg in Seberg; the current Oscar-tipped documentary Crip Camp, meanwhile, is revelatory about the social justice role played by the militant, left-leaning — to the point of Marxist-Leninist — movement, going part of the way towards explaining why it has been cinematically avoided. But also, it was a complicated time, and second-time director Shaka King struggles to dominate the multiple strands and inter-factional rivalries before the film finally picks up pace on the way to its shocking denouement. A magnetic performance from Daniel Kaluuya as Hampton will help this Warner/HBO production gain awards traction and attention in the current climate. It has come at the right time.
Surviving footage of Hampton makes it clear just how charismatic and talented this young leader was. (Judas only uses it sparingly, at the end, focusing instead on testimony given by O'Neal, played by LaKeith Stanfield.) It's an off-the-cuff energy which Kaluuya effortlessly channels, both through impassioned speeches and clever manoeuvrings to bring other "oppressed brothers and sisters" onside and form a rainbow coalition in Chicago long before Jesse Jackson followed suit. Needless to say, Hampton attracts the attention of J. Edgar Hoover (Martin Sheen, cleverly and subtly altered), just as the recently-assassinated Martin Luther King did before him. It is Hoover's desire to prevent the rise of a "black messiah" which leads the organisation to Hampton; Judas arrives in the shape of O'Neal, keen to do a deal to spy on the organisation and avoid a rap for impersonating an agent in one of his small-time cons.
Superficially, and only structurally, Judas resembles Spike Lee's tricky, dangerous BlacKkKlansman, a real-life story about the infiltration of the Ku Klux Klan by a black policeman and his white Jewish proxy; King's film tracks O'Neal's rise through the Panther movement to become a trusted lieutenant, learning the trigger-prone movement's core ethics on the way — regarding women, children, the poor, the hungry, voter registration and the redistribution of wealth to the oppressed. (Lee himself has documented the Panthers through 2001's performance piece A Huey P. Newton Story.)
The main stumbling block for Judas is that King (Newlyweeds) has a lot of plot to corral. On the one hand, he has O'Neal, his relationship with FBI agent Roy (Jesse Plemons), and his moral corruption, although the film never really captures why this man would go so far in his betrayal of something and someone he came to believe in. As Hoover waits impatiently in the wings, meanwhile, Hampton is shown engaging fully in Chicago politics and the armed struggle of the Panthers and their allies as he too rises up the ranks of the movement while befriending — and impregnating — shy speechwriter Deborah (a lovely performance from Dominique Fishback). The social thrust of the Panthers is easily explained, but the violence is a hurdle which King — who co-wrote — can't integrate quite so smoothy, ranging from inter-gang hostilities, political rivalries, and open warfare against the establishment.
Period recreations are evocative, and King with DoP Sean Bobbitt attacks 1960s Chicago straight on, constantly on the move with its attacking, charismatic subject. Judas is an explosion of pent-up plotting, as if the film industry itself only have this one chance to make a film about the Panther movement. Hopefully, this will not to be the case. As this film rises up to an unthinkable conclusion, there is clearly so much more to tell, and, as always, to learn.
Production companies: Macro Media, Proximity Media
International distribution: Warner Bros (HBO Max)
Producers: Ryan Coogler, Charles D. King, Shaka King.
Screenplay: Will Berson, Shaka King; story by Keith Lucas, Kenneth Lucas
Cinematography: Sean Bobbitt
Editing: Kristan Sprague
Production design: Sam Lisenco
Music: Craig Harris, Mark Isham
Main cast: Daniel Kaluuya, LaKeith Stanfield, Dominique Fishback, Jesse Plemons, Ashton Sanders, Martin Sheen