Rose Byrne is caught between two men in this adaptation of Nick Hornby's novel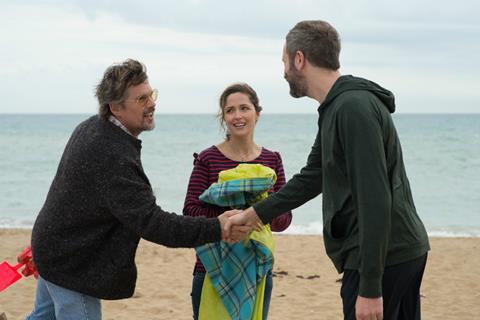 Dir: Jesse Peretz. UK. 2018. 97mins
A woman finds herself torn between two immature men — one a forgotten rock star, the other his most devoted fan — in Juliet, Naked, a likable comedy consistently inches away from the more thoughtful, resonant film it could be. Rose Byrne is appealing as a sympathetic, patient person finally sensing she deserves more from her life. But for a film that critiques men's inability to let go of childish things, this cutesy adaptation of the Nick Hornby novel feels a bit like a fantasy version of how adulthood really is.
While each of the three leads is engaging, there's an unreality about Juliet, Naked that director Jesse Peretz never satisfyingly reconciles
A star cast including Byrne, Ethan Hawke and Chris O'Dowd will spur considerable interest in this slick, crowd-pleasing Sundance premiere. A lure for date-night audiences, it could do modest theatrical business, although reviews may mute enthusiasm.
Byrne plays Annie, who's long been involved with Duncan (O'Dowd), the world's biggest fan of niche singer-songwriter Tucker Crowe (Hawke) who last released an album about 25 years ago and has since disappeared from public view. When a never-before-heard demo of Tucker's old work mysteriously surfaces, Duncan is ecstatic, but Annie (who never shared her boyfriend's unhealthy obsession with the musician) writes a dismissive review online — which prompts the reclusive Tucker to email her to say he agrees with her negative assessment.
Soon an unlikely pen-pal correspondence develops between Annie and Tucker, who find themselves sharing things with one another they can't tell anyone in their regular lives. The irony, of course, is that Annie soon becomes closer to her boyfriend's idol than he's ever been. And for a while, the film has a little fun showing how these mismatched individuals form a bond, Annie becoming interested in this songwriter while Duncan starts to drift away, utterly unaware of her connection to Tucker.
But while each of the three leads is engaging, there's an unreality about Juliet, Naked that director Jesse Peretz (Our Idiot Brother) never satisfyingly reconciles. The most glaring problem in this regard is the film's conception of Tucker. Though not unfathomable, the fact that no one has been able to track down the musician over the last few decades seems like a stretch — especially considering, as we'll learn, that he's been busy having children with different women, which would presumably bring more attention his way.
Additionally, the movie's examination of fandom lacks insight or inventiveness. Hornby's novel High Fidelity brilliantly X-rayed a certain kind of (male) obsessive pop-culture adoration that is merely glanced over glibly here. (O'Dowd fails to capture the nerdy, blinkered passion that super-fans pour into the objects of their manic affection.) And as for the budding feelings between Annie and Tucker, the back-and-forth correspondence that takes place while she's in the UK and he's in the States is sweet and playful but doesn't establish enough of a rapport to justify what's to come.
As a result, there's much that the audience has to gloss over to fully embrace Juliet, Naked's paean to second chances and learning to grow up. Hawke ably tries to play a man who walked away from his art and, years later, wants to make things right with the children he abandoned. But the character's not particularly cutting or intriguing — he's so nice that there's not much depth to him. (He may be the most benign serial cheater and deadbeat dad in the history of cinema.)
Meanwhile, Byrne affectingly portrays a kind-hearted woman who's passively floated through her own life, always wanting to make others happy rather than worry about her own needs. But Annie is too ineffectual for her own good — she hasn't been given much personality or backbone, and so her struggle between these two men doesn't have much weight. Even the highly anticipated moment when Duncan and Tucker finally meet isn't quite as satisfying as one might hope, a useful microcosm of the film's inability to find its groove.
Production companies: Los Angeles Media Fund, Bona Fide, Apatow Productions
US sales: CAA/UTA, filmsales@caa.com and Ronson_R@unitedtalent.com
International sales: Rocket Science, os@rocket-science.net
Producers: Albert Berger, Ron Yerxa, Barry Mendel, Judd Apatow, Jeffrey Soros
Executive producers: Simon Horsman, Patrick Murray, Thorsten Schumacher, Nick Hornby
Screenplay: Tamara Jenkins & Jim Taylor and Evgenia Peretz, based on the novel by Nick Hornby
Cinematography: Remi Adefarasin
Production design: Sarah Finlay
Editors: Sabine Hoffman, Robert Nassau
Music: Nathan Larson
Main Cast: Rose Byrne, Ethan Hawke, Chris O'Dowd