An excellent cast boosts this enjoyable, entertaining adventure sequel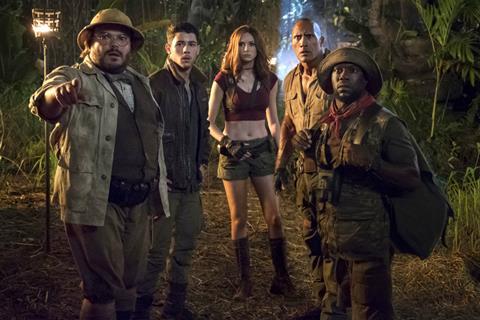 Dir Jake Kasdan. US. 2017. 119 mins.
Two decades after Joe Johnston's family fantasy adventure Jumanji (1995), which was based on a slim children's book by Chris Van Allsburg, Sony have dusted off the property and delivered a sequel which doesn't much depend on fading memories of that likeable film – though its original teenage fans may now have children of an age to enjoy a new take, which reverses the premise. It's an entertaining, engaging, colourful picture in its own right with decently-handled action-adventure set-pieces and sly comedy, detouring from the expected thrills and spills into body-hopping comedy drama.
The perils are standard for a jungle romp but director Jake Kasdan handles thrills with solid professionalism
In in the first film a magical board game unleashed jungle creatures and vegetation on a small New Hampshire town; here, modern-day kids from the same town are transported into that world. The beautifully-crafted board game of the earlier film is glimpsed in a 1990s prologue, but transforms into a game cartridge which has now become a retro item itself, so enabling the movie to join several recent nostalgic explorations of now-primitive-seeming games like Beyond the Gates, Pixels and Wreck-It Ralph. Likeable rather than overwhelming, it should appeal to holiday audiences who've already seen Star Wars: The Last Jedi or are looking for something with broader 'family' appeal.
The prologue, which mimics the original by having a teenager disappear into Jumanji, is followed by a necessarily lengthy introductory sequence that establishes a 'breakfast club' assembly of high schoolers – nerd Spencer (Alex Wolff), jock 'Fridge' (Ser'Darius Blain), brain Martha (Morgan Turner) and princess Bethany (Madison Iseman) – who stumble across the Jumanji cartridge while clearing out a school storeroom. They load the game and pick avatars, then get sucked into the jungle world (which more closely resembles a catalogue of Hollywood clichés than anywhere in Africa). Gifted three lives apiece, they get instructions from a non-player character (Rhys Darby) to restore a jewel to a giant statue in order complete the game and return to the real world.
The major innovation here is that the kids are stuck in archetype avatar bodies which don't fit their personalities. Nervy Spencer is indomitable Dr Smolder Bravestone (Dwayne Johnson), hulking Fridge is jittery sidekick Moose Finbar (Kevin Hart), wallflower Martha is badass babe Ruby Roundhouse (Karen Gillan) and shallow pretty girl Bethany is tubby middle-aged male boffin Professor Oberon (Jack Black). The multi-authored script is surprisingly clever, intertwining character comedy with fantasy adventure, and several key points depend on players being willing (or forced) to sacrifice their allotted lives to achieve a goal.
The perils are standard for a jungle romp — mercenary bikers, stampeding white rhinos, hordes of snakes — but director Jake Kasdan handles thrills with solid professionalism. Having arrived here after quirky drama (Zero Effect, Orange County) and midlist comedy (Sex Tape, Bad Teacher), he seems more interested in the business of the characters relishing or resenting their new bodies. Johnson and Gillan, especially, enjoy acting against the images they present, with the muscular alpha hero revealing his inner nerd and the Lara Croft-look jungle fighter complaining about her ridiculous outfit and making a grotesque hash of the art of flirtation. Black and Hart get more obvious jokes but carry them off with aplomb. Other characters are all game-generated, but Bobby Cannavale brings flashes of bug-infested menace to the token villain.
A recent, surprisingly persistent formula for invigorating a tired franchise has been 'just add the Rock', with Johnson boosting Race to Witch Mountain, Get Smart, Journey 2: The Mysterious Island, GI Joe: Retaliation and the later Fast and Furious instalments. After the wobble of Baywatch, this gets the immensely likeable star back on track, alternating jokes about 'smouldering intensity' with higher-pitched wussiness.
Production companies: Matt Tolmach Productions, Radar Pictures, Seven Bucks Productions, Sony Pictures Entertainment
International distribution: Sony Pictures
Producers: Ted Field, William Teitler, Matt Tolmach, Mike Weber
Executive producers: Dany Garcia, David B. Householter, Jake Kasdan
Screenplay: Chris McKenna, Jeff Pinkner, Scott Rosenberg and Eric Sommers, based on the book by Chris Van Allsberg
Cinematography: Gyula Pados
Production Design: Owen Paterson
Editor: Steve Edwards, Mark Helfrich
Music: Henry Jackman
Website http://www.sonypictures.com/movies/jumanjiwelcometothejungle/
Main Cast: Dwayne Johnson, Jack Black, Kevin Hart, Karen Gillan, Nick Jonas, Bobby Cannavale, Alex Wolff, Morgan Turner, Madison Iseman, Ser'Darius Blain