Adolf Eichman's trial is at the core of Jake Paltrow's sixties-set drama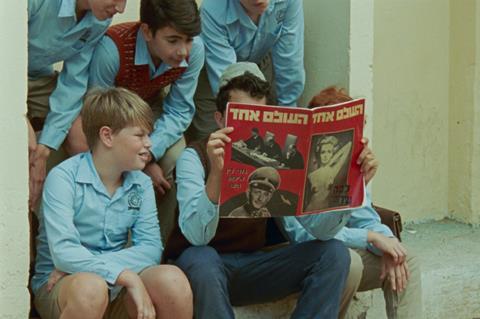 Dir: Jake Paltrow. US/Israel. 2022. 105mins
Presenting the 1961 trial and execution the following year of Nazi war criminal Adolf Eichmann through the intertwining stories of three individuals with connections to the case, June Zero effectively explores the enduring aftershocks of the Holocaust at that time. Supported by organisations including The Israeli Ministry For Culture and Sport and The Conference on Jewish Material Claims Against Germany, this earnest drama wears its politics very much on its sleeve — and makes no apologies for doing so — although its intimate take on an overwhelming moment in history can make for some compelling drama.
Paltrow is careful not to give too much focus to Eichmann
Premiering as a special screening at Karlovy Vary, where Paltrow presented his debut feature The Good Night in 2007, June Zero should capture further festival attention thanks to its sensitive handling of challenging subject matter (it next moves on to Jerusalem). It also helps that this Hebrew-language film differentiates itself from myriad other Eichmann films like The Eichmann Show, Operation Finale and Eichmann by not focusing directly on the the man's crimes and his trial, but on the affect it has on ordinary Jewish people. The Paltrow name – the director was inspired, he says, by his father's fascination with Jewish history – and that of venerated filmmaker Oren Moverman as one of the film's producers, could also help it travel. While theatrical play is less certain, it may find a more comfortable fit on streaming or even a broadcast platform where it could also work as an effective educational tool.
Filmed in Israel and Ukraine — a detail that now sadly gives its themes a modern resonance — June Zero's intriguing title comes from the fact that, late in the film, we see an Israeli newspaper dated as 'June 0' on the day of Eichmann's execution, so as not to commemorate the event. Similarly the screenplay, by Paltrow and Israeli filmmaker Tom Shoval, is careful not to give too much focus to Eichmann (Alon Margalit). We never see his full face, and his time on screen is bookended by close ups of his feet; first as he sits unceremoniously on the lavatory and, later, as he hangs dead after his execution in an Israeli prison, urine dripping onto the floor.
Eichmann, a prime architect of the Holocaust, and the person writer Hannah Arendt (herself the subject of a 2012 drama) was referring to when she spoke of 'the banality of evil' during his trial, is presented here as an ageing man (he was 56 at the time of his trial) confined to his cell, awaiting his fate, given no screen time to explain or excuse his actions or beg forgiveness. A note he gives a prison guard to pass on to his wife is destroyed unread.
At a nearby factory, workers are tasked with making the oven which will eventually cremate his body allowing for some evocative visual symbolism that cinematographer Yarn Scharf deploys to full, if restrained, effect. Amongst them is precocious 13-year-old David (Noam Ovadia), a Libyan immigrant whose work on the project finally gives him a sense of belonging. Co-workers including concentration camp survivor Yanek (Ami Smolartchik) help him to an understanding that he has been unable to grasp in the dry confines of his school room, where his Arab heritage marks him out as somehow less worthy.
In the prison, Eichmann's guard Haim (Yoav Levi) is driven to the brink by attempting to keep his ward from harm and shepherd him safely to the trial. Sweat clinging to his face, his eye bloodshot through stress, Haim buckles under the task of delivering public justice to the Jewish community. Sequences where Haim watches a sleeping Eichmann's chest rise and fall, and an intense visit from Eichmann's barber, every snip of the scissors a potential threat, highlight the weight of this responsibility.
The most personal story is that of Micha (Tom Hagy), an Investigative Officer in Eichmann's trial who later returns to the Polish ghetto where he spent his childhood with a group of American tourism delegates. His angry response to a suggestion that Jewish suffering should remain private is that he'd rather keep shouting about his pain than hide it with silence.
Largely shot on Super-16 to give it a period texture, key moments — such as the tracking through the deserted ruins of the Polish ghetto and an (unnecessary) coda involving the now-adult David — are shot on digital, reminding us that this historical event continues to cast its long and painful shadow.
Production companies: Metro Communications, Cold Iron Pictures, The Film Arcade
International sales: Films Boutique contact@filmsboutique.com
Producers: David Silber, Miranda Bailey, Oren Moverman
Screenwriters: Jake Paltrow, Tom Shoval
Cinematography: Yaron Scharf
Production design: Eytan Levy
Editing: Ayelet Gil-Efrat
Music: Ariel Marx
Main cast: Tom Hagy, Yoav Levi, Noam Ovadia, Ami Smolartchik, Tzahi Grad, Alon Margalit