Emily Blunt and Dwayne Johnson raid the lost Amazon to deliver a rousing period spectacle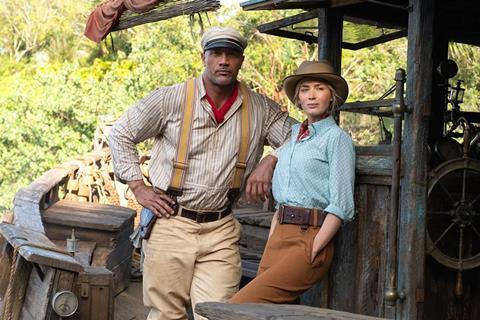 Dir: Jaume Collet-Serra. US. 2021. 127 mins.
Like many theme-park rides, Jungle Cruise may not be an elegant experience, but you can't say you don't get your money's worth. Based on the popular Disneyland attraction, this overstuffed adventure-comedy barely takes a breath while bombarding the viewer with spectacle, special effects and one-liners — but what ultimately makes the film so likeable is the flirty rapport between Dwayne Johnson and Emily Blunt as a mismatched pair in search of a magical tree somewhere deep in the Amazon. Liberally borrowing from Raiders Of The Lost Ark, The African Queen and the Brendan Fraser Mummy series, Jungle Cruise is rousing but also rather exhausting.
Seems to have the makings of a four-quadrant smash
Disney releases the film in the UK and US on July 30, betting that the picture's star power will be sufficient allure. No doubt the studio hopes Jungle Cruise can launch a franchise as robust as Pirates Of The Caribbean, which was also adapted from a ride, and even in the midst of a pandemic, this first instalment would seem to have the makings of a four-quadrant smash that will lead to sequels.
Set in 1916, the story finds intrepid English botanist Lily Houghton (Blunt) and her cowardly brother MacGregor (Jack Whitehall) heading to Brazil to seek the legendary Tears Of The Moon petals that are said to have extraordinary healing powers. Lily needs a boat to take her down the river, and that brings her into contact with Frank Wolff (Johnson), a fast-talking captain who offers his broken-down vessel. Our heroes aren't the only ones looking for these petals, however: an eccentric and demented German named Joachim (Jesse Plemons) wants them to secure his homeland's victory in the Great War.
Director Jaume Collet-Serra has demonstrated a knack for crafting B-movie thrills on mid-budgeted action films like The Commuter, but with Jungle Cruise he has been tasked with producing a family-friendly blockbuster to cater to a much broader audience. The filmmaker's penchant for muscular sequences serves him well, especially in the picture's second half when the set pieces are increasingly more gargantuan. But what's surprising is watching him navigate Jungle Cruise's hokey pun-fuelled banter and cutesy courtship. Thankfully, Collet-Serra manages to give these lighter moments enough buoyancy.
Of course, it helps that he's working with two enormously appealing actors. For all of Johnson's commercial success, he has rarely played opposite a love interest, but he and Blunt display a sparkling chemistry that transcends the script's uninspired opposites-attract antics. Predictably, Lily and Frank don't initially hit it off — she thinks he's a brute, he's thrown by this assertive woman — but Johnson and Blunt radiate such warmth, along with a little vulnerability, that it's pleasing to see their simplistically-drawn characters eventually fall for one another. No matter the tired construction — Lily is just one more brainy beauty in a battle of wills with a brawny man — Blunt brings sly wit to the role, practicality mocking the character's conventionality and inviting us in on the joke.
That wit would have been welcome elsewhere in Jungle Cruise, which too often overwhelms the viewer with visual overkill and unsubtle comedic touches. Usually a sharp comic performer, Plemons is little more than an exaggerated German accent as Joachim, leaving the film without a juicy villain. (Much more satisfying is Edgar Ramirez as an undead conquistador who comes back to life to claim the magical petals for himself.) And although Whitehall is responsible for Jungle Cruise's most touching scene — tellingly, it's among the film's quietest moments — he's stuck playing the anxious sidekick delivering withering quips.
Despite Jungle Cruise's impersonal quality — the nagging sense that a giant corporation has carefully manufactured this tentpole to achieve its financial objectives — the script does unveil a few nice surprises along the way, and Collet-Serra isn't afraid to let a few of the action sequences get appreciably dark. (While Jungle Cruise overdoes the gaudy special effects, the CGI used to flesh out Ramirez's cursed conquistador and his minions is niftily handled.) Jungle Cruise is a hodgepodge of influences and ambitions, wanting to be a swashbuckling yarn and an irreverent comedy and a love story, and one can feel the warring impulses waging within the frame. But the two stars' big hearts bring a human element to this whirling apparatus. The film can sometimes feel more like a slog than a cruise, but Johnson and Blunt prove to be excellent company on the journey.
Production companies: Davis Entertainment Company, Seven Bucks, Flynn Picture Co.
Worldwide distribution: Disney
Producers: John Davis, John Fox, Beau Flynn, Dwayne Johnson, Dany Garcia, Hiram Garcia
Screenplay: Michael Green and Glenn Ficarra & John Requa, screen story by John Norville & Josh Goldstein and Glenn Ficarra & John Requa
Production design: Jean-Vincent Puzos
Editing: Joel Negron
Cinematography: Flavio Labiano
Music: James Newton Howard
Main cast: Dwayne Johnson, Emily Blunt, Edgar Ramirez, Jack Whitehall, Jesse Plemons, Paul Giamatti