Batman, Wonder Woman and friends team up to save the world in Warner Bros' comic-book ensemble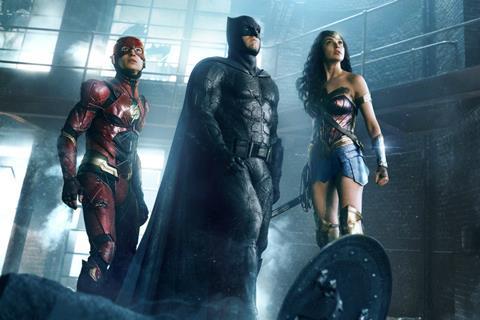 Dir: Zack Snyder. US. 2017. 120mins
Warner Bros. and DC try launching their own Avengers-style supersized comic-book movie with Justice League, but whatever mild pleasure can be derived from seeing Batman and Wonder Woman team up with other costumed crime-fighters quickly dissipates as it becomes clear that director Zack Snyder has again crafted a lumbering blockbuster that dilutes what's so stirring about these fabled fictional champions. Some of the performers, particularly Gal Gadot, breathe life into the perfunctory spectacle, but the studio still lags painfully behind Marvel in delivering superhero thrills.
Justice League remains a decidedly gloomy affair, continuing DC's recent trend of embracing an oppressive darkness
Releasing across most of the planet November 17, Justice League follows on the heels of Warner Bros' recent smashes: Wonder Woman ($822 million worldwide), Suicide Squad ($746 million) and Batman v Superman ($873 million). Gadot's rising star will only add more commercial momentum, but one wonders if, at some point, comic-book fatigue will finally become a factor. (This year alone, rival Marvel has put out three very successful films of its own.) Regardless, villainous reviews won't do much to dampen enthusiasm.
Set a few months after Batman v Superman, which ended with the death of Superman (Henry Cavill), Justice League finds Bruce Wayne (Ben Affleck) recruiting Diana Prince (Gadot) to form an elite team of heroes who can combat a dangerous new intergalactic foe named Steppenwolf (voiced by Ciarán Hinds). Wayne's search also leads him to Aquaman (Jason Momoa), the Flash (Ezra Miller) and Cyborg (Ray Fisher).
By the bombastic standards of Snyder's previous DC films, Man Of Steel and Batman v Superman, Justice League is a relatively modest affair — although it too is besieged with overblown CGI and leaden action sequences. Snyder had to step aside during post-production because of a family tragedy, tapping Joss Whedon (one of Justice League's credited screenwriters) to complete the film; while it's impossible to know what changes Whedon brought to the material, the shorter running time and lack of chin-stroking ponderousness are a welcome relief.
With that said, however, Justice League remains a decidedly gloomy affair, continuing DC's recent trend of embracing an oppressive darkness that has failed to translate into rich, nuanced drama. The film posits that Superman's death has killed humanity's hope, and Affleck's monotone glumness serves as the film's default tone. By comparison, Fisher, Miller and Momoa provide a little smart-ass irreverence that's meant to puncture the self-seriousness, to little effect.
Much more successful is Gadot, who isn't given nearly as much room to operate as she did in this summer's funny, stirring Wonder Woman. Almost alone in the DC cinematic universe, she manages to bring a sense of gravitas without losing her lightness — her Wonder Woman is a formidable warrior but also a pleasure to be around. Wonder Woman and Batman had a flirtatious rapport in Batman v Superman, and Justice League further hints at the possibility of romance between them, but Affleck's grizzled, older Wayne fails to come to life around her, making the prospect of a future love story not exactly enticing.
The film also suffers because of its singularly tedious antagonist. By this point, it's a cliché that almost all superhero movies involve the fate of the planet hanging in the balance, but Justice League's Steppenwolf is so forgettable a foe with his generic menace that he creates a gaping hole at the film's centre. Presumably, this sidelining was intentional, so that more screen time could be devoted to our heroes getting to know one another. But by the time Snyder reaches the predictably protracted finale, character dynamics take a backseat to frenetic carnage.
Even at their most formulaic, Marvel films exude a goofy buoyancy that suggests that their makers understand the inherent pleasure in producing movies stuffed with superheroes. Justice League occasionally projects a little fan-boy glee, but there's no awe or pizzazz in Snyder's visuals. The closest it comes to realizing the emotional resonance it ultimately flails to achieve is through some thankless supporting work from Amy Adams as Lois Lane, who's mourning Superman's death on a much more personal level than those around her. The film also grieves his absence — and the audience pines for the character's charm and boyish wonder, which are in short supply here.
Production companies: RatPac-Dune Entertainment, Atlas Entertainment, Cruel And Unusual
Worldwide distribution: Warner Bros. Pictures, www.warnerbros.com
Producers: Charles Roven, Deborah Snyder, Jon Berg, Geoff Johns
Executive producers: Christopher Nolan, Emma Thomas, Jim Rowe, Ben Affleck, Wesley Coller, Curtis Kanemoto, Daniel S. Kaminsky, Chris Terrio
Screenplay: Chris Terrio and Joss Whedon, story by Chris Terrio & Zack Snyder, based on characters from DC, Superman created by Jerry Siegel and Joe Shuster
Cinematography: Fabian Wagner
Production design: Patrick Tatopoulos
Editors: David Brenner, Richard Pearson, Martin Walsh
Music: Danny Elfman
Website: www.justiceleaguethemovie.com
Main Cast: Ben Affleck, Henry Cavill, Amy Adams, Gal Gadot, Ezra Miller, Jason Momoa, Ray Fisher, Jeremy Irons, Diane Lane, Connie Nielsen, J.K. Simmons, Ciarán Hinds