Miranda July delivers an absurdist comedy about an unusual family in modern America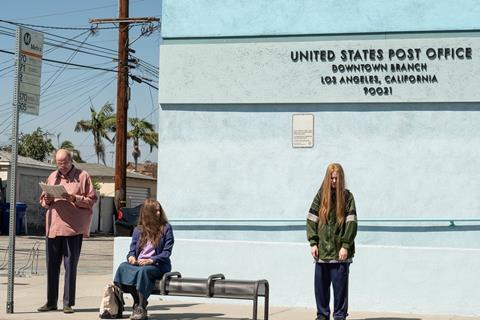 Dir/scr: Miranda July. US. 2020. 106mins
A beautifully bizarre film whose considerable strangeness allows for sharp observations about family, loneliness and the terror of emotional intimacy, Kajillionaire is further proof of writer-director Miranda July's ability to bend reality to her will. As with Me And You And Everyone We Know and The Future, she presents us with characters who don't behave in any sort of "normal" fashion, as Evan Rachel Wood plays the unhappy daughter of con-artist parents who wonders if there's more to life than total disengagement from the world around her. Kajillionaire's strategies and odd digressions don't always work, but those willing to get on its wavelength will be treated to a sad-funny odyssey that can be overwhelming tender and vulnerable.
As the film ebbs and flows between seemingly episodic set pieces, potent themes begin to emerge
Premiering at Sundance, where Me And You And Everyone We Know won a Special Jury Prize in 2005, Kajillionaire represents July's first feature in nine years, and the film is her most star-studded; alongside Wood, there's also Debra Winger, Gina Rodriguez and Richard Jenkins. Still, this challenging, sometimes perplexing movie will not be to all tastes, and may result in limited theatrical grosses.
Wood plays Old Dolio, a withdrawn 20-something who lives with her parents Theresa (Winger) and Robert (Jenkins). Holed up in an abandoned office building and stealing packages from the local post office, they're scammers and scavengers who try to keep a low profile so as not to be detected. But Old Dolio's sheltered existence is upended by the appearance of Melanie (Rodriguez), a confident mall employee who wants to be part of their cons, quickly endearing herself to Theresa and Robert and challenging Old Dolio's role in the family.
July favours peculiar characters and unconventional plots, and both are evident in Kajillionaire, which might seem, at first blush, to be a conman drama but quickly morphs into something unique and unpredictable — for better and sometimes for worse. Very few viewers will guess precisely where July is taking us, and the random moments of whimsy or surrealism only further discourage audiences from anticipating the story's subsequent twists and turns.
Wood, Winger and Jenkins are all asked to deliver affected performances. The women have long, straight hair that makes them look like cult members, while Robert has a highly anxious air. (If all that wasn't enough, Old Dolio speaks in a low, almost masculine tone, and Theresa walks with a pronounced limp.) Clearly, this is one quirky family, but what's impressive about Kajillionaire is how July and her cast get us to accept the narrative's odd ground rules. Once we're acclimated to their stilted speech patterns and untraditional lifestyle, we recognise Old Dolio's rising frustration with the way her parents treat her like a partner-in-crime, not their daughter.
This family's strange customs, which include regularly cleaning up soapsuds that inexplicably come through the wall of their "home," are eventually interrupted by the arrival of Melanie into their orbit. Unlike them, she talks and acts like an ordinary person, which adds a comedic jolt to the proceedings. (Initially, she wonders if they're Amish because of their disdain for technology.) Whereas Old Dolio hides her body underneath her unfashionable hair and baggy tracksuits, Melanie is vivacious and sexy; something that has unintended consequences within the dysfunctional but close-knit clan.
Patience is required to allow July to establish her off-kilter rhythms, and even then, her disinclination to adhere to "proper" storytelling rules sometimes leads to dead-ends. But this also liberates her, setting the stage for completely unexpected sequences, including one piercingly poignant vignette in which the family and Melanie try a little home invasion.
And as the film ebbs and flows between seemingly episodic set pieces, potent themes begin to emerge. Everything from the hollowness of the American Dream to the emptiness of modern life is explored — as are questions concerning mortality, identity and belonging. July never lands on one big idea, however, so viewers are free to interpret this curious, enigmatic caper as they see fit.
Winger and Jenkins aren't wholly convincing — as good of actors as they are, they feel a bit mannered — but Wood lovingly hints at something broken within Old Dolio, a con artist who was never allowed to become a human being. Some of the character's antics can be amusing, but what comes through strongest is a sense of a lost soul who's too fragile to break free of the strange cocoon her parents constructed for her. Kajillionaire's story sometimes defies explanation, but this evocative movie is rich in metaphorical implications.
Production company: Plan B Entertainment
International sales: UTA, ChasinY@unitedtalent.com
Producers: Dede Gardner, Jeremy Kleiner, Youree Henley
Production design: Sam Lisenco
Editing: Jennifer Vecchiarello
Cinematography: Sebastian Wintero
Music: Emile Mosseri
Main cast: Evan Rachel Wood, Debra Winger, Gina Rodriguez, Richard Jenkins