Dir. Chris Foggin. UK, 2016, 85 minutes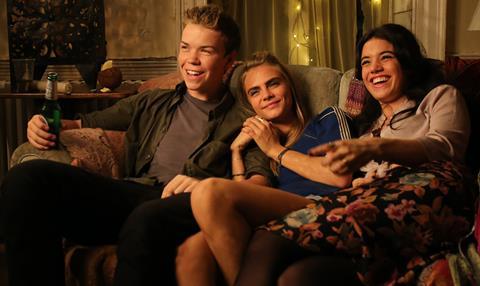 Commercially, the three-year gap between Brit teen flick Kids In Love's summer 2013 shoot and its UK August release may serve to its modest advantage. After all, the profile of lead actor Will Poulter certainly rose with The Maze Runner and The Revenant, while co-star Cara Delevingne impressed in Paper Towns and is a highly visible element in the soon-arriving Suicide Squad. But creatively, the delay is surely not helping.
If successive montages begin to feel like the pages of London style magazines brought to life, then that's a sensation that the film ultimately acknowledges in its storytelling.
Written by Preston Thompson and Sebastian De Souza when they were both still teenagers, Kids In Love's purchase on its zeitgeist moment now feels less assured, and its positioning as a "film about kids, by kids" less convincing. Absent that halo, what emerges is a rather unremarkable celebration of London's hip, handsome and privileged – a sunkissed drama that may alienate more than it endears.
Nicely shot by 2014 Screen International Star of Tomorrow and feature debutant Chris Foggin, this follows the familiar template of a relatable everyman serving as the audience's eyes and ears as he penetrates a glamorous realm. And the likeable Poulter is certainly natural casting as Jack, an average London teenager contemplating a year off between school and university, and who hasn't even began to figure out what kind of person he is, or could be. His world is turned upside down when he meets – cliché alert – exotic, complicated, artistic French girl Evelyn (Alma Jodorowsky). Naturally, all other thoughts immediately leave his head, including any loyalty to his best friend Tom (Jamie Blackley), with whom he'd been saving up for South American gap-year travels.
Leaving the grit and grime to other London youth dramas, Kids In Love anchors a decent chunk of its action at the sprawling London townhouse belonging to orphaned sisters Viola (Cara Delevingne) and Elena (Gala Gordon), where Evelyn also resides. Attractively and quirkily decorated by production designer Hannah Purdy Foggin, the location chimes with Sian Jenkins' agreeably idiosyncratic costumes to pretty up the screen. Not that any augmentation is needed with a cast this good-looking – if successive montages begin to feel like the pages of London style magazines brought to life, then that's a sensation that the film ultimately acknowledges in its storytelling.
Why these three gorgeous women so readily adopt Jack is left rather to the audience's imagination, although his shy sweetness feels like a welcome antidote to the other company they keep: self-impressed, shirt-averse Cassius (co-writer Thompson) and Evelyn's haughty boyfriend Milo (co-writer De Souza). Scenes filmed at hip London venue The Box and the Notting Hill Carnival inject familiar doses of party-hearty young fun, before the film adds another texture by shifting the action to the country house that the sisters also conveniently own. (Jack and Evelyn get there in a borrowed Rolls-Royce – any notion of Kids In Love being more than a vaguely bohemian wish-fulfilment fantasy long ago banished to the margin.)
Since Kids In Love producer Barnaby Thompson is the father of Preston Thompson and partner in Ealing Studios, the film is an easy target for accusations of parental indulgence – an irony, since Jack bites back at the attempt of his own father (Pip Torrens) to pull career-advancing strings on his behalf. It's helpful, then, that the budget was long ago announced at a relatively modest £250,000 – a sum that, if accurate, may signify a sound investment for the financiers. Given the disarming fiscal restraint, in other words, Kids In Love might be said to represent not so much a silver-spoon scenario for its precocious co-writing talent, as a bronze-spoon one.
Production companies: Londinium Films, Ealing Studios
International sales: Carnaby International, severah@carnabyinternational.com
Producers: Barnaby Thompson, Ben Latham-Jones
Screenplay: Preston Thompson, Sebastian De Souza
Cinematography: Dirk Nel
Editor: Chris Ranson
Production design: Hannah Purdy Foggin
Music: Rael Jones
Main cast: Will Poulter, Alma Jodorowsky, Jamie Blackley, Sebastian De Souza, Preston Thompson, Cara Delevingne, Gala Gordon, Geraldine Somerville, Pip Torrens
ends