Part-based on a real-life story, Laura Mora's directorial debut is also a snapshot of Medellín today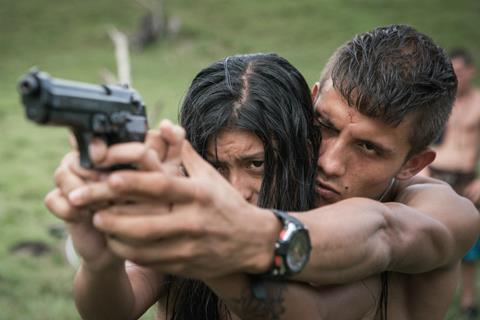 Dir. Laura Mora. Colombia, Argentina. 2017. 100 mins
Television director Laura Mora (Pablo Escobar: El Patrón del Mal) successfully transitions to the big screen with a propulsive and highly personal drama. Killing Jesus (Matar a Jesus) tells of a young Colombian woman's quest to avenge her father's assassination by befriending, then shooting, the hired killer who fired the gun. Edgy, uncomfortable and driven by a crackling energy, the picture uses non-professional actors cast for verisimilitude. This choice lends the film an abrasive authenticity; it also causes it to stumble slightly at times, as the non-professionals struggle with some of the more intense scenes.
The explosive climax leaves audiences reeling
The backstory to this noteworthy picture will contribute to its interest to audiences. Mora is from the city of Medellín, the setting for the film. And like her protagonist, she lost her human rights lawyer father to a bullet fired by an unknown assassin. But although Mora never tracked down the man who killed her father, she became preoccupied with the question of what she would have done had she found him. This narrative, and the film's nervy energy, should help it connect with audiences beyond the festival circuit. It has already bowed in Toronto and San Sebastian, where Killing Jesus won the Eroski youth prize and a special mention in the New Directors section.
We are introduced to Paula aka Lita (Natasha Jaramillo) as a student who radiates the easy confidence that comes with youth, beauty and the assumption of invulnerability. A photography student, she laughs lightly when her father, a lawyer and a lecturer at her college, asks her to put away her camera when they drive through a particularly dangerous part of town. His instinct proves to be correct – he is gunned down just a moment later. Despite the fact Paula clearly glimpses the face of the killer, the police seem unable to resolve the case.
Paula is transformed by grief. Her bearing changes – she drifts from the center of her social circle to become a brooding satellite on its periphery. She goes through the motions, joining her friends as they embark on the December party season. But she is adrift, miles away from the revelry on the streets.
Handheld camera and grainy photography captures something of the restlessly mercurial nature of the city. We don't need the to see the fizzing fireworks released to celebrate advent to understand that Medellín is a powder keg which could explode at any time. And then, across a dancefloor amid the chaos and celebration, Paula spots the man who killed her father.
Driven by desire for revenge which is gradually diluted by a kind of grudging empathy, Paula befriends him. He is Jesus (Giovany Rodríguez), a low level gangster whose work is "whatever I can get or whatever needs doing." Even as she tries to buy a firearm to exact the justice that has so far been denied her father, Paula starts to be reluctantly fascinated by him. He tells her, "You're the strangest thing I ever met in my life. But I like you. You're cool." And despite everything, she smiles.
A score which throbs like an ache of anticipation helps the build of tension; increasingly frenetic camerawork is less effective. However, the explosive climax leaves audiences reeling.
Production company: 64A Films, AZ Films
International Sales: Latido Films latido@latidofilms.com
Producers: Diego F. Ramírez, Alex Zito, Ignacio Rey, Juan Pablo García, Maja Zimmermann
Screenplay: Laura Mora, Alonso Torres
Cinematographer: James L. Brown
Editor: Leandro Aste
Sound: Carlos Lopera
Music: Sebastián Escofet
Starring: Natasha Jaramillo, Giovany Rodríguez, Camilo Escobar, Carmenza Cossio, Juan Pablo Trujillo