A displaced teen finds an otherworldly gun in Jonathan and Josh Baker's sci-fi debut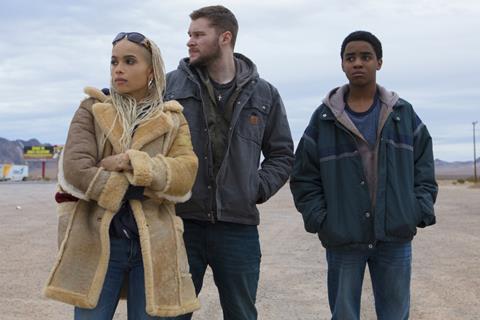 Dirs: Jonathan & Josh Baker. US. 2017. 102mins
For a movie featuring alien super-soldiers, a powerful laser gun and a tattooed James Franco, Kin is surprisingly little fun. Adapting their short film Bag Man into a full-length sci-fi adventure, directors Jonathan and Josh Baker follow an ex-con and his adopted younger brother on a dull cross-country journey in which they're on the run from various vaguely ominous forces. Kin never feels like more than uninspired borrowings from other, better genre films; it's a story about family without any heart.
Kin proves threadbare both creatively and in its special effects
Opening Labor Day weekend in the US — an annual dumping ground for studios wanting to unload their most wretched wares — Kin boasts miniscule commercial appeal, aside from the presence of Franco, Zoë Kravitz and Dennis Quaid in supporting roles. Younger audiences may enjoy the rudimentary sci-fi trappings, but theatrical business will likely be modest at best.
The film stars newcomer Myles Truitt as Eli, a shy black teen who lives with his white adoptive father (Quaid) in Detroit. The man's birth son, Jimmy (Jack Reynor), has just been released from prison after a lengthy stint, and he reunites with dangerous gunrunner Taylor (Franco), to whom Jimmy owes a lot of money. After a violent altercation with Taylor, Jimmy needs to make a quick getaway and tricks Eli into accompanying him on a road trip to Lake Tahoe. He doesn't realize, however, that Eli has gained possession of a high-tech, possibly otherworldly ray gun that he found while rummaging around an abandoned building.
Making their feature debut, the Bakers aim to combine an intimate drama about mismatched brothers with sci-fi and thriller elements. But from its opening moments, Kin proves threadbare both creatively and in its special effects. Daniel Casey's screenplay fails to create much pathos as Eli and Jimmy try to form a bond on their journey. (Jimmy's been incarcerated so long that he hardly knows the kid.) And the characters they meet along the way — including a very generic stripper-with-a-heart-of-golf (Kravitz) — are just as shallowly conceived.
As the film's principal villain, Franco delivers a knockoff of his far more startling and flamboyant turn in Spring Breakers: Here he's merely a slimeball with a snarl. (That said, it is amusingly bizarre that this heel enjoys taking a moment during a tense scene to sing along with Joni Mitchell's "Help Me" on the radio.) But at least Franco tries to give Kin a pulse, whereas most of his co-stars bring only a blah earnestness to their roles. Quaid's stern father leaves little impression, while Kravitz shows none of the electricity she demonstrated in Mad Max: Fury Road and Dope.
Truitt, who has appeared on the TV series Queen Sugar, is asked to play a very commonplace sci-fi archetype: the outsider who will discover that he has a grand destiny awaiting him. But the characterization is so trite that the young actor struggles to give it dimension. And Eli's scenes with Jimmy, a screw-up sincerely trying to turn his life around, contain almost no poignancy or wit.
Instead, Kin seems most interested in this mysterious laser gun that Eli has found — and who its rightful owners are. There's something primal about the weapon, with its awesome destructive power and its ability to make the meek Eli finally feel formidable. But the Bakers don't show much interest in exploring the moral complexities or psychological underpinnings of giving this young teen a real big gun. Like everything else in Kin, it's just an isolated idea left to wither and die from lack of attention.
The directors reference the Terminator films and have concocted some masked supernatural figures to chase after our heroes, but the modicum of suspense generated from introducing these soldier characters quickly dissipates. It soon becomes clear that the filmmakers are going to tease the reveal of their identity throughout the movie. And by the time we reach the finale — which involves a surprise cameo from an A-list star, and some strained exposition that's meant to justify everything we've seen and set the stage for possible sequels — Kin has fully forgone the familial for the dreadfully familiar.
Production companies: Summit Entertainment, TIK Films, No Trace Camping, 21 Laps Entertainment
International sales: Lionsgate
Producers: Jeff Arkuss, David Gross, Jesse Shapira, Shawn Levy, Dan Cohen
Screenplay: Daniel Casey, based on the short film Bag Man by Jonathan & Josh Baker
Production design: Ethan Tobman
Editing: Mark Day
Cinematography: Larkin Seiple
Music: Mogwai
Cast: Jack Reynor, Zoë Kravitz, Carrie Coon, Romano Orzari, Ian Matthews, Dennis Quaid, James Franco, Myles Truitt