Deniz Gamze Ergüven follows up 'Mustang' with this multi-stranded drama starring Halle Berry and Daniel Craig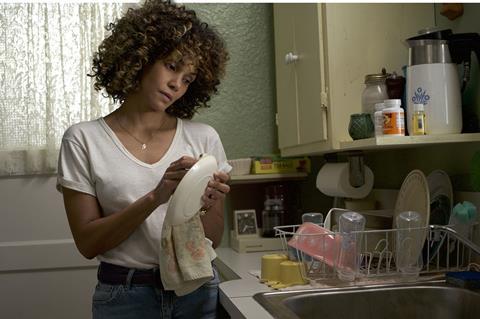 Dir. Deniz Gamze Ergüven. France, Belgium. 2017. 86 mins
Exhaustively researched, broad in scope, marshalling both a large cast of pre-teens and a host of hot button issues: you can't fault the ambition of Turkish/French director Deniz Gamze Ergüven with the follow-up to her Oscar-nominated debut Mustang. This sprawling drama looks at the effect of powder keg social politics through the prism of a family. Halle Berry plays Millie, a single mother with eight kids and counting living under her roof. As tensions on the street boil over following the acquittal of the four police officers in the Rodney King trial, Millie must try, with the help of a local loose cannon, to keep her brood safe from harm. Lacking the intimacy and focus of Mustang, Ergüven tries to cover too much ground here and ends up successfully conveying rather less. Story strands feel half developed; pacing seems erratic.
As immaculately groomed single mother Millie, Berry delivers one of her less convincing performances
Ergüven's name, as much as those of her two stars, will be a considerable pull for audiences who responded to the sensual storytelling of her debut. Curiosity and goodwill could secure further festival berths and may help with the marketing of the picture, which has sold widely including the Orchard (US) and StudioCanal (UK), to arthouse audiences. However, despite, or perhaps because of the event-filled narrative, it may lack the clarity of message to secure the word of mouth and critical support required to propel it to the next level
As immaculately groomed single mother Millie, Berry delivers one of her less convincing performances. We are asked to believe that she is together enough to run a successful cake baking business in addition to her other work and childcare responsibilities. And yet Berry's default performance setting at any moment of stress is a flailing over-reaction which seems unconducive to either baking or parenting.
Of the children, the oldest, Jessie (Lamar Johnson) is the one who is most successfully developed as a character. Responsible and sensible, he is his mother's right hand when it comes to raising the other children. But he is drawn to bad girl Nicole (Rachel Hilson), a wild child who has been excluded from school and thrown out of her own home. With her, he shares a storyline in which they must try to find a hospital for another teenager who is slowly bleeding to death from a stab wound.
As the riots ignite, Mollie finds herself struggling to keep her children out of harm's way, particularly as several of them see the news coverage of the looting as an invitation.
To track the errant kids down, she finds herself striking up an accord with local deadbeat Obie (Daniel Craig). Obie is a violent alcoholic given to throwing furniture off his balcony and randomly discharging firearms through his broken window. He is also the subject of an extended erotic dream which Mollie enjoys one night. At one point, the pair find themselves handcuffed together to a lamppost, a scene which lacks the sexual charge which was presumably intended.
The cinematography has a chaotic urgency which effectively conveys the heightened tensions on the street. The score however has an incongruously laconic quality which drains energy rather than adds it. And this is not helped by the editing: despite the economical running time, there are a few too many moments when the story drags and the momentum flags.
Production companies: CG CINEMA INTERNATIONAL, Scope Pictures, France 2 Cinéma, Ad Vitam, Suffragettes
International Sales: IMR
Producers: Charles Gillibert, Geneviève Lemal
Screenplay: Deniz Gamze Ergüven
Cinematographer: David Chizallet
Editor: Mathilde Van de Moortel
Production design: Celine Diano
Music: Nick Cave, Warren Ellis
Starring: Halle Berry, Daniel Craig, Lamar Johnson, Kaalan "KR" Walker, Rachel Hilson