Colin Firth and Taron Egerton return in Matthew Vaughn's stylish secret service sequel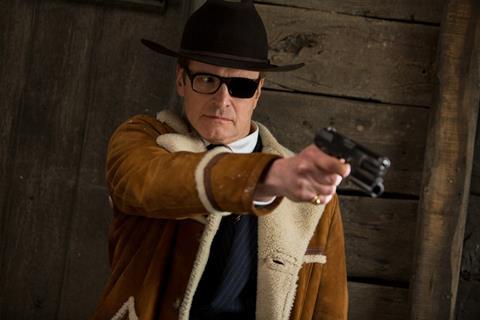 Dir: Matthew Vaughn. UK/US. 2017. 141mins
As kinetic as its predecessor — and just as belaboured — Kingsman: The Golden Circle serves up another batch of hyper-stylised action, irreverent humour and sharp threads, resulting in a film that's not nearly as cool as it thinks it is.
As he did in The Secret Service, Vaughn stages his Golden Circle action sequences with heavy stylisation
This sequel to 2015's Kingsman: The Secret Service boasts more stars and a larger scope, but director Matthew Vaughn's live-action comic-book aesthetic has clear limitations that no amount of calculated cleverness can remedy. Colin Firth and Taron Egerton reprise their roles as suave secret agents, although it's telling that this tiresome spectacle's most memorable performance comes from Elton John in a delightfully super-bitchy cameo.
Opening in the UK on September 20 and the States two days later, this Fox offering hopes to top The Secret Service's $414m worldwide gross. (Additional commercial firepower in the form of new cast members Julianne Moore, Channing Tatum, Halle Berry and Jeff Bridges will certainly help.) The Golden Circle might face some competition from The LEGO Ninjago Movie, but this R-rated actioner will appeal to older crowds and those uninterested in family fare.
A year after the first film, Eggsy (Egerton) and Merlin (Mark Strong) are guiding the Kingsman agency after the death of beloved spy Harry Hart (Firth). But after a series of coordinated missile strikes kill off everyone else in the agency, Eggsy and Merlin retreat to Kentucky. There they meet up with a sister organisation, known as Statesman, which helps them combat Poppy (Moore), a twisted villain who wants to wipe out most of humanity by poisoning the planet's illicit drug supply.
Based on the comics by Mark Millar and Dave Gibbons, the Kingsman movies position themselves as a snide anti-James Bond, cranking up the graphic violence and sexual frankness while still cultivating 007's air of sophistication. Vaughn and co-writer Jane Goldman don't deviate too far from The Secret Service's formula, although this sequel is more ambitious, introducing a whole slew of new characters who work with Eggsy and Merlin — not to mention bringing Harry back from the dead, thanks to some high-tech gadgetry.
The bigger canvas only serves to highlight the franchise's weaknesses, which include a raft of drab heroes. Egerton in particular remains an underwhelming presence, even when Eggsy is meant to be mourning his mentor Harry or trying to make his relationship with the beautiful Tilde (Hanna Alström) work, despite having to sleep with another woman in order to get critical information. Thank goodness, then, for Harry's return, as Firth effortlessly exudes an elegant swagger and brings a little wit to proceedings, happily sending up his stuffed-shirt persona with each lethal hand-to-hand combat scene.
As he did in The Secret Service, Vaughn stages his Golden Circle action sequences with heavy stylisation, gladly acknowledging their artificiality so that characters can punch, kick, shoot and even seemingly fly through the air without worrying about the laws of physics. There are fleeting pleasures to this extreme approach, but the gimmick gets old over time — particularly when Vaughn insists on making epic fight scenes look like one long, unbroken shot when it's obvious they've been heavily finessed through computer trickery.
As the mentally unstable Poppy, Moore overdoes the villain's smiley lunacy, which keeps her from seeming particularly menacing. Perversely, the filmmakers try to inject some social commentary by using her plan as a way to highlight the idiocy of America's drug wars, suggesting that the US government is, in its own way, as callous and evil as Poppy. Provocative stuff but, in a movie with so little brains, it's impossible to take seriously.
Tatum and Bridges are both wasted playing members of Statesman's good-ole-boys agency, while Berry does what she can as the team's nerdy tech expert. Surprisingly, the man who steals the film is Elton John, who plays himself. Polly has kidnapped John, forcing him to play concerts just for her, and his every foul-mouthed, drama-queen utterance hints at the sort of cheekily over-the-top extravaganza that The Golden Circle could have been.
Production companies: Marv Films, Cloudy
Worldwide distribution: 20th Century Fox, www.foxmovies.com
Producers: Matthew Vaughn, David Reid, Adam Bohling
Executive producers: Mark Millar, Dave Gibbons, Stephen Marks, Claudia Vaughn, Pierre Lagrange
Screenplay: Jane Goldman & Matthew Vaughn, based on the comic book The Secret Service by Mark Millar and Dave Gibbons
Cinematography: George Richmond
Production design: Darren Gilford
Editor: Eddie Hamilton
Music: Henry Jackman & Matthew Margeson
Website: www.foxmovies.com/movies/kingsman-the-golden-circle
Main Cast: Colin Firth, Julianne Moore, Taron Egerton, Mark Strong, Halle Berry, Pedro Pascal, Edward Holcroft, Elton John, Channing Tatum, Jeff Bridges