The disappearance of a teen girl has a bizarre impact on her hometown community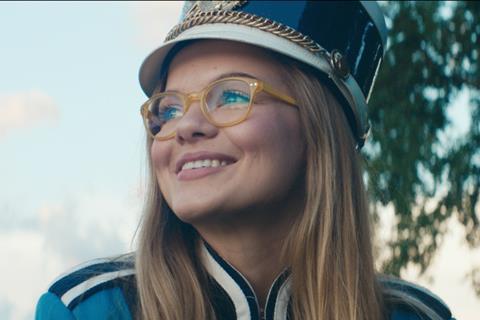 Dir: Jennifer Reeder. US. 111mins
A woman prowls through a darkened house wielding a very large knife, before knocking on her daughter's bedroom door. "Still doing your homework," she inquires, a frazzled smile flitting across her face. "Still not talking to me?" It's evident from this cracked, horror-heightened opening scene that, despite its high school setting, Jennifer Reeder's third feature will be no run-of-the-mill coming of age. Indeed, it may be the most anarchic and refreshing take on the American teen's existential malaise since Heathers.
The girls' discourse is shot through with insight and determined independence
Reeder's films have a solid rep on the festival circuit (including the short Crystal Lake, which appeared in Generation in 2016). This bold, moody, at times preposterous and others intensely moving drama deserves to break out to a wider audience, not least because of its powerful paean to young women striving to overcome the twin attack of errant parents and appalling boys.
As it happens, Carolyn Harper (Raven Whitley) isn't doing her homework, but is at an isolated lake with Andy (Ty Olwin). She is bewitchingly distinctive in her marching band uniform and seemingly in control of the situation, until this grotesquely single-minded football jock rudely abandons her as soon as he realises he isn't going to get laid. Carolyn never returns home, her disappearance throwing the rural Midwest town of Big River into a downward spiral of guilt, regret and confusion.
It wouldn't be unreasonable to read Carolyn Harper as Laura Palmer. Reeder's scenario isn't as surreal or macabre as Twin Peaks, but it shares with the Lynch/Frost classic the willingness to frame small-town mentality as something bordering on psychosis. And Reeder certainly offers some strange sparks of her own.
Her focus is on three friends – Andy's sister Joanna (Grace Smith), Laurel (Kayla Carter) and Charlotte (Ireon Roach). These girls, two of them black, fit none of the customary high school movie designations –elitist and outsider, bland or kooky. But they are individual, whether it's Joanna's slightly disturbing way of making a buck (including selling her mother's underwear to the school principal) or Charlotte's stunning catwalk wardrobe and war-painted face. While they explore friendship, love and sexuality with atypical level-headedness, the real fireworks take place amongst the messed-up adults around them – chaotically adulterous parents, the criminally perverse principal and teachers with a startling lack of empathy.
Production designer Adri Siriwatt and costume designer Kate Grube join forces for a deluge of pinks and purples, fairy lights, sequins and lace that provide a kitsch foundation, over which cinematographer Christopher Rejano's confident lensing and Nick Zimmer's synth-driven soundtrack (again echoes of Twin Peaks, with a touch of Halloween) create a more ominous tone. The result is heightened, fantastical yet disturbingly familiar.
Picking up a trope from her shorts, Reeder has the Eighties pop songs on the soundtrack performed by the girls themselves, sometimes in the context of their school's capella choir, but also in two gorgeous, hair-tingling sequences; Modern English's 'I Melt With You' sung by one of the youngsters who's accepted that she's gay, Naked Eyes' 'Promises, Promises' an ensemble piece, led by a prostate Carolyn no less, speaking of a lifetime of romantic disappointment.
It may feel that Reeder is trying too hard to shock or tickle us at times, but the eccentricity usually touches on the misery behind the adults' behaviour. And the girls' discourse is shot through with insight and determined independence. When one of the boys tells Joanna that she can be "pretty mean", her sober reply is "That's all we've got". And when Laurel makes the public declaration to the despicable Andy that "You treat girls like shit", repeated as a mantra, it feels like one of the more empowering feminist declarations in years.
Production companies: Chicago Film Project
World sales: WTFilms sales@wtfilms.fr
Producers: Brian Hieggelke, Jan Hieggelke
Screenplay: Jennifer Reeder
Production design: Adri Siriwatt
Editing: Mike Olenick
Cinematography: Christopher Rejano
Music: Nick Zimmer
Cast: Grace Smith, Ireon Roach, Kayla Carter, Raven Whitley, Ty Olwin, Marika Engelhardt, Tim Hopper, Audrey Francis, Kate Arrington, James Vincent Meredith, Robert T. Cunningham