A former psychiatric patient is tormented by noises in the night in a sharp debut from Sweden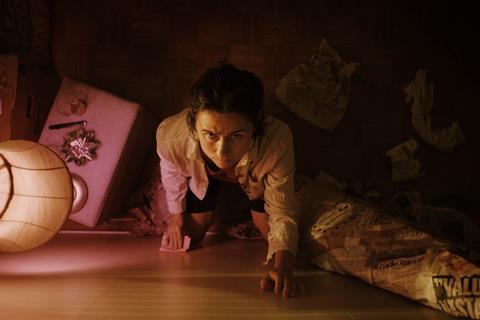 Dir: Frida Kempff. Sweden. 2021. 78 mins
Recently released from a psychiatric facility and still besieged by unwelcome thoughts, Molly (Cecilia Milocco) falters in her attempts to turn her new apartment into a home. She finds herself unpacking painful memories along with her glass ornaments; meanwhile a record-breaking heatwave brings a feverish quality to her days and nights. But the main issue is the persistent knocking from the floor above. Molly becomes convinced that there is a woman in danger somewhere upstairs; the police and her neighbours doubt her sanity. This slippery psychological thriller gaslights the audience, casting doubt upon Molly's mental health, and by extension, everything we experience through her eyes.
Milocco's performance manages to walk a thin line between credibility and delusion
Based on a novel by Johann Theorins, this is the first fiction feature from director Frida Kempff, who won a Jury Prize at Cannes for her short film Mickey Bader. Strikingly atmospheric cinematography and an intense central performance should ensure that the film goes on to find berths in genre strands at further festivals, following on from its premiere at Sundance. Kempff borrows tropes from horror filmmaking but the picture lacks the nerve-shredding peril (and the gore) that would fully recommend it to hard-core horror audiences.
The memories of a happier time creep unbidden into Molly's subconscious, during her sleep and through waking dreams which lift her out of the boxy little apartment which is her new home. We see glimpses in flashback of a beach, of Molly with her partner Judith who, ominously, announces that she is going for a swim. We don't have to see the tragedy to know that it lingers in Molly's mind, a mind which was knocked off balance by the trauma of bereavement.
Light is used expressively – released from the treatment facility where she has been coaxed out of her breakdown, Molly pauses in the shadows before steeling herself to step out into the bright, unforgiving sunlight. Later, in her apartment, she alternates between staring warily from the balcony and then drawing the curtains, cocooning herself against the world outside.
Middle-aged, with unbrushed hair and a hint of mania in her expression, Molly is not the kind of person who is taken seriously as a witness. So when she starts to insist, on the strength of some knocking that nobody else seems to be able to hear, that a woman's life is in danger, her neighbours nod politely and then shut their doors as quickly as they can.
Milocco's performance manages to walk a thin line between credibility and delusion, a line which is less successfully negotiated by other aspects of the film. Archetypal paranoid psychosis production design sees Molly's walls covered with torn newspaper and scrawled notes; the sound needles with tinnitus whines; the score employs quizzical piano motifs followed by ominous rumbling. Add to this the use of a go-pro style 'mad cam' - a camera worn by Milocco, trained on her face to catch the most demented and desperate moments of her performance - and there is not so much a question mark over Molly's sanity as a giant, blaring mental health crisis klaxon. This all works against the picture, which succeeds most effectively when the audience is left with some degree of doubt about whether the knocking is real or a figment of a broken mind.
Production company: Läsk
International sales: Bankside Films films@bankside-films.com
Producer: Erik Andersson
Screenplay: Emma Broström
Editing: Erika Gonzales
Cinematography: Hannes Krantz
Production design: Elle Furudahl
Music: Martin Dirkov
Main cast: Cecilia Milocco, Krister Kern, Albin Grenholm,Ville Virtanen, Alexander Salzberger