An El Salvadorian immigrant struggles to fit in at her new LA school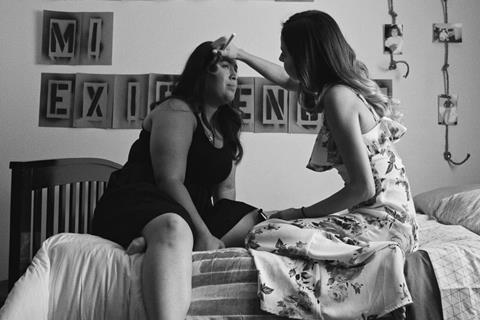 Dir/scr: Patricia Vidal Delgado. USA. 2019. 84mins
Donald Trump's America is no country for a young Salvadoran woman in La Leyenda Negra. Patricia Vidal Delgado's sharply etched debut feature is a deft blend of the intimate and the political that recalls the fire-in-the-belly feistiness of early Spike Lee joints. The successful forging of topical elements with an engaging central character suggests a promising commercial future for this modest but very assured independent production.
Delgado keeps us invested in the fate of these two girls without tipping the film towards overt melodrama or sentimentality
Delgado dedicates her film to the 417,000 migrants who will be affected by the termination of the Temporary Protected Status programme that allows them to live and work in the United States. One of those is Salvadoran-born teenager Aleteia (Monica Betancourt). An intelligent girl with a mind of her own, she has placed her hopes for the future on a scholarship to UCLA.
Aleteia has recently joined a new high school in Compton, and struggles to find common ground with vacuous peers whose interests seem limited to shopping, parties and cute boys. Aleteia is politically engaged and only too ready to challenge a teacher viewing history through a colonialist lens.
Delgado contrasts Aleteia with Mexican-born Rosarito (Kailei Lopez) who is part of the clique clustered around queen bee Monica, played with bitchy aplomb by Irlanda Moreno. It is Monica who cruelly dismisses Aleteia as a "hippy in a hoodie". Rosarito is clearly weary of Monica's limited horizons and makes an effort to approach the awkward Aleteia. The growing friendship between the girls and the suggestion that it could become something more lies at the heart of a story made all the more soulful by the crisp, smartly framed monochrome cinematography of Matt Maio.
There is a well-observed sense of community in La Leyenda Negra as Delgado immerses us in a world of beauty parlours, backyard birthday parties and dance classes. These are ordinary, everyday lives unfolding in the shadow of an American Dream being placed beyond the grasp of Aleteia by a political agenda. As Aleteia's dream is thwarted she becomes caught between ambition and activism. She is drawn to direct action and an underground movement spreading the slogan Respect My Existence Or Expect Resistance. The hint of a bond with Rosarito only makes her fears for the future more intense.
Delgado keeps us invested in the fate of these two girls without tipping the film towards overt melodrama or sentimentality. The tentative attraction is understated and builds in an entirely convincing manner. The pressures and prejudices that might stand in their way are all too believable. Even some momentary slips into slow-motion are forgivable because they reflect a sense of the carefree in a young woman who has grown to only fear the worst.
Delgado clearly has an eye for acting talent. Her cast of newcomers is impressive throughout with Betancourt and Lopez bringing a light touch to the heavy emotions demanded of them. Lopez has a real presence as Rosarito, playing her with a big heart and a shrewd understanding of what truly matters in her life. Betancourt's Aleteia combines a tough exterior with a raw vulnerability that makes her a character to win your heart. Expect to see more of both performers.
Production company: Patricia Delgado Productions
International sales: The Film Sales Company contact@filmsalescorp.com
Producers: Alicia Herder, Marcel Perez
Production design: Andrea Arce Duval
Editing: Steven Moyer
Cinematography: Matt Maio
Music: Sebastian Rizo
Main cast: Monica Betancourt, Kailei Lopez, Irlanda Moreno