Darkly comic Ukranian cop thriller effectively mines the country's difficult post-Soviet history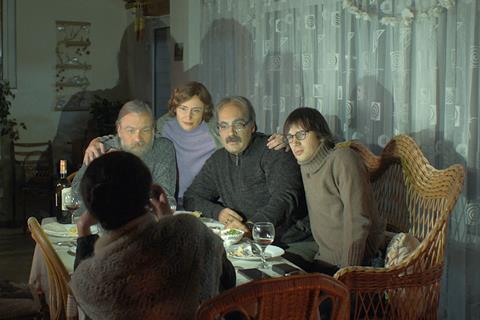 Dir/scr: Philip Sotnychenko. Ukraine. 2023. 100mins
The wrong arm of the law gets a thorough probing in Ukrainian writer-director Philip Sotynchenko's mordantly downbeat feature debut La Palisiada, perhaps the most cutting indictment of the cop mentality in eastern Europe since Corneliu Porumboiu's Police, Adjective (2009). Premiering in Rotterdam's Tiger competition shortly before bowing in Gothenberg, this is a deliberately opaque, sometimes torpid viewing experience that may not cohere in an entirely satisfying manner, but shows definite talent and originality. With programmers especially hungry for material from war-torn Ukraine, plentiful further festival play is likely.
The prevailing tones of cynicism and fatalism are crucially leavened by a welcome streak of ink-black Slavic humour
Apart from a somewhat clunky 20-minute prologue set in the present day, the action entirely unfolds in 1996. At this point, Ukraine was only half a decade into its independence, still very much coming to terms with its problematic Soviet legacy.
Shooting with consumer-grade video-cameras from this era, Sotnychenko and his cinematographer Volodymur Usyk (along with production designer Marharyta Kulyk) achieve a striking verisimilitude in terms of period detail and atmosphere. This provides a solid backdrop for their vignette-based plot, which proves simple enough in its bare bones but is dramatised with a slippery elusiveness that is often quite tricky to follow. Even the exotic title is never properly explained: it's a made-up word which at one point is subtitled as 'polisiada' – i.e. a story about police.
That story pivots on to two killings separated by a quarter of a century: one a startlingly abrupt act of impatient desperation by an enraged lover (which comes at the end of the prologue), the other a carefully-deliberated, brutally direct execution carried out under the auspices of the state (which comes at the end of the film). The common link proves to be moustachioed police investigator Ilhar Sabitov (Novruz Pashayev), who in 1996 is tasked with solving the murder of a fellow officer. He and his colleagues eventually settle on feckless, fuddle-headed youth Bohdan (Andrii Zhurba) as the most suitable suspect. But in this chaotic post-USSR environment of financial and moral nefariousness, considerations of justice rank far below quotidian expediency.
Sotnychenko, who cut his teeth on seven shorts across the 2010s including prize-winners The Son (2015) and Nail (2016), presents a rather familiar kind of punishingly grim dystopia here — often glimpsed in the work of (USSR-born) masters Alexei Balabanov and Sontychenko's fellow Ukrainian Sergei Loznitsa's dramas. The prevailing tones of cynicism and fatalism, along with the stygian gloom of the settings (rendered in a suitably muted palette), are crucially leavened by a welcome streak of ink-black Slavic humour. Working as his own editor, Sotnychenko often excels at finding just the optimal beat with which to conclude a shot — even if the sequence in question has been allowed to drag on after its point has been made.
Production companies: VIATEL, Contemporary Ukrainian Cinema
International sales: Contemporary Ukrainian Cinema, e.asadova@cuc.com.ua
Producers: Halyna Kryvorchuk, Valeria Sochyvets, Sashko Chubko
Cinematography: Volodymyr Usyk
Production design: Marharyta Kulyk
Editing: Philip Sotnychenko
Main cast: Andrii Zhurba, Novruz Pashayev, Valerina Oleinikova, Olena Mamchur, Oleksandr Parkhomenko, Oleksandr Maleev, Yarema Malashchuk, Vyacheslav Turyanytsya