Dir. Pablo Lamar. Paraguay, Netherlands, Chile, Qatar. 2016. 77mins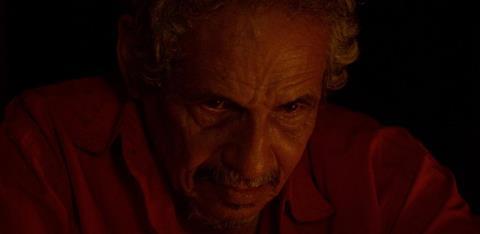 The debut feature from Paraguayan director Pablo Lamar is an exercise in cinema stripped back to its barest bones. Through long, slow, static shots, with no dialogue at all, Lamar tells his story with images and precisely sculpted sound (it comes as no surprise to learn that he works as a sound designer on other films). Meditative and uncompromisingly austere: this is filmmaking that pushes the boundaries of cinema to a place where none but the most stalwart advocates of slow cinema will have the inclination to follow.
This is a film which makes considerable demands on the audience
La Última Tierra is so languid in its pacing, it poses a challenge in terms of forging connections with a receptive audience. It would sit most comfortably in a festival environment, particularly in those events with a curatorial bias towards the more experimental fringes of cinema. Theatrical prospects are slim, given that this is the kind of film which might be as suited to a gallery environment as it is to a cinema.
Lamar is in no hurry to reveal too much about the central characters. The camera lingers on a flickering candle flame before revealing the hunched figure of a man (Ramón del Río), chewing slowly in the dusty half-light of an adobe hut. It takes a while – a long while – before we realise that he is not alone. There is an elderly woman (Vera Valdez Barreto), prostrate and gaunt. Lamar positions the camera just below her throat and shoots her face from below, the better to accentuate the hollows of her cheeks and the vulnerability of her position.
The old man tenderly feeds her with something he has pre-masticated. Even so, she nearly chokes on it. Her breath, a laboured death rattle, gradually fades and the sounds from the forest outside – cicadas, animal calls – are brought to the fore, making us gradually aware of the world outside the couple's meagre shared space.
It soon becomes clear that the woman has breathed her last. And the rest of the film follows the man as he follows his own private ritual and comes to terms with the passing of his life partner. Recurring images include shots of the rippling surface of water, firstly of the stream in which the man bathes, then of the well water he draws up to wash the body, before wrapping it in a makeshift shroud.
Lamar also returns repeatedly to the image of fire – the candle, a bonfire, and a final conflagration which consumes the hut and the woman's body – and to earth. Long minutes are spent watching a spade cutting through the soil as the man digs what we assume is her grave but could just as easily be a new potato plot. Lamar gives us very little to work with in the way of explanations.
This is a film which makes considerable demands on the audience. It repays those who invest the time and concentration with impressive sound work, some striking photography and plenty of symbolic imagery. However whether that is enough to draw audiences to this inscrutable portrait of one man's grieving process remains to be seen.
Production company: Sapukai Cine, Fortuna Films
International sales: Sapukai Cine sapukai.cine@gmail.com
Producers: Ilse Hughan
Screenplay: Pablo Lamar
Cinematography: Paolo Girón
Editor: Felipe Gálvez
Production design: Carlo Spatuzza
Main cast: Ramón del Río, Vera Valdez Barreto