Saorise Ronan searches for a more exciting life in Greta Gerwig's surefooted directorial debut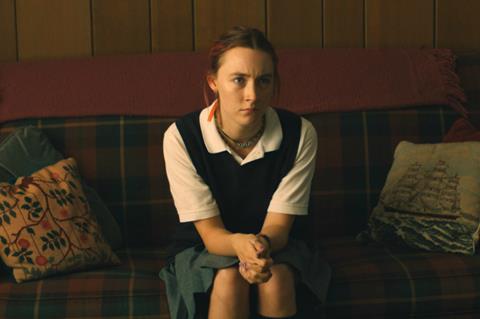 Dir/scr: Greta Gerwig. US. 2017. 94mins
Exuding sunny optimism, sassy wit and sheer joie de vivre, Lady Bird could be the perfect antidote to these angst-ridden times. A rollicking, surefooted, semi-autobiographical coming-of-age charmer, Greta Gerwig's huge auspicious solo directing debut has all the potential to become an indie crowd pleaser. It could also attract award season attention across the board, from Gerwig's smart, fizzy screenplay to the captivating central performance from Saoirse Ronan.
There is an energy and sparkle to every aspect of Lady Bird
Ronan's 17-year-old Christine McPherson is the embodiment of every trapped adolescent who yearns for a life less ordinary than the one she is currently enduring. Even the name she choses for herself — Lady Bird — speaks of flight, class and a woman of distinction. Stuck in suburban Sacramento, and constantly at war with her eternally critical mother Marion (Laurie Metcalf), Lady Bird is hungry for new experiences, exciting adventures and the chance to stand out from the crowd.
Over the course of a period in which she schemes to fulfil a dream of gaining entrance to an east coast college, Lady Bird rushes full steam into life. Weeks pass in a giddy rush of sensations as she falls in and out of love, loses her virginity, adopts and discards friendships and constantly tussles with a mother she both adores and detests, often in the same heartbeat. The snappy editing and breakneck pace of Lady Bird capture all the jagged intensity of a moment in life when there is no time to spare, nothing happens quickly enough and every little hurt and disappointment feels like the end of the world until the second that it doesn't.
Lady Bird is often screamingly funny but it also has a generous spirit, embracing characters with all their flaws and foibles, virtues and defects. It is a film in which everyone has their reasons, and nobody is all bad. That even applies to Metcalf's demanding mother, who can appear harsh and daunting but also leaves us in no doubt that she loves her daughter more than she might ever say.
Gerwig brings out the very best in her very cool cast, with Manchester By The Sea's Lucas Hedges displaying all the charm of a young James Stewart as Lady Bird's fellow amateur drama club performer and potential new boyfriend Danny. Elsewhere, Call Me By Your Name's Timothee Chalamet provides the mean, moody contrast as musician Kyle, and Beanie Feldstein brings a real charisma to loyal best friend Julie.
There is a feeling that every role has been carefully cast and every performer given a moment to shine. There is an energy and sparkle to every aspect of Lady Bird, which is also an affectionate valentine to a Sacramento captured in sun-dappled images and magic hour moments.
Production company: Mission Films
US Distributor: A24
International sales: A24 info@a24films.com
Producers: Scott Rudin, Eli Bush, Evelyn O'Neill
Executive producer: Lila Yacoub
Cinematography: Sam Levy
Editor: Nick Houy
Production design: Chris Jones
Music: Jon Brion
Main cast: Saoirse Ronan, Laurie Metcalf, Tracy Letts, Lucas Hedges