Amanda Kramer's debut traps eight girls in a house as the world caves in around them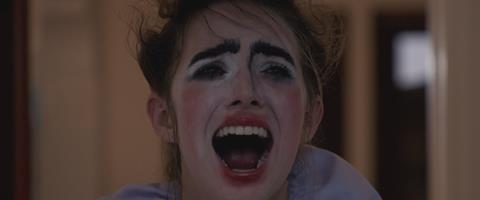 Dir/scr. Amanda Kramer. US. 2018. 93 mins.
It's the end of the world as eight teenage girls know it, and no one feels fine in Ladyworld. Or maybe it's simply an earthquake that has plunged an entire house below ground level, leaving birthday party attendees stranded and scrambling. The low-budget, single-setting feature debut of theatre veteran Amanda Kramer has been badged a female Lord of the Flies, but in pairing the aftermath of a natural disaster with the minefield that is female adolescence, it proves its own surreal, savage and superbly performed creation.
Kramer's film is painfully real in its emotions yet dreamily unreal in its atmosphere
The highly-stylised and purposefully-threatrical Ladyworld never explicitly answers its obvious question — that is, why the teenagers opt to stay, wait and devolve into chaos rather than try to dig their way free. Co-writer (with Benjamin Shearn) and director Kramer recognises that familiarity trumps risk even in the most challenging of circumstances. The leaps she takes in espousing that truth might ultimately challenge some viewers, but following Fantastic Fest and London Film Festival berths, more festival play is warranted for Ladyworld. VOD platforms should provide a further pathway to audiences.
It's with a black screen and the sounds of crashing and crumbling that Ladyworld establishes its premise. Beyond that, explanatory details are sparse. As Eden's (Atheena Frizzell) party is interrupted by shaking walls and falling chandeliers, what has happened is far less important than what will occur. After finding the doors and windows blocked, the friends somewhat reluctantly elect a leader to oversee their time in limbo. The calculating Piper (Annalise Basso) wants the job, but the more pragmatic Olivia (Ariela Brady) narrowly emerges victorious, although loner Romy (Maya Hawke) proposes that the whole notion is unnecessary.
Biding their time harmoniously and eating birthday cake for breakfast is short-lived, however, once a man is spotted inside the house. Or is he? As all sense of certainty dissipates, the girls swiftly splinter into factions and their already fragile mindsets begin to shatter. Their setting becomes a battleground. Dissecting the way that both teen and adult women treat, taunt and judge each other, neither the characters nor the emotional carnage they inflict are subtle, but the results are provocatively astute.
Ladyworld may appear to fall in step with Heathers, Mean Girls and Jennifer's Body-style visions of teenage female friendships — and the "hell is a teenage girl" sentiment espoused by the latter — but in bringing an almost hallucinatory air to the trauma, vulnerability and even brutality inherent in becoming a woman, it has more in common with The Virgin Suicides and Madeline's Madeline. Kramer's film is painfully real in its emotions yet dreamily unreal in its atmosphere, an effective and haunting combination which is heightened by image and soundtrack choices.
Cinematographer Patrick Meade Jones' visuals convey the claustrophobic constraints of female adolescence in frequent wide shots that artfully place the entire cast in the frame, while making full use of every room in the house. Yet this is an actors' piece as much as a filmmaker's. Ladyworld tasks its eight-strong cast with overtly performing a part in their fractious new underground realm, each representing a different aspect commonly ascribed to femininity. The actors are suitably, strikingly performative. Amongst strong performances, the film is a significant showcase for Ryan Simpkins, who has the most difficult role as Dolly. It's easy to see her doll-clutching girl as an innocent forced to suffer, but a wealth of traits flicker through Simpkins' complex portrayal, as they do in the entrancing feature she's in.
Production company: Love & Death Productions, Pfaff & Pfaff Productions
International sales: The Film Sales Company, lucas.verga@filmsalescorp.com
Producers: Thomas R. Burke, Amanda Kramer, Leal Naim, Jamie Dolan
Screenplay: Amanda Kramer, Benjamin Shearn
Production design: Noel David Taylor
Editing: Benjamin Shearn, Noel David Taylor
Cinematography: Patrick Meade Jones
Music: Callie Ryan
Main cast: Ariele Barer, Annalise Basso, Ryan Simpkins, Odessa Adlon, Maya Hawke, Tatsumi Romano, Zora Casabere, Atheena Frizzell.