A surprising change of pace for Francois Ozon sees the French auteur venturing into De Palma territory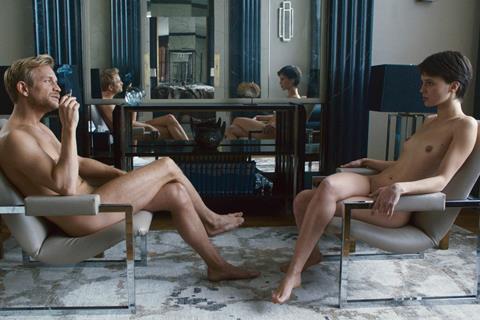 Dir/scr Francois Ozon. France. 2017. 107mins
It takes two to tangle in L'Amant Double, a convoluted, deliriously overcooked psychosexual melodrama that is hard to take seriously. A startling volte face from the delicate mysteries of period drama Frantz, the new Francois Ozon enthusiastically dives into territory defined by a combination of Alfred Hitchcock, Paul Verhoeven and Mel Brooks. There are enough lurid trysts and dodgy sexual politics to titillate, outrage and intrigue a substantial audience although serious-minded critics may be less forgiving.
The addition of a nosy neighbour, creepy cats, bug-eyed stares and gloopy effects leave you wondering if it is all meant to be a huge joke
Adapted from the pseudonymous Joyce Carol Oates novel Lives Of The Twins, L'Amant Double is a film enthralled with notions of terrible twins, double trouble, split screens and mirror visions. It you were to throw back a shot every time a gleaming mirror surface is shown then you would very quickly become sozzled. The first images are of a woman, Chloe (Marine Vacth), transformed by a brutal haircut that strips away flowing locks to reveal her to the world. All razor-sharp cheek bones and jagged angles, 25 year-old Chloe is a former model who has been long troubled by stomach pains that may be psychosomatic. She decides to consult psychiatrist Paul (Jérémie Renier). Confessing her insecurities and fears, she starts flattering his ego and trying to seduce him. "I dreamt about you, " she says." Is that a good sign?"
Once Chloe becomes an ex-patient, the couple embarks on a romance and decides to live together. Paul remains a mystery who seems unwilling to discuss his family or reveal much about his past. Chloe eventually discovers that he has a twin brother called Louis (also Renier) who is also a psychiatrist. She consults Louis and finds that he has a very different, more hands-on approach to her problems. Revealing even more of the labyrinthine story would only spoil whatever fun there is in watching it unfold.
L'Amant Double is certainly stylish, serving up striking images and copious amounts of vigorous sex as it eventually wades into 50 Shades Of Grey territory. It often seems designed to shock, especially a scene in which Chloe straps on a dildo so she can sodomise Paul. It has a ridiculous, misogynistic feel like a daring coffee table magazine spread from the naughty 1990s that has somehow re-emerged in the 21st century.
The cast give it their all with the pale, waif-like Marine Vacth never seeming to blink as the troubled Chloe. Renier offers a slight contrast in the two brothers; Paul safe and comfy in beige and a little boring whilst Louis has the arrogance of someone who likes to dominate. "My brother can't cure you like I can, " is one of his nudge, nudge parting shots. There is also a welcome appearance from Jacqueline Bisset who squeezes all the juice from her brief role as a concerned, protective mother.
There are plenty of elements to admire in L'Amant Double but the endless twists and revelations grow tiresome. The addition of a nosy neighbour, creepy cats, bug-eyed stares and gloopy effects leave you wondering if it is all meant to be a huge joke.
Production companies: Mandarin Production, Foz, Mars Films, Films Distribution, France 2 Cinema, Scope Pictures
International sales: Films Distribution info@filmsdistribution.com
Producers: Éric Altmayer, Nicolas Altmayer
Cinematography: Manu Dacosse
Production design: Sylvie Olive
Editor: Laure Gardette
Music: Philippe Rombi
Main cast: Marine Vacth, Jeremie Renier, Jacqueline Bisset, Myriam Boyer