Mark Duplass and Natalie Morales dial up a lockdown feature and friendship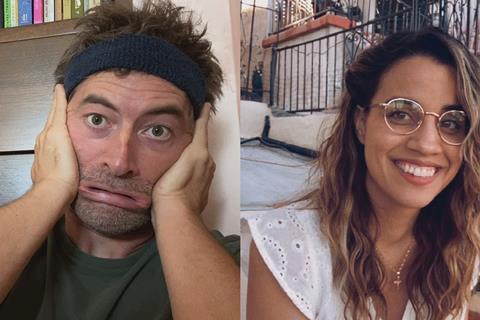 Dir. Natalie Morales. US. 2021. 91 mins.
Covid-19 did not give birth to films that are told through computer windows and phone footage, but it is certain to induce a spike in the genre. Shot in secret, premiering in Berlin before a SXSW slot, Language Lessons is a stripped-down two-hander solely comprised of video chats. Reteaming with Mark Duplass after directing episodes of his anthology TV series Room 104, actor Natalie Morales makes her feature debut with this film about connection, friendship and trauma. Duplass and Morales co-wrote the script and co-star; she plays a Spanish teacher and Duplass is her latest student. Their multi-layered back-and-forth proves the biggest drawcard, alongside the drama's willingness to get contemplative, but the film can play like an exercise in keeping its creative talents busy.
One of the most astute aspects of Morales and Duplass' script is how it captures the twists and turns of a new friendship
While visually, Language Lessons could not look more different to fellow pandemic production Malcolm & Marie, both are dialogue-heavy, performance-driven features that place their only on-screen actors in pressure-cooker scenarios (and, in Duplass' case, in lavish surroundings), then wait for their words to explode. Morales' movie may earn other festival slots; however, it too will likely fare best on streaming. In focusing on two strangers thrust into a sudden relationship in heightened circumstances, all of which takes place on camera, Language Lessons closely resembles the also Duplass-written and -starring Creep horror franchise on Netflix — so much so that viewers may find themselves waiting for something sinister to occur.
Opening inside a well-appointed Oakland home that instantly paints a picture of money and comfort, Language Lessons begins with Cariño's (Morales) first virtual meeting with her new pupil, much to the latter's surprise. Heard but not seen, Will (Desean Terry) has gifted his partner Adam (Duplass) 100 online Spanish classes for his 45th birthday. Reluctant at first, Adam is happy to participate once he learns that he can weave the sessions into his leisurely daily routine — while swimming in his sprawling pool, for example — and, over relaxed chats, a warm rapport springs to life.
There are no frights or thrills to be found in Cariño and Adam's discussions, which flow freely in Spanish (he barely needs the tutelage), begin with everyday minutiae and gradually delve further into their respective lives. Still, Language Lessons does hinge upon a shock development, which instantly complicates the central dynamic. One of the most astute aspects of Morales and Duplass' script is how it captures the twists and turns of a new friendship that is buoyed by excitement and yet remains tentative, and how it navigates the constant shifts that come with both fresh and established relationships. At first, Adam is far more invested, as Cariño is keenly aware. But after tragedy strikes, the balance ebbs and flows.
Morales and Duplass convincingly convey a fluctuating platonic bond, even if Cariño proves the more complex and fleshed-out character at every turn. Adam often seems stitched together from stock-standard traits, especially when the film tries to address his privileged existence. Indeed, Language Lessons is occasionally happy to trade in easy shorthand, instead of plunging as deeply or as thoughtfully as it should. When the feature tackles health woes and violence, it serves up convenient drama sans texture.
Cariño, unlike Adam, does not live a glossy life, but this is nonetheless a polished-looking movie. Buffering is only an issue when needed for effect, the cinematography cycles between inventive angles, and few video chats held solely across two locations have ever boasted such a wide variety of backgrounds. Such slickness underscores Language Lessons' biggest struggle, though — because, while the film sells the ups and downs of its central friendship, little else consistently feels as authentic.
Production companies: Duplass Brothers Productions
International sales: ICM Partners, jlacy@icmpartners.com
Producers: Mel Eslyn, Will Dowsett, Ashley Edouard
Screenplay: Mark Duplass, Natalie Morales
Editing: Aleshka Ferrero
Cinematography: Jeremy Mackie
Music: Gaby Moreno
Main cast: Natalie Morales, Mark Duplass, Desean Terry