Polish filmmaker Jan P Matuszyński explores a notorious chapter in the country's Communist history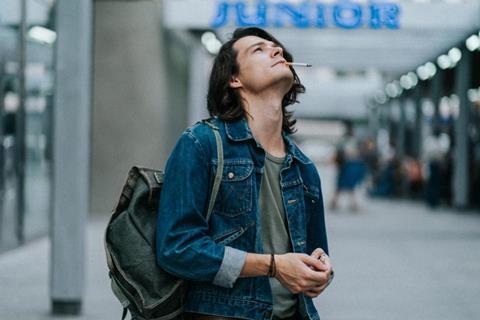 Dir. Jan P. Matuszyński. Poland/ France/ Czech Republic. 2021. 160mins
Leave No Traces certainly aspires to leave its own trace in the recording of Polish history, as it examines the facts behind a notorious miscarriage of justice in the country's Communist era. Yet it's arguable whether Jan P. Matuszyński's latest work will leave a significant mark on viewers – at least, outside its own country – as, meticulously made and urgently committed as it is, the film suffers from a narrative laboriousness that is unlikely to connect with international audiences; especially in the age of sophisticated, streamlined TV versions of similar storytelling.
The film is undeniably a tour de force in execution
Matuszyński is noted as both a documentarist (Deep Love, 2013) as well as for his 2016 fiction film The Last Family. Leave No Traces is a docudrama examining the case of Grzegorz Przemyk, a high school student who died after a beating by police in Warsaw in 1983, during the regime of General Wojciech Jaruzelski. At the film's start, Grzegorz (Mateusz Gorski) is seen with friends at the apartment of his mother Barbara Sadowska (Sandra Korzeniak), a poet and an activist for the union Solidarity, who has herself recently received a roughing-up from the authorities.
Grzegorz and his friend Jurek Popiel (Tomasz Ziętek) are in high spirits at the prospect of finishing exams and heading to university, but a moment of horseplay in the street leads to them getting arrested and taken to a police station, where officers administer a vicious kicking to Grzegorz – one cop reminds his colleagues to go for the stomach to avoid incriminating traces. Denied medical attention, Grzegorz is taken to mental hospital and later released, but stomach injuries cause him to die a painful death.
As the only witness to the event, Jurek is in a dangerous position and is forced to go into hiding. Meanwhile, as Grzegorz's case becomes a major cause célèbre in a country headed irrevocably towards change, the authorities – led by Interior Minister Cleslaw Kiszczak (Robert Więckiewicz) – take every conceivable path to damage limitation. Their ploys range from painting Grzegorz and Jurek as dissolute low-lifes, to setting up a hapless fall guy, to infiltratrating the household of Jurek's parents. His father Tadeusz (Jacek Braciak) is a hardline supporter of the established Communist regime, and falls victim to a devious ploy to get Jurek to change his testimony when the case comes to court.
The film is undeniably a tour de force in execution. Shot on 16mm by Kacper Fertacz and designed by Paweł Jarzębski, Leave No Traces creates an absolutely convincing recreation of early 80s Poland, while the no-frills visuals themselves recall the textures of Eastern European drama of that period, of say, Andrzej Wadja or Krzysztof Kieslowski (the docudrama approach also echoes the glory days of Costa-Gavras).
But as a complex political drama with a 160-minute running time, the film crams in a daunting amount of detail, several turns of direction and a large cast of characters, making it a considerable challenge to viewers. In Poland, the appearance of multiple real-life political figures will spark recognition – although Jurek himself is a fictional version of the real witness in the case – but elsewhere, audiences may feel confused, not least because some characters are referred to by both their full names and their diminutives (Jerzy/Jurek, Grzegorz/Grzesiek).
The film ends with a resounding courtroom moment for Jurek, and for actor Tomasz Ziętek, the outstanding member of a very mixed cast. International audiences will recognise Cold War's Tomasz Kot as an apparatchik, while Braciak is terrific as Jurek's too easily manipulated father, who is devoted to him but also, ruinously, to the State. Less convincing is a rather stilted Sandra Korzeniak as Barbara Sadowska, while a full-on, mannered performance by Aleksandra Konieczna as a larger-than-life and extremely hostile prosecutor, all but tips the film into clumsy social satire.
The story's outcome undeniably hits hard, and viewers worldwide will appreciate the evident parallels with the deaths of George Floyd and other victims of police brutality worldwide. But the ominous repeated piano chords of Ibrahim Maalouf's score, and overpowering use of Henryk Gorecki's strings at the end, heavy-handedly underline the solemnity, as if we could fail to appreciate the awful weight of these terrible events.
Production companies: Aurum Films, Les Contes Modernes, Canal Polska, Background Films
International sales: New Europe Film Sales jan@neweuropefilmsales.com
Producers: Leszek Bodzak, Aneta Hickinbotham
Screenplay: Kaja Krawczyk-Wnuk, based on the book by Cezary Łazarewicz
Cinematography: Kacper Fertacz
Editor: Przemysław Chruścielewski
Production design: Paweł Jarzębski
Music: Ibrahim Maalouf
Main cast: Tomasz Ziętek, Sandra Korzeniak, Jacek Braciak, Robert Więckiewiz