The director who got away returns to document life in a small Turkish village for his rebellious siblings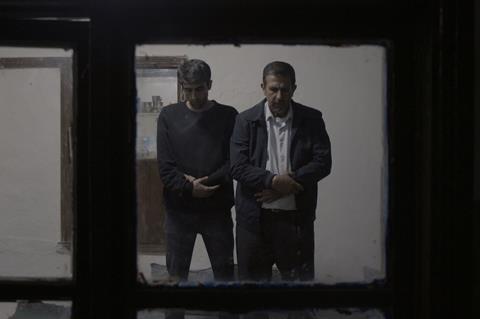 Dir/scr: Ahmet Necdet Cupur. France/Turkey/Germany. 2021. 93 mins.
For his feature-length debut, Ahmet Necdet Cupur trains his camera on his family, finding only tension and sorrow. Les Enfants Terribles chronicles Cupur's younger siblings Mahmut and Zeynep, each in their own way pushing back against their conservative Turkish father, desiring a life that challenges his worldview. The intimacy of the interactions and the obvious emotional connection that the filmmaker has with his subjects provides this documentary with a remarkably unfiltered candour, highlighting a culture clash that extends to an entire regressive community.
The participants seem untroubled that their private interactions are playing out in front of Cupur's lens
Winning a special jury prize at Visions du Reel, where it premiered, Les Enfants Terribles should see further festival play, with both theatrical and small-screen distribution possible. Prospective viewers will be drawn in by the family drama Cupur pointedly captures.
Early in Les Enfants Terribles, Cupur explains through voiceover how he left his small village in southeast Turkey two decades ago. He still visits his family regularly, but feels distanced from them. The Paris-based director heads for home after hearing from his teen sister Zeynep, who has ended an engagement to focus on schooling, and his twenty-something brother Mahmut, who wants a divorce from his bride Nezahat. Their parents are opposed — particularly their father Rifat, who adheres to traditional Muslim customs and forbids his children's wishes.
After his initial voiceover, the director recedes into the background — or, more accurately, behind the camera — and lets his family members take centre stage, documenting what transires. Occasionally, someone will acknowledge his presence, but for the most part the participants seem untroubled that their private interactions are playing out in front of his lens.
What becomes apparent quickly is that Rifat is a close-minded individual who bullies his children, ordering them to shut up when he's tired of hearing from them, or threatening to disown them. The area of Hatay in which this Turkish family lives appears to be a poor, rural community offering scant economic prospects — that, combined with their father's patriarchal attitude, has prompted the siblings to seek a life outside of his domain.
Les Enfants Terribles illustrates how difficult that can be. Zeynep's hope for an education so she can move away is shot down by her mother Nadire, who explains that girls should not expect the same freedoms as boys, sparking a lengthy, spirited debate that Cupur records in its rawness. It's one of the film's most striking sequences, not least because Nadire casually mentions that killing Zeynep might be the only way to tamp down her rebelliousness.
A fascinating question left unanswered is how much Cupur's camera influenced the proceedings. Of course, this is a common phenomenon in documentary filmmaking, but in Les Enfants Terribles there's an added emotional component. During Zeynep and Nadire's argument, the daughter gestures toward her brother, asking why he's been allowed to leave whereas she cannot — likewise, the mother sometimes glances at his camera, perhaps feeling ganged up on by her children. Zeynep seems emboldened by Cupur's presence, and although the filmmaker mostly stays above the fray, there's no question that his sympathies lie with his siblings.
In one unguarded moment, Mahmut explains their parents' negative impact — specifically in how it led to his ill-advised marriage. "When you don't see love from your parents, then a woman shows up and loves you, you've never seen such love from anyone around you," he says. "You get confused."
Still, Les Enfants Terribles takes pains to extend its critique to a stifling Turkish Muslim community at large. An imam refuses to help Mahmut get a divorce. (His advice: "You should pray to God.") And although Mahmut wants out of the marriage, he recognises the shame he'll bring to Nezahat: divorced women are treated with scorn, which he doesn't want her to experience. The Cupur siblings aren't just prisoners of their parents but a society that values obedience to elders and the Koran above all else.
John Gurtler and Jan Miserre's cello-centric score accentuates the oppression hanging heavy over this younger generation, and Cupur doesn't alleviate that weight — even during an ending that's more bittersweet than happy. The director has enormous compassion for his brother and sister, partly because their anguish is his. "It's been 20 years since I left this village," he says. "Whenever I try to write, it's always about here. Whatever I try to do, it's always about here." One can sense the guilt Cupur feels as the sibling who managed to get away.
Production companies: TS productions, JYOTI Film, Liman Films
International sales: Deckert Distribution, liselot@deckert-distribution.com
Producers: Delphine Morel, Anke Petersen, Nadir Operli
Editing: Mathilde Van de Moortel, Elif Uluengin, Nicolas Sburlati
Cinematography: Ahmet Necdet Cupur
Music: John Gurtler & Jan Miserre