Screwball comedy, heartfelt romance, tearjerker, melodrama: that's 'Life Itself'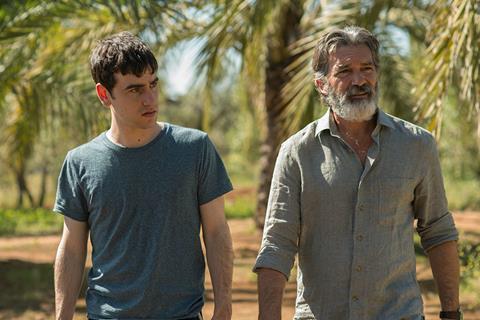 Dir/scr Dan Fogelman. US/Spain. 2018. 118 mins
This Is Us creator Dan Fogelman makes a bold attempt to transfer the winning template of his television success to the big screen in Life Itself. The result is a sprawling, overwrought multi-generational soap opera that feels constricted by its two-hour running time. The manic litany of joy and sorrow, heartbreak and elation is not for the cynical, leaving the starry ensemble cast and polished craft of the execution as potential selling points.
Barely a moment seems to pass without a birth, a death, a betrayal, a starling revelation or a life-changing bombshell
Unreliable narrators, imperfect men and the joys of Bob Dylan's 1997 comeback album Time Out Of Mind are the recurring elements of a film that start its focus on a central couple and gradually spins a web of ever increasing circles to encompass the lives of friends, family, loved ones and subsequent generations.
Divided into five chapters, it begins in playful meta mood with a chapter narrated by a garrulous Samuel L Jackson (who makes a brief cameo appearance as himself), focusing on the life of Will (Oscar Isaac). Currently in therapy after a lengthy spell in hospital, Will is struggling to come to terms with a recent trauma. In conversation with his therapist Cait Morris (Annette Bening), he recalls the giddy highs and lows of his perfect marriage to Abby (Olivia Wilde), the undisputed love of his life.
Samuel L Jackson and Will himself are the first of many unreliable narrators and fast-talking, wise-cracking characters who may not be as adorable as they seem to think. The initial stages of the film are marked by bustling, boisterous passages of helter-skelter dialogue and endless narration.
The mood changes when the story later shifts to Spain and the life of philosophical olive grower Saccione (Antonio Banderas) and the people who surround him. We also meet Will and Abby's fierce daughter Dylan (Olivia Cooke) and a host of others.
Eventually, the connections that unite all the characters become apparent, but until that point it seems to ricochet between extremes of tragedy and happiness. Barely a moment seems to pass without a birth, a death, a betrayal, a starling revelation or a life-changing bombshell. Because it keeps pushing at breakneck speed, we never get the chance to become sufficiently invested in any particular character before the limelight has shifted elsewhere. Some of the name players have fairly modest roles and we could certainly have welcomed more of Annette Bening's patient therapist or Olivia Cooke's determinedly independent, two-fisted wild child.
Throughout the film, Fogelman seems to be trying out all kinds of different genres for size as we slide from screwball comedy to heartfelt romance, tearjerker to melodrama. There is no lack of ambition or craft here as characters step into the lives of others, brief tender memories of the past rip through time and sprawling lovers are glimpsed with a regard that could be straight out of a Terence Malick film.
Some of the wit and emotion strikes home and the longer we spend with individual characters the more their story resonates. The film is still messy and manic, offering glib comments on profound subjects and succumbing to shameless sentimentality before concluding that the most unreliable of narrators is, of course, life itself.
Production companies: FilmNation Entertainment, Temple Hill Entertainment, 17-28 Black
International sales: FilmNation Entertainment nyoffice@filmnation.com
Producers: Marty Bowen, Wyck Godfrey, Aaron Ryder, Dan Fogelman
Production design: Gerald Sullivan
Editing: Julie Monroe
Cinematography: Van Ryoko
Music: Federico Jusid
Main cast: Oscar Isaac, Olivia Wilde, Antonio Banderas, Annette Bening, Mandy Patinkin, Olivia Cooke