Ryan Reynolds and Jake Gyllenhaal form part of a 'space smorgasbord for a snacking alien' in the latest from Sweden's Daniel Espinosa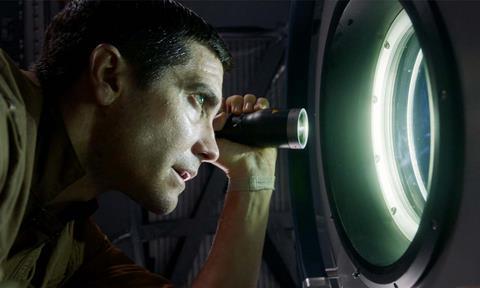 Dir. Daniel Espinosa. US. 2017. 103 mins
The fingerprints – or perhaps more appropriately the teeth marks – of Ridley Scott's Alien are in evidence all over Daniel Espinosa's space-set horror Life. The difference here is that members of the human crew of the Mars Pilgrim 7 mission have helped create the highly adaptable and very hungry monster which terrorises them – it is man's hubris, as much as any voracious space squid, which is a threat to humanity's continued existence. And while Scott's film remains, unquestionably, the benchmark for this genre, Life's combination of a photogenic cast and arresting cinematography and FX should go some way towards countering its somewhat predictable plotting.
Swedish director Espinosa handles the visceral shocks with relish
The long-awaited next installment in the Alien series, Scott's Alien: Covenant, is due in cinemas in just under two months time. And while that would be more of a problem if the release dates were reversed, the closeness of the two pictures doesn't bode well for Life's longevity on the cultural landscape. That said, the star pull of Jake Gyllenhaal and Ryan Reynolds (playing a jaded space veteran and a gung-ho hotshot respectively), together with the film's striking visuals, should help persuade audiences that there is room for two films which turn the crew of galactic rescue vessel into a space smorgasbord for a snacking alien.
A bravura opening sequence has more in common with Emmanuel Lubezki's flashy balletics on Gravity than it does with the more naturalistic approach of Alien. Cinematographer Seamus McGarvey captures a daring spacewalk and satellite recapture in what appears to be a meticulously choreographed zero gravity single shot. The vessel had crucial scientific value as it contained earth samples from Mars, among which is an inert single-celled organism. The six-man crew of the mission, and the rest of humanity back on Earth, celebrate the scientific discovery of the century: incontrovertible proof that, at one point at least, there was life on Mars. What they don't realise is that the innocuous little microbe was also what ended life on Mars.
Under the watchful eye of Miranda North (Rebecca Ferguson), medical officer in charge of quarantine protocols, the chief scientist Hugh Derry (Ariyon Bakare) coaxes the organism back from stasis. He is rewarded with a rapidly growing, deceptively gooey-looking creature, christened 'Calvin', in which every cell is "all muscle, all brain and all eye."
Swedish director Espinosa, who broke through with the crime picture Easy Money (Snabba Cash) but received a disappointing response, critically and financially, to his most recent picture Child 44, here handles the visceral shocks with relish. A compellingly nasty sequence in which the creature force feeds itself to one of the key characters is repulsively effective. Indeed the effects, ultimately, are more memorable than some of the characters. Reynolds has a brash appeal, but his premature departure from the story means that one of the stronger presences is lost early on. Meanwhile Gyllenhaal's tortured, angsty medical officer is not entirely persuasive. But Ferguson is strong as the woman whose job it is to imagine the worst case scenario and then double it.
There are pacing issues, particularly at the close of the second act when the remaining characters take time out from trying to evade the relentless tentacles of Calvin in order to quote chunks of the children's bedtime book Goodnight Moon. But while the bracingly bleak climax will come as a surprise to pretty much nobody, it still comes with an efficiently grisly pay-off.
Production company: Skydance
Worldwide distribution: Sony Pictures
Producers: David Ellison, Dana Goldberg, Bonnie Curtis, Julie Lynn
Executive producers: Don Granger, Vicki Dee Rock.
Screenplay: Rhett Reese, Paul Wernick
Cinematographer: Seamus McGarvey
Editors: Frances Parker, Mary Jo Markey
Production designer: Nigel Phelps
Music: Jon Ekstrand
Cast: Jake Gyllenhaal, Rebecca Ferguson, Ryan Reynolds, Hiroyuki Sanada, Ariyon Bakare, Olga Dihovichnaya