Pixar's Buzz Lightyear origin story fails to take flight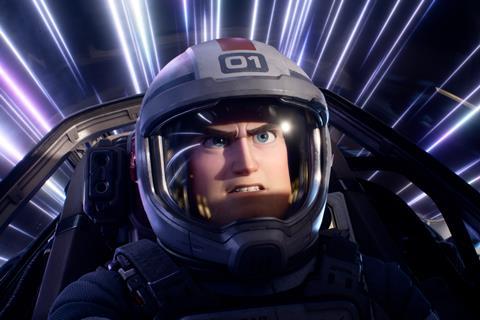 Dir: Angus MacLane. US. 2022. 105 mins.
One of Pixar's most beloved characters gets an origin story with Lightyear, a lacklustre sci-fi adventure which misses the wit and wonder that have been the studio's hallmarks for decades. Conceived as the film that long ago inspired Toy Story's young Andy to want his very own Buzz Lightyear action figure, the picture boasts beautiful visuals, some clever gags and a bit of heart. But despite its interstellar setting, the story stubbornly refuses to take flight — a situation not helped by Chris Evans' dutiful voice performance as the titular Space Ranger, who isn't nearly as funny or compelling as he is in the Toy Story series.
It's hard to imagine legions of children seeing this film back in the '90s and suddenly craving Buzz toys.
Pixar's 26th feature is the first to get a theatrical release since 2020's Onward, and no doubt Disney (which opens the film in the UK and US on June 17) hopes to get close to the commercial success of Toy Story 3 and Toy Story 4, each of which grossed more than a billion dollars worldwide. Lightyear is the animation house's most action-packed feature since The Incredibles 2, and audience familiarity with the earnest spaceman will certainly help drive box-office returns.
An opening title card explains that the picture we're about to see came out in the mid-1990s, creating a wave of excitement for Buzz Lightyear toys. Soon, we meet the fictional human character Buzz (voiced by Evans), who is marooned on a distant planet with a team of scientists, technicians and fellow Space Rangers after his piloting error crippled their ship. Determined to figure out a way home, he must contend with an invasion by evil alien robots, forcing him to lead a band of inexperienced cadets, including Izzy (Keke Palmer), and his loyal robot cat Sox (Peter Sohn) to defeat this menace.
Angus MacLane, a co-director on Finding Dory, references sci-fi classics such as Star Wars, 2001 and Gravity in this genial saga about a lone wolf who learns that he actually needs other people. But while there's some poignancy to that revelation, the character arc is predictably handled. Plus, the viewer's prior knowledge of the Buzz toy from Toy Story — a haughty action figure who thinks he's the "real" Buzz Lightyear — ends up working against Evans' vocal performance, which lacks Tim Allen's endearingly foolhardy self-assurance and guarded vulnerability. By comparison, Lightyear is simply the story of a standard-issue sci-fi action hero, without the interesting wrinkles which Pixar gave the toy, forcing him to come to terms with his true nature.
The film contains twists that shouldn't be spoiled, but they concern the passage of time and debates over what constitutes a happy life, which are the sort of existential themes that Pixar has often treated with great insight. Izzy has a bittersweet connection to Buzz's past, and Palmer gives this young woman a touching determination in her desire to impress this veteran adventurer. Lightyear wants to be a salute to teamwork — and accepting that nobody's perfect (including yourself) — but the characters around Buzz tend to be one-dimensional. (Taika Waititi, who voices the cowardly, clumsy Mo, tries his best to be the film's sardonic comic relief.) Unlike Pixar at its finest, the picture inelegantly explores the script's emotional undercurrents, while the plotting is often convoluted and derivative.
Working alongside production designer Tim Evatt, cinematographers Jeremy Lasky and Ian Megibben give this faraway planet a majestic, sometimes ominous look, with different spaceships and vehicles harking back to similar futuristic transports in earlier sci-fi pictures. But as much as Lightyear seeks to make Buzz appear more human than his toy counterpart, the effect doesn't entirely work, only underlining how much less dynamic this character is than the one in the Toy Story series. Even the occasional callback to that franchise drives home the impression that this origin story doesn't significantly add to our understanding of Buzz Lightyear, while the adventure he goes on proves to be nothing special. In other words, it's hard to imagine legions of children seeing this film back in the '90s and suddenly craving Buzz toys.
Ultimately, it's the robot cat who ends up stealing the show. Not since Toy Story 4's Forky has Pixar come up with such a delightfully odd side character who produces so many laughs. With his adorable expressions and computerised voice, Sox is both precious and a little chilling, and Sohn has fun embodying this mechanised-feline mindset. (Amusingly, Sox can solve complex scientific mysteries, but he can nonetheless be hypnotised by a simple glowing red laser dot moving around the floor.) Sadly, that cute kitty outclasses much of Lightyear, which too often feels like it's on autopilot.
Production company: Pixar Animation Studios
Worldwide distribution: Walt Disney Studios
Producer: Galyn Susman
Screenplay: Jason Headley, Angus MacLane, story by Angus MacLane, Matthew Aldrich, Jason Headley

Production design: Tim Evatt
Editing: Anthony J. Greenberg
Cinematography: Jeremy Lasky, Ian Megibben
Music: Michael Giacchino
Main voice cast: Chris Evans, Keke Palmer, Peter Sohn, Taika Waititi, Dale Soules, James Brolin, Uzo Aduba