Dir: Paolo Virzi. It-Fr. 2016. 114mins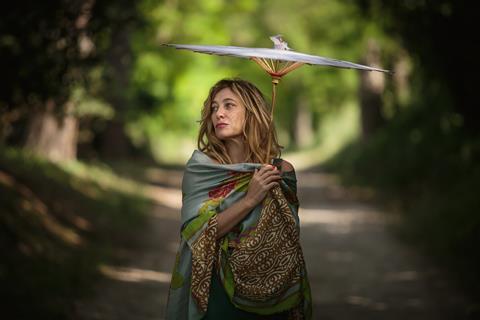 The lopsided but strangely beneficial friendship between two Italian women from opposite ends of the socioeconomic spectrum who find themselves playing hooky from a congenial halfway house for the mentally ill is explored with vibrant strokes in Like Crazy (La Pazza Gioia). A jaunty tale of mental illness shot with real verve, this high-energy romp is a superb showcase for its two lead actresses as they impetuously extend a group outing from the residential clinic into a two-character outlaw adventure, relying on luck, chutzpah and the kindness of strangers. This is a crowd-pleasing bittersweet comedy in which tragic circumstances are attenuated by moral support from unusual quarters.
The film's freewheeling energy is as appealing as its developments are unpredictable.
An alleged countess whose great aunt owned the villa where she is now under house arrest, Valeria Bruni Tedeschi's seemingly innate flightiness and patrician bearing make her a perfect fit for Beatrice, a melancholy wacko with a sense of entitlement as big as the Ritz. It's safe to say that nobody else at the psychiatric facility the Villa Biondi has George Clooney on speed dial or high-end designer clothes in their closet.
As new arrival Donatella, Micaela Ramazzotti, bedecked in tattoos ("Get a notepad if you want to write something down," chides Beatrice when Donatella exposes the underside of her upper arm to display the permanently inked name of her father's band) plays a wide spectrum of emotions with great skill.
The compassionate screenplay contemplates the difference between crazy behaviour prompted by a chemical imbalance versus being driven by circumstances to behave in ways society condemns.
The residential center's staff of doctors, therapists and nuns is dedicated to improving the well-being of its all-female population. Problems range from obsessive-compulsive disorder to Beatrice's delusions of grandeur, as if to the nuthouse born.
Spoiled Beatrice has no particular reason to abide by the rules but Donatella wants to get well and stay that way so she'll be allowed to see somebody who means a great deal to her. Beatrice's privilege-fueled impudence is an entertaining counterpoint to Donatella's humble desire to not make waves or inconvenience anybody. Beatrice is at ease in snazzy settings and Donatella is uncomfortable almost everywhere. But she's the more lucid of the two.
The film's freewheeling energy is as appealing as its developments are unpredictable.When the two mismatched inmates spontaneously extend an outing from the Villa, a number of cars are stolen, pharmaceutical remedies purchased and pilfered, a fortune teller visited, the past stirred up anew and bridges burned.
Everything points to an unhappy ending but that's not exactly where things are headed. As in Philippe de Broca's gentle classic King of Hearts 50 years ago, the truly crazy people are often outside the asylum free to roam through the real world.
Production companies: Lotus Production, Rai Cinema, Manny Film
International sales: Bac Films International Gilles Sousa g.sousa@bacfilms.fr
Producer: Marco Belardi
Screenplay: Paolo Virzi, Francesca Archibugi
Cinematography: Vladan Radovic
Editor: Cecilia Zanuso
Production design: Tonino Zera
Music: Carlo Virzi
Main cast: Valeria Bruni Tedeschi, Micaela Ramazzotti, Valentina Carnelutti, Tommaso Ragno, Bob Messini, Sergio Albelli, Anna Galiena, Marisa Borini, Marco Messeri, Bobo Rondelli