The 'opal capital of the world' is the uncanny setting for Ivan Sen's brooding black-and-white Australian noir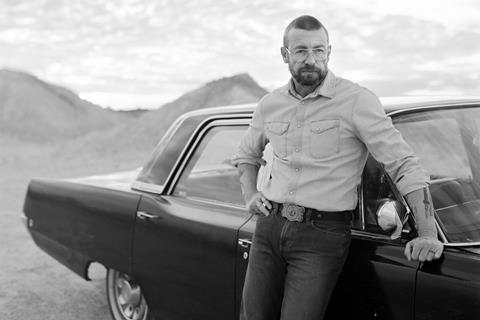 Dir/scr: Ivan Sen. Australia. 2023. 108 mins.
There's an extraordinary bone-deep weariness that lies heavily on Ivan Sen's terrific, atmospheric crime movie, an enervated, almost listless quality that is baked into life in the south Australian desert town of Limbo. It's evident everywhere, from the wary lag of the storytellig to Simon Baker's remarkable, dialled-down central performance, as Travis Hurley, a cop who has clearly been chewed up and spat out many times over by the demands of his job. This is a bleakly impressive work from multi-hyphenate Indigenous filmmaker Sen who, in addition to writing and directing the piece, also shot, edited and co-produced it as well as composing the sparsely used score. Despite the film's rather overused title, Limbo should stand out as a picture of interest to arthouse distributors and festival programmers.
It's a distinctive work, both visually and in terms of its intriguingly detached outback noir storytelling.
Sen returns to Berlin's main Competition for the first time in more than two decades, since his breakthrough debut picture Beneath Clouds premiered at the festival in 2002. This film is conceived as a further exploration of the themes that Sen confronted with two of his most recent pictures, Mystery Road and Goldstone, both of which dealt with the Indigenous experience of Australia's justice system (with the former having inspired several TV series of the same name). It's a distinctive work, both visually – the stark black and white photography accentuates the uncanny, almost lunar pockmarks on this scarred terrain – and in terms of its intriguingly detached outback noir storytelling.
Travis arrives in Limbo charged with reviewing a 20-year-old case: the disappearance of an Aboriginal girl called Charlotte Hayes. He discovers that the lives of her surviving family members, her brother Charlie (Rob Collins) and his all-but-estranged sister Emma (Natasha Wanganeen) are in their own kind of limbo – in part because the crime was never solved, and in part due to their cruel and traumatic treatment at the hands of the investigating police.
The picture's location contributes considerably to its brooding, secretive atmosphere – the town of Limbo is fictitious, but the film's unique location is the opal mining community of Coober Pedy. Known as 'the opal capital of the world', this remote corner of South Australia is pitted with caves, or 'dugouts', which started as mines for precious stones but ended up being used as dwellings.
Travis is staying in one: The Limbo Motel is a crepuscular maze of tunnels carved out of a mountain that still seems to rumble with the memories of past excavations. It is more or less deserted, by both staff and other customers. That suits Travis just fine. His stint working in the drug squad has left him with the kind of recreational habits that are best performed in private. He doesn't much seem to care about the job at hand, shrugging away the suspicions of Charlie and Emma – both of whom are loath to talk to any cop, and particularly a white one.
But there's something about this stoic, unsmiling man that wins the confidence of those he encounters – perhaps it is the fact that he's every bit as damaged as the drifters and outlaws who ended up living in a blighted place which, if not hell exactly, is certainly in the same neighbourhood. And there's something about the fractured family of the missing girl, still dealing with a pain that has no end, that awakens Travis' dormant police instincts. He can't mend his own burnt-out car wreck of a life. But maybe he can help fix theirs.
Production company: Bunya Productions
International sales: Dark Matter david.jowsey@bunyaproductions.com.au
Producer: David Jowsey, Rachel Higgins, Greer Simpkin, Ivan Sen
Cinematography: Ivan Sen
Art director: Adam Head
Editing: Ivan Sen
Music: Ivan Sen
Main cast: Simon Baker, Rob Collins, Natasha Wanganeen, Nicholas Hope, Mark Coe