Critics' Week opens with Franco Lolli's follow-up to 'Gente de bien'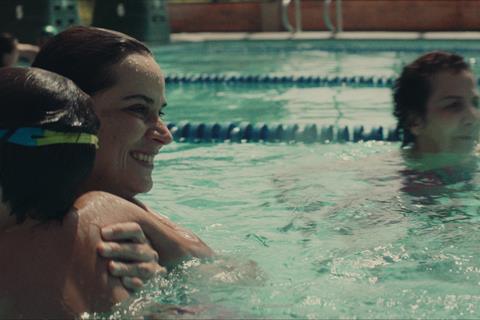 Dir. Franco Lolli. France/Colombia. 2019. 95 mins.
This time it's personal for Colombian director and co-writer Franco Lolli (Gente de bien), who casts his mother and cousin in the lead roles of Litigante, an absorbing second feature. In an affluent part of Bogota, a career single mother musters her resources, dealing – often poorly - with her irascible mother's terminal illness while also trying to extricate herself from a slippery corruption case in which she may be implicated.
The director's cousin and mother both give believable performances as a couple who just can't let things go, bickering and arguing and picking away at each other
Opening Critics' Week at Cannes, Litigante eventually narrows its focus to deal almost exclusively with the painful death of a loved one, which, by nature, gives the film no neat resolution. While this accomplished film is gentle and humorous in its outlook, this may make Litigante a harder sell commercially, although festivals should line up even more eagerly than they did for Lolli's debut, which also played in Critic's Week (he's a creature of Cannes, having also shown his short in Director's Fortnight).
There's an authenticity at play when it comes to observing Silvia (Carolina Sanín) move through her life. She can be hesitant at times, but mostly Litigante shows her as a forthright woman of independent means and choices who is well able to defend herself, whether that be against her mother, her corrupt boss, or the host of a radio station chat show who is trying to trip her up (and who later becomes her affable, hirsute lover).
Silvia has chosen to be a single parent and her circumstances are secure; not only is her mother well-off (maids, properties, a grand old house), but Silvia also has a best friend who loves nothing better than to babysit her five year-old son Antonio for days on end while she shuttles across the city between hospitals, her mother's home and the office. Silvia is not the most attentive mother, and can certainly be impatient with Antonio, but she has made choices in life that she's clearly comfortable with, even though she questions how well she is looking after her son.
Silvia's relationship with her mother, however, is one that she can't ever relax into. Leticia (the director's own mother Leticia Gómez) is strong, out-spoken and cantankerous, although not always without reason. She refuses chemotherapy when diagnosed with terminal lung cancer (while stubbornly continuing to smoke) and is harshly critical of Silvia's choices. The actresses both give believable performances as a couple who just can't let things go, bickering and arguing and picking away at each other while younger sister Majo (Alejandra Sarria) sets herself back and apart.
Silvia may not always be sympathetic, but she's always very real. Sanín and Gómez have a rapport that's believable. The film engages completely as it layers its way through Silvia's story, although there's a point – just when Litigante locks onto Leticia's last days – when it seems to drift, feeling more like a slim sequence of well-crafted events. Still, though harrowing, those last moments are a moving tribute to maternal strength which comes from the heart and should affect audiences who have experienced the same.
Litigante is shot very attractively, in 1:85 format with anamorphic lensing. A play on shadows provides a futher sense of depth to what is already a well-layered story, giving a sense of lives lived in full.
Production companies: Srab Films, Les Films Du Worso
International sales: Kinology, gmelin@kinology.eu
Producers: Toufik Avadi, Christophe Barral, Sylvie Pialat, Benoit Quainon
Screenplay: Franco Lolli, Marie Amachoukeli, Virginie Legeay
Cinematography: Luis Armando Arteaga
Editing: Nicolas Desmaison, Julie Duclaux
Production design: Marcela Gómez Montoya
Main cast: Carolina Sanín, Leticia Gómez, Antonio Martínez, Vladimir Durán, Alejandra Sarria