Dir: Ding Sheng. Hong Kong-China. 2010. 95mins.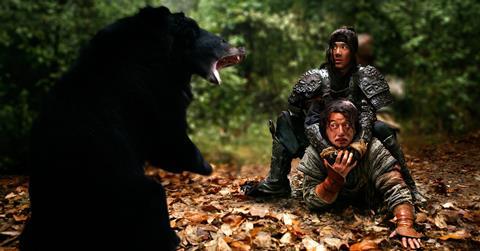 Compared with Jackie Chan's usual frenetic extravaganzas, Little Big Soldier is almost low-key, a reflection on the pointlessness of war, even though reflections have not traditionally been action star Chan's strong point. Set in 225BC at the end of the Warring States Period which preceded the establishment of the Chinese empire, this tale of a simple soldier who accidentally captures a general alternates action with philosophical musings and incorporates an untypical tragic ending that may take many of Chan's fans by surprise.
The action sequences are directed by Jackie Chan and director Ding Sheng has trouble keeping the continuity clear
Opening at home over Lunar New Year, Little Big Soldier was developed from an idea by Chan himself, with sales being handled by his own company. Performance should be solid, but weighted towards home territories with the action here perhaps proving perhaps too complex for international tastes.
Two survivors remain alive at the end of a bloody battle in which the Wei state's army was completely annihilated by the Liang state; an older Liang soldier (Chan) who believes that staying alive is more important than fighting battles, and an injured Wei general (Wang Leehom).
The soldier ties the general up with the intention of bringing him back to Liang for a sizable reward and exemption from further military service. During their first night on the road, they stay at an abandoned inn where they fall prey to a singing maiden (Lin Peng) who drugs them both. They then encounter a wild bear, followed by angry peasants who vent their anger for losing everything in the war.
The plot thickens when the Prince of Wei (Yoo), his bodyguard (Du Yu Ming) and their soldiers are shown hunting down the missing general. A tribe of wild warriors is a further impediment to the soldier on his journey home.
All Little Big Soldier's action is directed as usual by Chan himself, now in his mid-fifties and inclined to indulge in fewer acrobatics than usual. Mainland director Ding Sheng, who developed Chan's idea, has trouble keeping the continuity clear, introducing a couple of confusing dream sequences and even throwing in an Amazon riding with the wild tribe.
Locations are pretty spectacular although they seem undercoloured for no particular reason. Chan and Wang Leehom deliver their lines in a good-natured manner and bond convincingly by the end of their trip.
To sign up for Screen's weekly Reviews Newsletter with all the week's new releases, international openings and full festival reviews delivered free to your mailbox every Friday, please click HERE
Production companies
Jackie & JJ Productions
Producers
Solon So
Zhang Zhe
International sales
Distribution Workshop
(852) 2768 8678
Screenplay
Ding Sheng
From an idea by Jackie Chan
Cinematography
Zhao Xiaoding
Production design
Sun Li
Editor
Ding Sheng
Music
Xiao Ke
Main cast
Jackie Chan
Wang Leehom
Steve Yoo
Lin Peng
Du Yu Ming
Jin Song
Xu Dong Mei
Low Houi Kang
Yu Rong Guang
Wu Yue
Wang Bao Qiang
Niu Ben