A deeply personal film about coming to terms with the past is also dramatically satisfying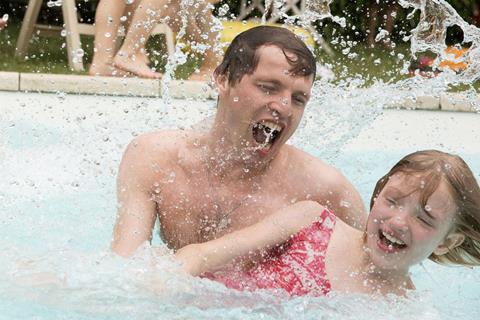 Dirs: Andréa Bescond, Eric Métayer. France. 2018. 103mins
The haunting shame of sexual abuse is explored with intelligence and sensitivity in Little Tickles (Les Chatouilles), a moving screen adaptation of Andréa Bescond's award-winning, one-woman stage show. The subject matter and a complex, sometimes theatrical approach, make for a potentially challenging film. Yet it elicits such a powerful emotional response that it should translate commercially, especially on home territory when it is released in September.
Compelling testimony to the way abuse steals a life
Bescond's stage show won a number of awards, including the Molière and the Académie Française's Young Talent Award. It includes an element of interpretive dance in which Odette (Bescond herself) expresses and unleashes the inner fury of a woman who suffered abuse as a child. The film also begins with Bescond moving against a stark black backdrop before addressing the story of young Odette.
The dance element resurfaces throughout as the adult Odette confronts what happened to her childhood self. Odette is eight, and a vision of innocence and vulnerability, when she is targeted by Gilbert (Pierre Deladonchamps), a close family friend. He is the father of three boys, which means that his fondness for Odette is accepted at face value as the yearning of a father for the daughter he never had. He brings her presents, collects her from school, takes her on trips and convinces her to play his games of " little tickles".
Odette's ineffectual father Fabrice (Clovis Cornillac) and domineering mother Mado (Karin Viard) are oblivious to anything untoward. Even when presented with things that should arouse suspicion, nobody thinks to question Gilbert's closeness to the girl. A smiling, charming Pierre Deladonchamps makes your flesh crawl and is creepily plausible.
The film takes more chances as Odette visits a therapist to address the past. There are times when she walks into a memory or reconstructs it anew to reflect what she would have liked to happen rather than what did. Fantasy moments include a brief appearance from Rudolph Nureyev to encourage her dancing aspirations.
We are constantly faced with the legacy of her abuse that is expressed in a train wreck of a life marked by promiscuity, a fierce temper and an inability to sustain relationships. It is compelling testimony to the way abuse steals a life. Only in her dance is a resilient Odette able to unleash what has remained unreported.
Andrea Bescond is a compelling screen presence as Odette and Karin Viard does nothing to soften her spectacularly insufferable and insensitive mother who is almost as much of a villain as Odette's physical abuser. When Odette finally starts to make some progress in her therapy sessions, the film becomes more realistic and grounded. Coming to terms with the past requires a reckoning that is confidently handled, thrillingly emotional and dramatically satisfying.
Production companies: Les Films De Kiosque
International sales: Orange Studio contact.orangestudio@orange.com
Producers: François Kraus and Denis Pineau-Valencienne
Screenplay: Andréa Bescond, Eric Métayer
Production design: Eric Barboza
Editing: Valerie Deseine
Cinematography: Pierre Aïm
Music: Clement Ducol
Main cast: Andréa Bescond, Karin Viard, Pierre Deladonchamps.