Dir. Selma Vilhunen. Finland/Denmark, 2016, 100 minutes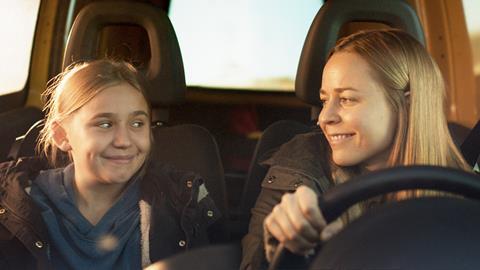 A girl of twelve with a feckless mother and a missing father finds a sanctuary in the perilous sport of equestrian jumping. Little Wing is an odd dramatic cocktail, but Selma Vilhunen finds enough unexpected turns to make this tale worth watching to the finish line.
There's a subdued emotion that brings the film into the respectable company of My Life as a Dog, Mermaids , and the tradition of The 400 Blows
Little Wing (the title comes from the Jimi Hendrix song) lurches through the vulnerability and determination of Varpu (Linnea Skog), its girl protagonist, who weathers the childishness of her single mother (Paula Vesala). Vilhunen's understated feature debut has charm and realism, and awards at home could come for the writer/director and for young Skog, who plays the struggling child. Theatrical exposure may not get much past art houses outside Finland, however, although an American version of this story, with a little more energy, could have tent-pole potential. Both Vilhunen and Skog will certainly broaden their horizons with Little Wing as a calling card.
The film begins with an improbability. Varpu's mother is a house cleaner, and an ill-paid one, since she can't pass her driver's test, a dilemma that grates on her daughter and fuels scorn from girls in the rich horsey crowd. (It's not clear how dirt-poor Varpu got to the sport of kings.) But Varpu prefers a local crowd of outcasts.
One boy (on whom she has a crush) steals a car and teaches 12 year-old Varpu how to drive. Eventually the frustrated but plucky Varpu takes that new skill a step farther, running away and driving to another town to find her father. When she finally meets him, he turns out to be an eccentric artist who's also crazy in threatening ways.
Vilhunen, nominated for an Oscar for her short film, Do I Have to Take Care of Everything? (2012), admits us gradually into Varpu's world, as the girl endures insults from her peers and watches her own mother stumble from failure to failure. DoP Tuomo Hutri gives the film a shadowy palette and an ominous mood in wintry Finland, apt for the prospects of a girl of 12 living in poverty and uncertainty while she searches for her father.
Yet the script – a coming of age tale, if such a term applies to a child that age – makes unexpected plot pivots to keep the audience guessing, avoiding the boilerplate picaresque clichés of the genre. As the action moves slowly, Varpu's search for her father gives the audience plenty of psychological nuance to savour, but the pace may seem slow for the younger crowd that the director might want to inspire.
The revelation here is the young and poised Linnea Skog, who plays Varpu. Most of her lines are "yes" and "no," or murmurings to her horse, but there's a subdued emotion in her observation of her mother and the proper world that her mother can't enter that brings the film into the respectable company of My Life as a Dog (Lasse Halstrom), Mermaids (Halstrom ), and the tradition of The 400 Blows (Francois Truffaut).
Just as mute is Varpu's horse, who fills the empty father role (for most of Little Wing) as the only strong male in the girl's life.
Vihunen skips the moralism and the earnest pro forma salutes to girls' empowerment here, lingering instead on everyday frustrations and the grit of a 12 year-old who can drive a car when she needs to. Car thief as role model? If nothing else, that paradox should get the film some attention. And a line on the poster that reads 'Don't Do This at Home'?
Production companies: Making Movies, Final Cut for Real
International sales: Media Luna New Films UG idamartins@medialuna.biz
Producers: Kaarle Aho, Kai Nordberg
Screenwriter: Selma Vilhunen
Cinematographer: Tuomo Hutri
Editor: Samu Heikkila
Production design: Sattva-Hanna Toiviainen
Main cast: Linnea Skog, Paula Vesala, Lauri Maijala, Santtu Karvonen