Greta Gerwig directs an all-star cast in the most recent iteration of Louisa May Alcott's 1868 novel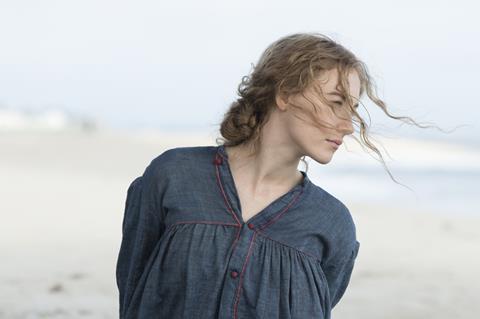 Dir: Greta Gerwig. US. 2019. 135 mins.
An often cloyingly self-satisfied, over-stuffed riposte to the endless Jane Austen adaptations from across the pond, Little Women is American heritage cinema at its most lavishly nostalgic. Doused in autumnal-coloured quilts, throws, patterned shawls and swaddled so deeply in amber light it looks almost baked, this is a film which knows its (female-skewing, festive-led) audience and plays aggressively to it. Viewers outside that core demographic may well be aghast to discover that Greta Gerwig's follow-up to Lady Bird plays for well over two hours to the bombast of a bruisingly boilerplate score from Alexandre Desplat. Yet Little Women is a film whose audiences will be determinedly self-selecting: if you think you're going to like it, you'll absolutely love it. But the opposite also applies.
Florence Pugh cuts through the honey with a tart rendition of Amy, giving the least obviously sympathetic March sister a scene-stealing, if not film-stealing, nonchalance.
Little Women opens on Christmas Day in the United States and in the UK a day later; it's a perfectly comfortable festive film and is being assiduously positioned in the awards race in all markets where there is one. A depressing dearth of female-directed or -focussed films in that time-frame and gong-zone should see it gain significant marketing traction.
Apart from reconstructing the story as jigsaw narrative told in flashback, Gerwig's Little Women is a determinedly conventional re-telling of a much-loved and oft-adapted classic. Alcott wrote the book in two parts; Gerwig pulls them apart again. Armando Iannucci may have opted for Dev Patel to lead his The Personal History Of David Copperfield this year, but Gerwig is having none of that: the cast is gilded Anglo-Saxon (with the accent on Anglo). Saoirse Ronan takes the lead as the outspoken older sister Jo, the writer and alter ego of Alcott, but it's Florence Pugh who cuts through the honey with a tart rendition of Amy, giving the least obviously sympathetic March sister a scene-stealing, if not film-stealing, nonchalance.
But this is an all-star marquee line-up. A somewhat miscast Emma Watson - she's just too modern a presence - plays Meg, Eliza Scanlen is Beth, Laura Dern is Marmee while Meryl Streep plays Aunt March. On the male side, Timothee Chalamet is Laurie, with Louis Garrel playing Professor Bhaer and James Norton as Mr Brooke, the hard-up apple of Meg's eye. The hair department must have worked overtime.
Gerwig starts the film out in a brazenly modern manner, with Jo working as a teacher and writer in New York, selling her stories and nursing her ambitions. She's summoned back home to Concord, Massachusetts, while Amy settles into her hard-won Paris trip with the caustic Aunt March. (It's interesting to see the two actors on screen together; Streep fussy but fun, Pugh strong and determined to hold her own.) There's a few energetic sequences and some interesting visual flourishes before the film beds back down into the March family home – a nice-looking counterpart to 1933's George Cukor rendition.
Most viewers will already be aware of the story of the four genteelly impoverished March sisters who keep the home fires burning while their father is away working as a pastor in the American Civil War. One of its chief pleasures is the independence of Jo, an impulsive girl who is quick to anger and knows her mind in a time where that isn't appreciated, and Ronan plays her in the way you might imagine Gerwig, or Streep herself, would perform the role (perhaps there's a bit of Woody Allen in the mix as well). It's attractive, yet there are few surprises (bar the fact that this most modern-seeming heroine isn't ageing as well as you might imagine, although Gerwig's half-hearted resolution of Alcott's similarly unconvincing romantic solution doesn't help). Chalamet, Dern, and all the other support cast including a rarely-seen Chris Cooper and Tracy Letts also struggle to compete with Jess Gonchor's interiors and Jacqueline Durrant's costumes.
It's only when Pugh gets her hands on spoiled younger sister Amy and opens up that often-overlooked strand of the work does the film seem to find relevance beyond its pretty fussiness and that warm, wintery – decidedly Christmassy, somewhat pleased-with-itself – glow. Her scenes with Chalamet are more convincing, and her brush with the financial realities of life and the struggle to make a career are more relevant, even though she's the spoiled baby sister of a century and a half ago.
Production company: Pascal Pictures
International distribution: Sony
Producers: Amy Pascal, Denise di Novi, Robin Swicord
Screenplay: Greta Gerwig, from the novel by Louisa May Alcott
Cinematography: Yorick Le Saux
Editing: Nick Houy
Production design: Jess Gonchor
Music: Alexandre Desplat
Main cast: Saoirse Ronan, Emma Watson, Florence Pugh, Laura Dern, Meryl Streep, Jane Houdyshell, Timothee Chalamet, Louis Garrel, Tracy Letts, Chris Cooper.