Joao Canijo returns to the mordernist hotel of his 'Bad Living' to take account of the guests in this mirror film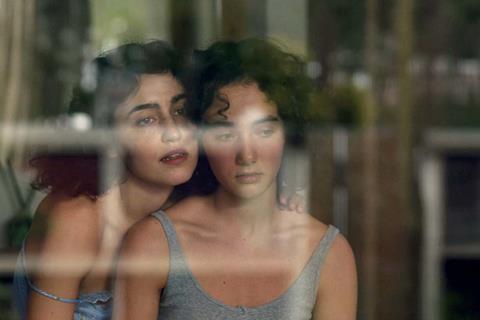 Dir/scr: Joao Canijo. Portugal/France. 2023.125mins
The second part of what a more flippant commentator might refer to as Joao Canijo's 'Misery Hotel' diptych is, for those who have seen its companion Bad Living, a fascinating exercise in 'narrative reverse-shot' filmmaking. But this anthology of cinematic short stories involving three separate groups of guests at a hotel somewhere near the sea in northern Portugal is also in some ways a more dramatically engaging film than the first, which was a bleak, intense choral drama about the five women from the family that owns and runs the hotel.
A fascinating exercise in 'narrative reverse-shot' filmmaking
In reality, the terms 'first' and 'second' have little real value here, as the two films could easily be viewed the other way round. The Berlinale's decision to programme Bad Living in Competition and Living Bad in the Encounters section feels equally random, as both are finely gauged works of art that comment on and feed off one another. The few, adventurous arthouse distributors who decide to take a chance on this austere and downbeat brace of Lusitanian laments may choose to group them together. Certainly it would be a shame not to reward audiences resilient enough to sit through one with one of the chief pleasures offered by the second: seeing episodes we recognise from the other film pan out in the background – sometimes purely as 'noises off – in perfect sync.
Canijo apparently adapted the three episodes that make up Living Bad from three plays by Sweden's August Strindberg, and developed the characters and dialogue in cast rehearsals. Introduced by chapter inter-titles, all three are about relationships that have reached a breaking point. The first, 'Playing with Fire', is a drama of jealousy involving photographer Jaime (Nuno Lopes), and his companion Camila (Filipa Areosa), a pretty young social media influencer who spends her whole time Instagramming herself and her surroundings – much to Jaime's disgust.
In the second and third episodes, the mother-daughter tensions that shoot through Bad Living take centre stage once more. 'The Pelican' involves a still glamorous mother (Leonor Silveira), her unhappy, withdrawn thirty-something daughter (Lia Carvalho) and the latter's crass husband (Rafael Morais), who turns out to have more than a friendly regard for his mother-in-law. But it's the final story that is the most intense, a real fire-cracker of a stand-off between two strong women. Julia (Carolina Amaral), a young actress with self-esteem issues, is torn between her lover Alice (Carolina Amaral) and her needy mother, both of whom are, in their own separate ways, brutally manipulative in their attempts to chisel out the Julia they need from the unformed marble block of her personality.
Along the way we get to spend a little more time with the five women who were the focus of Bad Living, all members of the family who run the hotel. Scenes of guest-client interaction reveal facets that didn't necessarily shine first time round – for example depressive Piedade's (Anabela Moreira) rote-learned description of the wines she is serving to guests who are forced to stop bickering to listen to her spiel. It's all about how 'terroir' is essential to the personality of a wine – a bitterly ironic comment, perhaps, on the impossibility of change for these people trapped in their own self-tilled, self-watered terroirs of mutual damage.
The hotel that is once again the sole location is the film's other main character. A late example of Portuguese seaside modernism from 1972 in Fao province, it's a hostelry near a beach that may or may not be out there somewhere behind the spindly pine trees at the end of the pool. As viewed through its floor-to-ceiling windows, Living Bad's dramas are reduced to tiny storms in a teacup in one of a series of long-shots of the entire façade that function a little like the worldly-wise interventions of the chorus in a Greek tragedy.
Production company: Midas Filmes
International sales: Portugal Film, sales@portugalfilm.org
Producer: Pedro Borges
Production design: Nadia Henriques
Editing: Joao Braz
Cinematography: Leonor Teles
Main cast: Nuno Lopes, Filipa Areosa, Leonor Silveira, Rafael Morais, Lia Carvalho, Beatriz Batarda, Leonor Vasconcelos, Carolina Amaral