Dir. Rufus Norris. UK, 2015, 92 mins.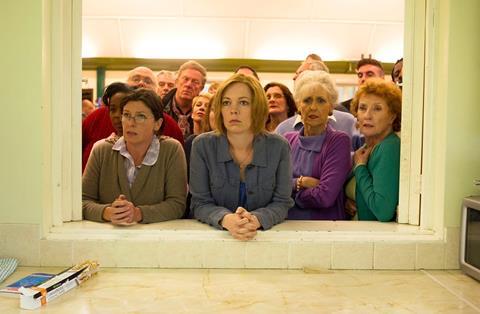 London Road is an impressively-mounted adaptation of a musical first staged by the UK's National Theatre (NT) which artfully merges 'verbatim theatre' into staccato-song to convey the reactions of Ipswich residents to the fact that a serial killer of prostitutes was living in their midst in late 2006.
Norris moves this tricksy theatrical concept onto the screen via one gorgeously-mounted set piece to the next.
Director Rufus Norris (Broken) - also the NT's artistic director - brings a sense of excitement to this dazzling, if niche, entertainment. London Road is a film which may prove to be influential in terms of how a musical is broken down, interpreted and re-assembled for the big screen (the stage play had 11 actors playing 70 parts; this has a considerably wider vision). The subject matter is thought-provoking, although the performance can feel more repetitive than insistent, as it did on the stage.
Commercially, though, London Road is challenging: opening in the UK as a film in the NT-Live 'Event Cinema' slot on June 9 to 300 screens before moving into general release at the end of the week, this is determinedly upscale film-making which will need strong critical notices to attract audiences outside the event cinema strand. Backed by Picturehouse Entertainment, BBC Films, the BFI and National Theatre, London Road's fortunes may be boosted by the appearance of Olivia Coleman and Mad Max's Tom Hardy in a (singing) cameo.
Stylish to a fault throughout, London Road employs a leeched-out colour aesthetic to convey the reactions of the residents of London Road to the horror which played out prior to Christmas 2006. Moving the Ipswich Town football stadium to the end of this Suffolk road resulted in an unwanted influx of streetwalkers plying their trade. In late 2006, a forklift truck driver named Steve Wright was charged with the murder of five prostitutes over the course of six weeks. He was a temporary resident of London Road.
Playwright Alecky Blythe was working with a group of prostitutes at the time (which resulted in the verbatim theatre piece The Girlfriend Experience), and they encouraged her to go to Ipswich and investigate; interviewing the townspeople resulted in material which was transformed into London Road when she met the composer Adam Cork at a National Theatre workshop.
Norris moves this theatrical concept onto the screen via one gorgeously-mounted set piece to the next. (The production shot in London's borough of Bexley). Opening sequences are particularly impressive, with the urgent tones of the nightly news gradually converting to song as homeowners including Olivia Coleman and Anita Dobson speak to the camera of what transpired on their street. The first show-stopper is set in the town's Christmas market, where locals express their bewilderment in a well-choreographed, lively, yet naturalistic show-stopper. A courthouse interlude is similarly impressive. The film, which is brief at 92 minutes, then goes about its business, switching between residents, the press, the police, and the prostitutes themselves to demonstrate prejudice, intolerance and the micro-society's somewhat pathetic attempts to heal itself.
Backed by state money, London Road was clearly made on limited funds as an artistic expression. On those grounds, it cannot be faulted, from the production's impressive technical ambition through to solid performances across the board and inspired direction. It's like eating a rich, luxurious box of chocolates, however. What's impressive to begin with becomes more of the same by the end. It can feel as if London Road is making the same point throughout, and in the same way – some thematic depth might have added bolster to the film's dazzling artistic heft.
Production companies: Cuba Pictures, National Theatre Production
International sales: Protagonist, info@protagonistpictures.com
Producer: Dixie Linder
Screenplay: Alecky Blythe
Cinematographer: Danny Cohen
Production Designer: Katrina Lindsay
Editor: John Wilson
Music: Adam Cork
Choreographer: Javier de Frutos
Main cast: Olivia Colman, Clare Burt, Rosalie Craig, Anita Dobson, James Doherty, Hal Fowler, Kate Fleetwood, Linzi Hateley, Nick Holder, Claire Moore, Michael Shaeffer, Nicola Sloane, Paul Thornley, Howard Ward, Duncan Wisbey and Tom Hardy.